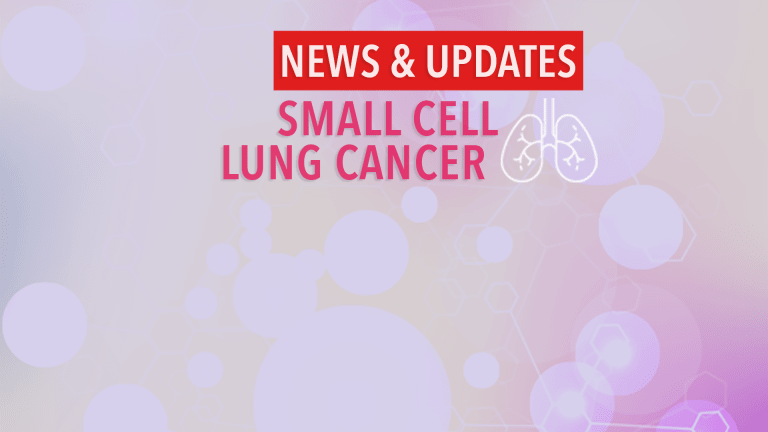 Alimta® Safe and Active in Small Cell Lung Cancer
Alimta® Safe and Active in Small Cell Lung Cancer
According to results recently published in the Journal of Clinical Oncology, the addition of the chemotherapy agent Alimta® (pemetrexed) to either Platinol® (cisplatin) or Paraplatin® (carboplatin) provides a safe and effective treatment for extensive small cell lung cancer.

A phase III trial has recently been initiated to compare adding Alimta to carboplatin versus the standard regimen of etoposide and carboplatin for the treatment of this disease.
Lung cancer is the leading cause of cancer-related deaths in the United States and Europe. There are two main types of lung cancer: small cell lung cancer (SCLC) and non–small cell lung cancer. The distinction in lung cancer types often determines treatment options because each type responds differently to treatment. SCLC accounts for approximately 25% of lung cancers and is considered to be very fast growing.
Extensive-stage SCLC refers to cancer that has spread from the lung to different sites in the body. Current treatment options for SCLC include surgery, chemotherapy, and radiation. The chemotherapy regimen considered the standard of care for extensive-stage SCLC is the combination of the drugs etoposide and Platinol or Paraplatin. Researchers continue to evaluate novel treatment regimens to improve outcomes for patients with SCLC.
Alimta is a chemotherapy agent that is commonly used in the treatment of malignant mesothelioma or recurrent non-small cell lung cancer. It is being evaluated in clinical trials for the treatment of various types of cancer.
Researchers from several medical institutions in the United States recently conducted a clinical trial to evaluate the addition of Alimta to Platinol or Paraplatin for the treatment of 78 patients with extensive SCLC.
• At one year overall survival was 33.4% for patients treated with Alimta/Platinol and 39% for those treated with Alimta/Paraplatin.

• Cancer progressed at approximately five months for both treatment groups.

• Severe side effects included low levels of immune cells and platelets.
The researchers concluded that Alimta plus either Platinol or Paraplatin appears well tolerated and active in the treatment of extensive SCLC. Results from the upcoming trial comparing Alimta/Paraplatin to etoposide/Paraplatin will help determine the true clinical effectiveness of Alimta in the treatment of SCLC.
Reference: Socinski M, Weissman C, Hart L, et al. Randomized Phase II Trial of Pemetrexed Combined With Either Cisplatin or Carboplatin in Untreated Extensive-Stage Small Cell Lung Cancer. Journal of Clinical Oncology. 2006;24:4840-4847.
Copyright © 2018 CancerConnect. All Rights Reserved.