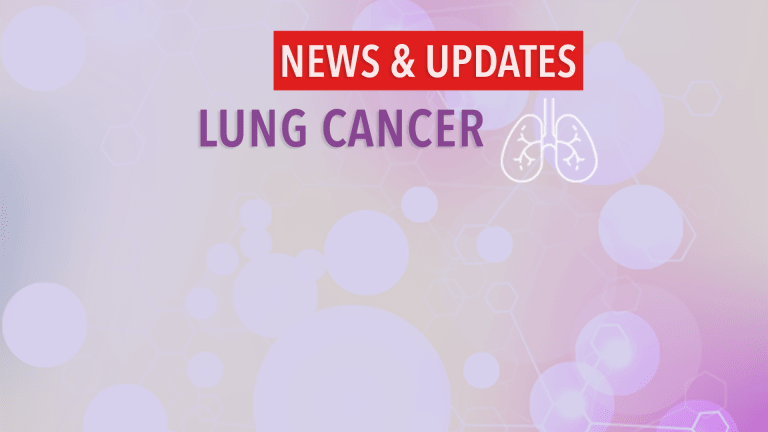 Alecensa® Delays Cancer Progression Longer Than Xalkori® in Certain Lung Cancers
Alecensa® established as superior to Xalkori for treatment of Alk-positive NSCLC.
Results from a large clinical trial have demonstrated that the targeted agent Alecensa® (alectinib) delays the progression of cancer for a longer period of time than Xalkori® (crizotinib) among patients with advanced non-small cell lung cancer that is positive for the ALK-fusion gene.
These results prompted a recommendation by an independent data monitoring committee (IDMC) to stop the trial early, as patients treated with alectinib were clearly experiencing a significantly greater clinical benefit than those treated with crizotinib.
Non-squamous cell lung cancer (NSCLC) is the most common type of lung cancer. The classification refers to the type of cell the cancer originated from within the lung.
Approximately 7% of patients with NSCLC have a specific genetic mutation within a gene called the anaplastic lymphoma kinase (ALK)-gene. This mutation is associated with the development and spread of cancer. Patients with this mutation are referred to as having ALK+ NSCLC.
Targeted agents have recently been developed to specifically target the ALK mutations associated with the growth of cancer. These agents result in a decrease of growth and spread of ALK+ cancer cells.
Crizotinib was the first ALK+ targeted agent approved by the United States Food and Drug Administration (FDA) for the treatment of ALK+ NSCLC. Treatment with crizotinib is a standard therapeutic approach for advanced ALK+ NSCLC.
Alectinib is also an agent targeted against the ALK mutations in NSCLC. It is FDA-approved for the treatment of patients with advanced ALK+ NSCLC that has stopped responding to prior therapy with crizotinib.
Although both agents target the ALK mutation, there are subtle distinctions in their structure, resulting in different cellular mechanisms by way they create their anti-cancer effects.
Researchers from Japan recently conducted a phase III clinical trial to directly compare alectinib to crizotinib in patients with ALK+ NSCLC. The trial, referred to as the J-ALEX study, included 207 patients with ALK+ NSCLC that had spread from its site of origin to distant sites in the body. Patients had either not received any prior chemotherapy, or had received one prior chemotherapy regimen, after which they experienced cancer progression.
The phase 3 ALEX clinical trial directly compared Alcensa to Xalkori as initial treatment for patients with advanced ALK-positive NSCLC. Alcensa had fewer side effects, delayed cancer progression, and reduced the time to cancer progression in the brain. Patients treated with Alcensa survived on average 35 months without cancer progression compared to only 11 months with crizotinib.
In the press release announcing the IDMC decision was Chugai's Director and Executive Vice President, Dr. Yutaka Tanaka. "We are extremely happy that these results can offer hope and encouragement to patients in need to be treated with Alecensa."
Reference:
Chugai Pharma US, Inc. Chugai's ALK Inhibitor "Alecensa®" Trial Stopped Early for Benefit. Available here. Accessed February 11, 2016.
NSCLC; Lung Cancer. 2019;138:79-87