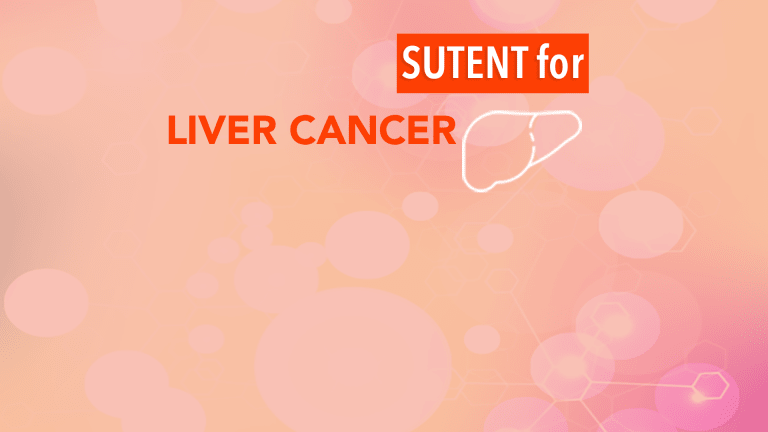 Sutent® Not Effective for Advanced Liver Cancer
Sutent® Not Effective for Advanced Liver Cancer
In a Phase II clinical trial, patients with inoperable, advanced hepatocellular (liver) cancer did not benefit from treatment with the targeted therapy Sutent® (sunitinib). The results of this study were published in Lancet Oncology.
Hepatocellular carcinoma is the most common type of primary liver cancer (cancer that begins in the liver). Factors that increase the risk of developing hepatocellular carcinoma include long-term, heavy alcohol use and chronic infection with hepatitis B or C viruses.
Until recently, there were few effective treatment options for patients with advanced hepatocellular carcinoma. In 2007, however, results from a Phase III clinical trial indicated that the targeted therapy Nexavar® (sorafenib) prolonged survival among patients with advanced hepatocellular carcinoma.[1] Other targeted therapies may also provide a benefit and are currently being evaluated in clinical trials.
Sutent is a targeted therapy that works by blocking multiple molecular targets implicated in the growth, proliferation, and spread of cancer. It is currently approved for the treatment of gastrointestinal stromal tumors (GIST) that have stopped responding to Gleevec® (imatinib), as well as for advanced renal cell (kidney) cancers.
To evaluate the safety and efficacy of Sutent among patients with inoperable, advanced hepatocellular carcinoma, researchers in Europe and Asia conducted a Phase II clinical trial.[2] The study enrolled 37 patients, all of whom received treatment with repeated cycles of oral Sutent (50 mg/day for four weeks, followed by two weeks off treatment).
One patient out of 37 experienced a partial reduction in detectable cancer, for an overall response rate of 2.7%.
Common, serious side effects included low blood counts (thrombocytopenia, neutropenia, and anemia), weakness, and hand-foot syndrome. Among the 37 patients, there were four deaths that were possibly related to treatment.
In this study Sutent produced serious side effects and showed little efficacy in the treatment of advanced HCC.
References:
[1] Llovet J, et al. Sorafenib improves survival in advanced Hepatocellular Carcinoma (HCC): Results of a Phase III randomized placebo-controlled trial (SHARP trial). Proceedings from the 2007 annual meeting of the American Society of Clinical Oncology. Late-breaking Abstract (LBA) #1.
[2] Faivre S, Raymond E, Boucher E et al. Safety and efficacy of sunitinib in patients with advanced hepatocellular carcinoma: an open-label, multicentre, phase II study. Lancet Oncology [early online publication]. July 7, 2009.