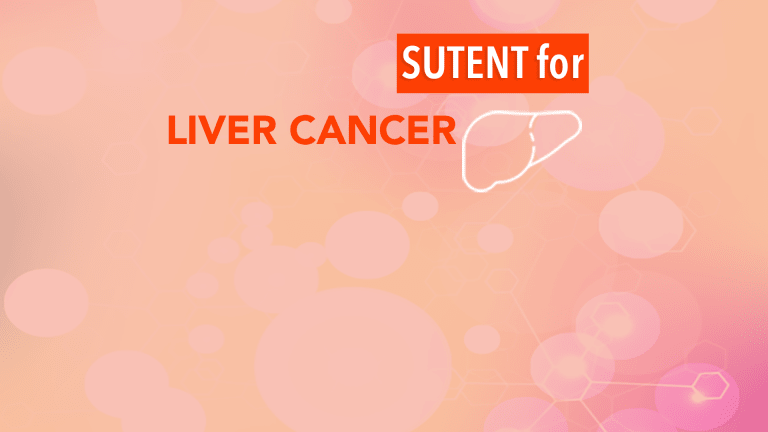 Sutent® Active in Liver Cancer
Sutent® Active in Liver Cancer
Sutent® (sunitinib) reduces the risk of cancer spread and the rate of cancer growth among patients with a form of liver cancer known as hepatocellular carcinoma. These results were presented as a late-breaking abstract at the 2008 annual meeting of the American Association for Cancer Research.
Hepatocellular carcinoma (HCC) is the most common form of liver cancer and is considered to be an aggressive type of cancer. Once advanced HCC has a poor prognosis with standard therapeutic approaches. Research continues to investigate ways improve survival of patients with this disease.
Sutent is an oral agent that is targeted against several pathways involved in controlling growth of blood vessels that supply nutrients to cancer cells. Thus, disrupting the formation of these blood vessels with agents such as Sutent can potentially deprive the cancer cells of nutrients, causing their death. Sutent is being evaluated for the treatment of many types of cancers.
Researchers from Massachusetts General Hospital Cancer Center recently conducted a clinical trial to evaluate the effectiveness of Sutent in the treatment of HCC. This trial included 43 patients with advanced HCC who were treated with Sutent.
At three months stabilization of cancer occurred in 17 patients and partial regression of cancer occurred in one patient.
Median progression-free survival was four months.
Median overall survival was 10 months.
Sutent was generally well tolerated with low rates of severe side effects.
The researchers concluded: "Results are still preliminary, but there is clear evidence of an anti-tumor activity in these patients."
Patients with advanced HCC may wish to speak with their physician regarding their individual risks and benefits of participation in a clinical trial further evaluating Sutent or other novel therapeutic approaches. Sources of information regarding ongoing clinical trials include the National Cancer Institute (www.cancer.gov).
Reference: Zhu A, et al. Efficacy, safety, and changes in blood markers following sunitinib monotherapy in patients with advanced hepatocellular carcinoma: experience from a multidisciplinary Phase II study. Proceedings from the 2008 annual American Association for Cancer Research meeting. Abstract LB-13.