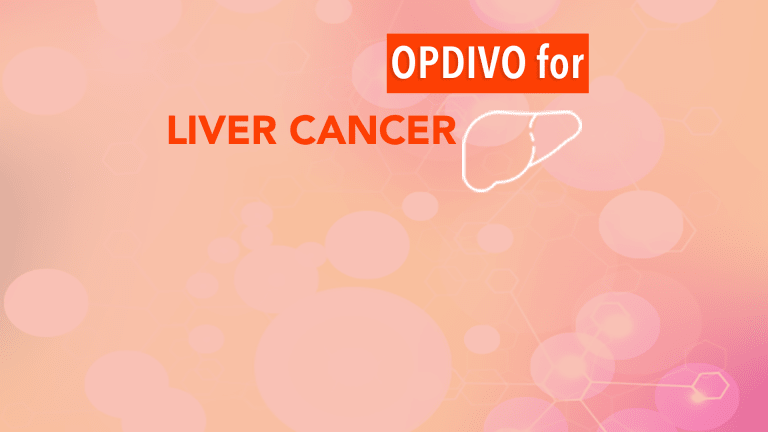 Opdivo in Advanced Liver Cancer
Opdivo Precision Cancer Medicine with Yervoy Improves Outcomes in Advanced Liver Cancer
by Dr. C.H.Weaver M.D. updated 8/2021
Results from the CheckMate 040 clinical trial were initial reported and found that Opdivo (nivolumab), an immuno-oncology drug which acts by modulating the immune system, produces durable responses with long-term survival rates in patients with hepatocellular carcinoma (HCC) regardless of whether or not patients were infected with Hepatitis B or C. 
In consultation with the U.S. Food and Drug Administration (FDA), however, Bristol Myers Squibb voluntarily withdrew the indication for as a single agent for patients with HCC who were previously treated with Nexavar (sorafenib) because Opdivo did not met the post-marketing requirements demonstrating confirmatory benefit.9
Hepatocellular carcinoma is the second most common cause of cancer-related deaths worldwide.1,2 The prognosis for patients with advanced liver cancer is poor, and the multikinase inhibitor, Nexaver, had been the only approved treatment until recently.3,4
The IMbrave150 sutdy in previously untreated unresectable or metastatic HCC directly compared the combination of Tecentriq and Avastin to Nexavar and found that three times as many patients responded to treatment with Tecentriq-Avastin and these patients survived an average of 6.8 months without cancer progression compared to 4.3 months for Nexavar treated patients.
Opdivo is another programmed-death-1 (PD-1) immune checkpoint inhibitor similar to Tecentriq  that is designed to use the body's own immune system to help restore the anti-cancer immune response. It restores T-cell-mediated anti-cancer activity so that the T cells recognize and attack cancer cells.5
The CheckMate 040 clinical trial was designed to evaluate Opdivo in patients with advanced liver cancer who were previously treated with Nexavar and were not suitable for surgery.6 All 145 patients were treated with intravenous Opdivo every 2 weeks until the cancer progressed or side effects became intolerable. In addition to the overall response rate of 19%, average overall survival was 16.7 months. Responses to Opdivo occurred regardless of programmed death-1 (PD-1) ligand expression on cancer cells.
On March 11, 2020, the FDA approved Opdivo plus Yervoy for the treatment of patients with advanced HCC previously given Nexavar based on findings from the phase CheckMate-040 clinical trial. After a minimum follow-up time frame of 28 months, 33% of the 49 patients responded to therapy including 4 (8%) complete responses and 12 partial responses. Duration of response ranged from 4.6 to greater than 30 months, with 88% lasting at least 6 months, and 31% at least 24 months.7
References:
World Health Organization. Cancer. Available here. Last accessed: April 2017.
World Health Organization. GLOBOCAN 2012: Estimated cancer incidence, mortality and prevalence worldwide in 2012. Available here. Last accessed: April 2017.
EASL-EORTC Clinical Practice Guidelines: Management of hepatocellular carcinoma. J Hepatol. 2012;56:908-943.
news.cancerconnect.com/first-new-drug-liver-cancer-decade-stivarga/
Melero I, et al. Nivolumab dose escalation and expansion in patients with advanced hepatocellular carcinoma (HCC): The CheckMate 040 study. J Clin Oncol. 2017;35 (suppl 4S: abstract 226.
ClinicalTrials.gov. NCT Identifier: NCT01658878. A study to evaluate the effectiveness, safety and tolerability of nivolumab and the combination nivolumab plus ipilimumab in patients with advanced liver cancer (CheckMate 040). Available here. Last accessed: April 2017.
U.S. Food and Drug Administration Approves Opdivo (nivolumab) + Yervoy (ipilimumab) for Patients with Hepatocellular Carcinoma (HCC) Previously Treated with Sorafenib [news release]. Princeton, NJ: Business Wire; March 11, 2020.
www.businesswire.com/news/home/20200311005141/en. Accessed March 11, 2020.
https://news.bms.com/news/corporate-financial/2021/Bristol-Myers-Squibb-Statement-on-Opdivo-nivolumab-Monotherapy-Post-Sorafenib-Hepatocellular-Carcinoma-U.S.-Indication/default.aspx