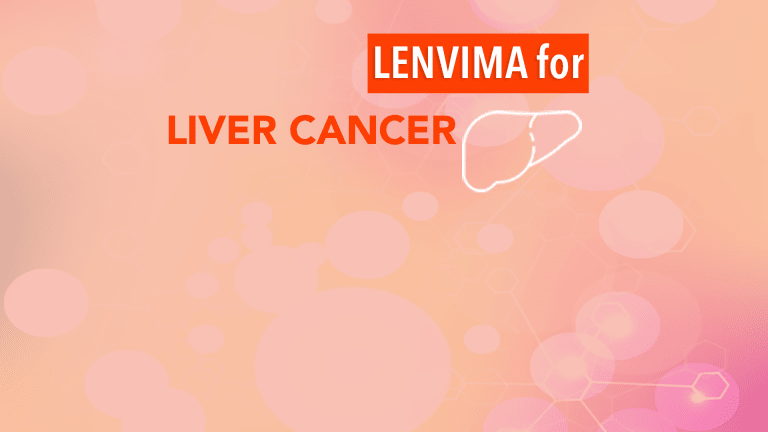 Lenvima for Treatment of Advanced Liver Cancer
REFLECT clinical trial leads to approval of Lenvima for treatment of liver cancer - Keytruda combination more promising.
by Dr. C.H. Weaver M.D. updated 1/2023
The U.S. Food and Drug Administration (FDA) approved the kinase inhibitor Lenvima® (lenvatinib) for the first-line treatment of patients with unresectable hepatocellular (HCC) carcinoma. Lenvima has previously been approved for differentiated thyroid cancer and renal cell cancer. This approval in HCC was based on results from the REFLECT clinical trial.1
About Lenvima
Lenvima is an oral anti-angiogenic therapy that targets new blood vessel growth, lenvatinib can "starve" cancer of the nutrients it needs to grow.
About Hepatocellular Carcinoma (HCC)
The liver is the largest organ in the body and is responsible for over 500 functions, including the secretion of glucose, proteins, vitamins, and fats; the production of bile; the processing of hemoglobin; and detoxification of numerous substances.
Liver cancer, or hepatocellular carcinoma (HCC), is the second most common cause of cancer-related deaths worldwide. The prognosis for patients with advanced liver cancer is poor, and the multikinase inhibitor, Nexaver, has been the only approved treatment, until the recent approval of Stirvaga.2-6
Factors that increase the risk of developing hepatocellular carcinoma include cirrhosis, long-term, heavy alcohol use, and chronic infection with hepatitis B or C viruses.2,3
The REFLECT clinical trial enrolled 954 treatment-naive patients with metastatic or unresectable hepatocellular carcinoma to receive treatment with either Lenvima once per day or Nexavar twice daily and compared the outcomes.
Overall 41% of Lenvima treated patients responded to treatment compared to 12% for Nexavar. The average time to cancer progression nearly doubled to 7.3 months for Lenvima compared to 3.6 months for Nexavar. Overall survival however was 13.6 and 12.3 months for Lenvima and Nexavar respectively. The trial demonstrated that Lenvima was non-inferior to Nexavar for overall survival, which was the primary endpoint of the trial.
Lenvima represents a new treatment option for individuals with advanced hepatocellular cancer. How best to use Lenvima is being further defined by ongoing clinical trials looking at its use in combination therapy.
Lenvima Combination Therapies
Breakthrough Therapy Designation from the FDA for Keytruda® (pembrolizumab) plus Lenvima® combination treatment was given on July 23, 2019 for the potential first-line treatment of patients with advanced HCC not amenable to locoregional treatment based on updated interim results from the Phase 1b trial KEYNOTE-524/Study 116. HCC patients should discuss the availability of this treatment option with their physician.5
Lenvima for Recurrent HCC
Standard first line treatment of HCC began consisting of immunotherapy in 2020 and few studies have evaluated second line treatments in patients who received immunotherapy.  Findings from a retrospective analysis that were presented at the 2023 Gastrointestinal Cancers Symposium have shown that the median time to cancer progression following Lenvima is 3.7 months  and patients survive and average of 13 months. This compares favorably to all second line treatments.7
References:
Eisai And Merck Announce FDA Approval Of LENVIMA® (lenvatinib) Capsules For First-line Treatment Of Unresectable Hepatocellular Carcinoma (HCC)
2018 Gastrointestinal Cancers Symposium. Abstract 207, presented January 19, 2018.
Gastrointestinal Cancers Symposium (GICS) 2018. Abstract 206, presented January 19, 2018.
Organization. Cancer. Available here. Last accessed: April 2017.
World Health Organization. GLOBOCAN 2012: Estimated cancer incidence, mortality and prevalence worldwide in 2012. Available Global Cancer Observatory (GCO)
EISAI AND MERCK & CO., INC., KENILWORTH, N.J., U.S.A. ANNOUNCE DATA AT 2018 ASCO ANNUAL MEETING FROM INVESTIGATIONAL STUDIES OF LENVIMA® AND KEYTRUDA® COMBINATION THERAPY IN FOUR DIFFERENT TUMOR TYPES
Gile J, Palmer M, Storandt M, et al. Outcomes of patients receiving lenvatinib following immunotherapy in patients with advanced hepatocellular carcinoma. Poster Presented at: 2023 Gastrointestinal Cancers Symposium; January 19-21, 2023; San Francisco, CA. Abstract 507.