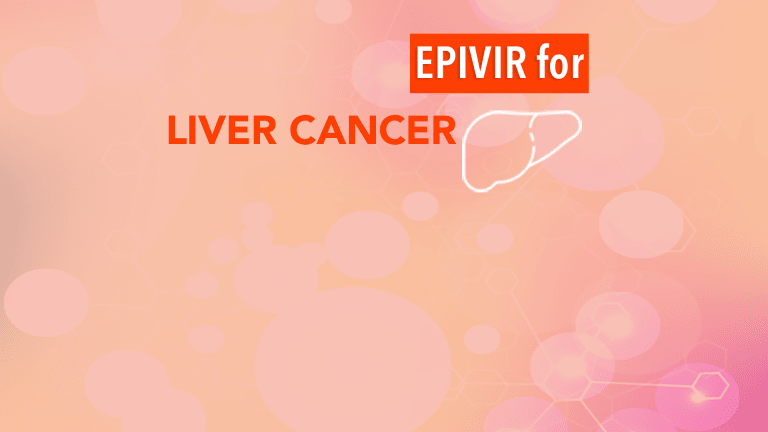 Epivir® Prevents Inflammation of the Liver Due to Reactivation of Hepatitis B
Anti-Viral Epivir® Prevents Inflammation of the Liver Due to Reactivation of Hepatitis B in Liver Cancer Patients
According to a recent article published in the journal Hepatology, the anti-viral agent Epivir® (lamivudine) prevents inflammation of the liver in patients with hepatocellular (liver) cancer who have been diagnosed with hepatitis B and are undergoing chemotherapy.
The most common type of liver cancer, hepatocellular carcinoma, is characterized by cancer that starts in cells of the liver and can spread through blood and lymph vessels to different parts of the body.
The liver is the largest organ in the body and is responsible for over 500 functions. These include the secretion of glucose, proteins, vitamins, and fats; the production of bile; the processing of hemoglobin; and the detoxification of numerous substances.
Hepatitis B is a virus that causes inflammation of the liver. It is spread through contact with body fluids and can be transmitted through blood, sexual contact, or from mother to infant during birth. While some individuals develop an acute infection and then recover, others develop a chronic infection.
The probability of developing chronic hepatitis B is higher if the infection is acquired at a young age. Development of chronic hepatitis B significantly increases a person's risk for developing serious liver problems such as cirrhosis or hepatocellular carcinoma (HCC).
Patients with chronic hepatitis B who are undergoing treatment for liver cancer, such as chemotherapy, often experience a reactivation of the hepatitis B virus. The reactivation of the virus may initiate the production of clinical symptoms such as inflammation of the liver and potentially death. Often, treatment for the cancer has to be stopped or delayed if reactivation causes these symptoms; this can lead to suboptimal outcomes in the treatment of HCC. Therefore, it is in the patient's best interest to try to prevent hepatitis B from reactivating through anti-virals such as Epivir.
Researchers from South Korea recently conducted a trial to evaluate the use of Epivir when initiated at the start of chemotherapy in patients with HCC. This trial included 73 patients with HCC who had been previously diagnosed with hepatitis B. Approximately half of the patients were treated with Epivir plus chemotherapy, and the other half received chemotherapy only.
Patients treated with Epivir had a significantly reduced risk of developing inflammation of the liver while undergoing chemotherapy.
At one year, only one patient (2.8%) who received Epivir developed inflammation of the liver from reactivation of hepatitis B, compared with 11 patients (30%) for those who did not receive Epivir.
Patients with a higher viral load (greater viral amount in the body) had a higher risk of having a reactivation of hepatitis B.
The researchers concluded that the use of Epivir when initiating chemotherapy in patients with HCC who have been previously diagnosed with hepatitis B significantly reduces the risk of developing inflammation of the liver due to reactivation of the hepatitis B virus. Longer follow-up is necessary to determine if Epivir provides a survival advantage in these patients.
Patients with HCC who have hepatitis B and are to undergo treatment with chemotherapy may wish to speak with their physician regarding their individual risks and benefits of early treatment with Epivir.
Reference: Jang JW et al. A randomized controlled study of preemptive lamuvidine in patients receiving transarterial chemo-lipiodolization. Hepatology. 2006; 43(2):233-240.