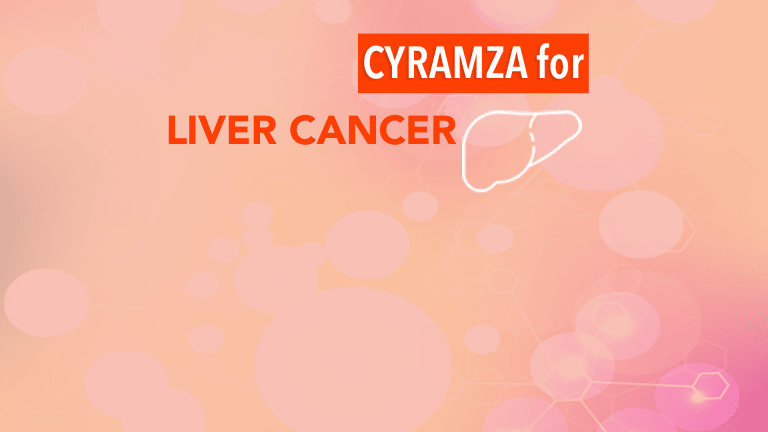 Cyramza Improves Survival in Poor-Prognosis Liver Cancer
Cyramza Improves Survival in Poor-Prognosis Liver Cancer
Andrew X. Zhu, MD, PhD, director of Liver Cancer Research at Massachusetts General Hospital presented new data at the 2018 World Congress on Gastrointestinal Cancer (WCGC) demonstrating that Cyramza (ramucirumab) significantly improves survival in a subset of patients with hepatocellular carcinoma (HCC) who have high levels of the plasma protein α-fetoprotein (AFP), which is associated with a poor prognosis.(1)
In May 2019 the U.S. Food and Drug Administration (FDA) approved Cyramza® for the treatment of patients with carcinoma HCC who have an alpha-fetoprotein (AFP) of ≥400 ng/mL and have been treated with sorafenib.
Approval was based on the results of the REACH-2 clinical trail which demonstrated improved survival duration for Cyramzz in patients with HCC who had been treated with Nexavar (sorafenib) and are AFP-High (AFP ≥400 ng/mL).(2)
About Hepatocellular Carcinoma (HCC)
The liver is the largest organ in the body and is responsible for over 500 functions, including the secretion of glucose, proteins, vitamins, and fats; the production of bile; the processing of hemoglobin; and detoxification of numerous substances.
Hepatocellular carcinoma (HCC) is the most common type of primary liver cancer. According to the Centers for Disease Control and Prevention (CDC), liver cancer is the ninth leading cause of cancer death in the United States and the third leading cause of cancer death worldwide. Factors that increase the risk of developing hepatocellular carcinoma include cirrhosis, long-term, heavy alcohol use, and chronic infection with hepatitis B or C viruses.
About Cyramza
Cyramza is a type of targeted agent known as a monoclonal antibody. It belongs to a class of drugs known as angiogenesis inhibitors that work by blocking the growth of new blood vessels to the cancer to starve it of nutrients. The agent is currently FDA approved for the treatment of gastric cancer and non-small cell lung cancer and it is being studied in other cancers, including bladder cancer.
The findings reported come from a pooled analysis of two clinical trials in which there were more than 500 patients with raised AFP levels (≥400 ng/mL). In this subgroup of patients Cyramza;
Improved overall response rates to 5.4% vs 0.9% for placebo
Improved overall survival by 31%, extending the median survival duration by 3 months.
Doubled the time to cancer progression to 2.8 months vs 1.5 months for placebo.
Current treatment options for liver cancer are limited and these results in high risk patients with advanced disease are encouraging. Earlier use of Cyramza or in combination with precision cancer medicines or chemotherapy are currently being evaluated.
References:
20th World Congress on Gastrointestinal Cancer (WCGC). Abstract LBA-001. Presented June 20, 2018.