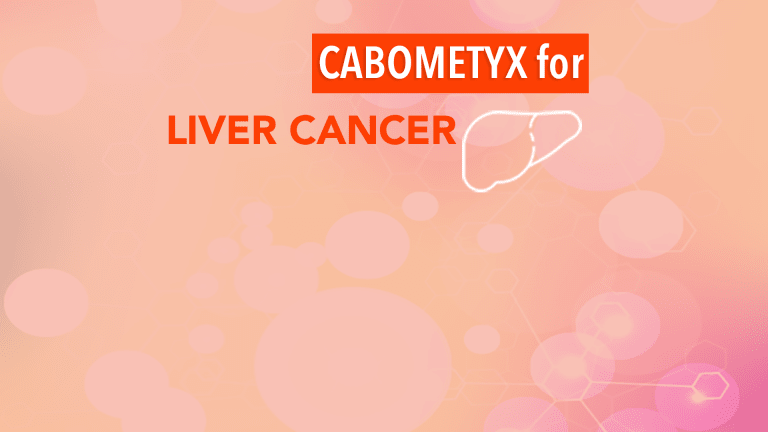 Cabometyx™ Standard Second Line Treatment for Liver Cancer
Cabometyx™ standard second line treatment for Liver Cancer.
Treatment with Cabometyx™ (cabozantinib) significantly improved outcomes in patients with advanced hepatocellular carcinoma (HCC) providing another effective treatment option for this patient population. The findings come from the phase 3 CELESTIAL trial and were presented at the 2018 Gastrointestinal Cancers Symposium. (1,6)
About Liver Cancer
Liver cancer, or hepatocellular carcinoma (HCC), is the second most common cause of cancer-related deaths worldwide. (2,3) The prognosis for patients with advanced liver cancer is poor, and the multikinase inhibitor, Nexaver, has been the only approved treatment, until the recent approval of Stirvaga. (3)
Each year in the United States, there are more than 21,000 new diagnoses of primary liver cancer and more than 18,000 deaths from the disease.3 Liver cancer is the fifth leading cause of cancer death among U.S. men, and the ninth leading cause of cancer death among U.S. women. Worldwide, more than 700,000 new cases of liver cancer are diagnosed each year.4
About Cabometyx
Cabometyx™ is an oral inhibitor of multiple receptor tyrosine kinases, including RET, MET, and vascular endothelial growth factor 2 (VEGFR2), which are all involved in both normal cellular function and pathologic processes, such as oncogenesis, metastasis, tumor angiogenesis, and maintenance of the tumor microenvironment. The drug has been marketed in the United States since 2012 and is approved for the treatment of metastatic medullary thyroid cancer and advanced renal cell carcinoma.
Discuss HCC and this article with other patients and caregivers onCancerConnect.
The current clinical trial involved 707 patients with HCC who had experienced disease progression with Nexavar, or other systemic therapies. They were treated with Cabometyx™ or no additional therapy and directly compared. Overall survival was 2.2 months longer for patients who received Cabometyx™ and there was a 56% reduction in the risk for progression or death in this advanced treatment refractory group of patients.
There were improved outcomes with Cabometyx relative to placebo in patients with previously treated HCC across all ranges of baseline AFP levels, a known prognostic factor for HCC treatment outcomes.
Cabometyx™ represent another treatment option for individuals with HCC and evaluation earlier in the disease course and in combination with other therapies is ongoing to determine how best to utilized this new medication.
References:
2018 Gastrointestinal Cancers Symposium. Abstract 207, presented January 19, 2018.
Gastrointestinal Cancers Symposium (GICS) 2018. Abstract 206, presented January 19, 2018.
1 World Health Organization. Cancer. Available here. Last accessed: April 2017.
2 World Health Organization. GLOBOCAN 2012: Estimated cancer incidence, mortality and prevalence worldwide in 2012. Available here. Last accessed: April 2017.
Kelley RK, Meyer T, Rimassa L, et al. Serum alpha-fetoprotein levels and clinical outcomes in the phase III CELESTIAL study of cabozantinib versus placebo in patients with advanced hepatocellular carcinoma. Clin Cancer Res. Published July 29, 2020. doi: 10.1158/1078-0432.CCR-19-3884