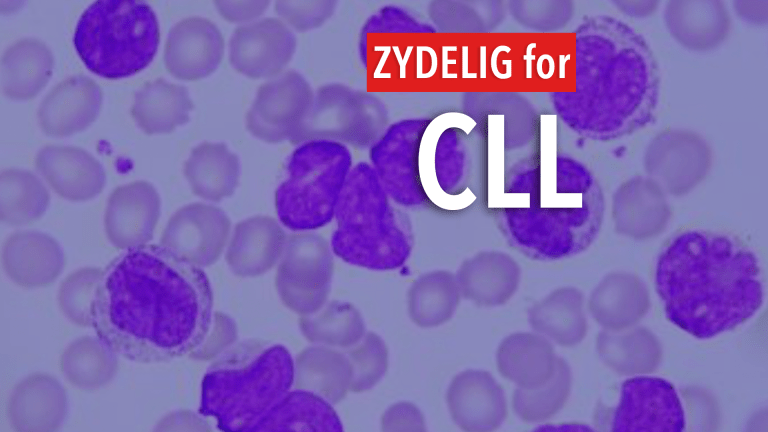 Zydelig® Combinations Improve Survival in Recurrent CLL
Zydelig® combined with Treanda and Rituxan is and effective treatment of Chronic Lymphocytic Leukemia
by Dr. C.H. Weaver M.D. updated 5/2019
Zydelig (Idelalisib) improves survival rates among patients with relapsed/refractory chronic lymphocytic leukemia (CLL) compared with Rituxan (rituximab) monotherapy.(1)
The FDA has approved Zydelig tablets for the treatment of three B-cell blood cancers. Zydelig is indicated in combination with Rituxan for patients with relapsed CLL and as monotherapy for patients with relapsed FL and SLL who have received at least two prior systemic therapies. Zydelig is a first-in-class inhibitor of PI3K delta,
Zydelig is an oral inhibitor of phosphoinositide 3-kinase (PI3K) delta, a protein that plays a role in the activation, proliferation and viability of B cells, a critical component of the immune system. PI3K delta signaling is active in many B-cell leukemias and lymphomas - by inhibiting the protein. Zydelig blocks several cellular signaling pathways that drive B-cell viability.
A phase III clinical trial directly comparing Zydelig + Rituxan (ZR) to Rituxan alone in patients with relapsed CLL was terminated early because the ZR treatment was shown to be superior. The primary study enrolled 220 patients who were treated with ZR or Rituxan monotherapy and then 161 patients transitioned to an "extension study." The long-term effectiveness was assessed in the 110 patients who received ≥1 doses of Zydelig in the primary study.
At the first planned follow-up, the researchers found that participants treated with Zydelig and Rituxan lived almost 11 months without disease progression compared with about six months for those treated with Rituxan alone. The average survival duration in a later analyses was reported to be 40.6 months among patients who received ZR compared to 34.6 months for patients only treated with Rituxan.
Side Effects of Zydelig
In the primary study, the most frequently reported side effects were fever, fatigue and diarrhea which occurred in greater that 1/3 of treated individuals. With longer exposure to Zydelia the occurrence of diarrhea increased as did the incidence of all grades of colitis and pneumonitis.
Chronic lymphocytic leukemia is the most common adult leukemia with over 15,000 new cases per year in the United States and almost 5,000 deaths. CLL is not a rapidly growing cancer, but the abnormal cells accumulate in blood, bone marrow, lymph nodes, and spleen, resulting in enlargement of these organs and decreased bone marrow and immune function. The FDA has approved several new treatment options for CLL in recent years including Gazyva (obinutuzumab), Imbruvica (ibrutinib), and Arzerra (ofatumumab).. Researches will continue to evaluate the best way to use the medicines in order to improve the outcome of individuals diagnosed with CLL.
Learn more about Zydelig here.
References:
J Clin Oncol. 2019 Apr 17. Epub ahead of print.
Zelenetz A, Robak T, Coiffier B, et al. LBA-5 Idelalisib plus bendamustine and rituxumab (BR) is superior to BR alone in patients with relapsed/refractory chronic lymphocytic leukemia: results of a phase 3 randomized double-blind placebo-controlled study.[Abstract ASH 57th Annual Meeting & Exposition, Orlando FL, December 5-8, 2015.(https://ash.confex.com/ash/2015/webprogram/Paper87420.html)