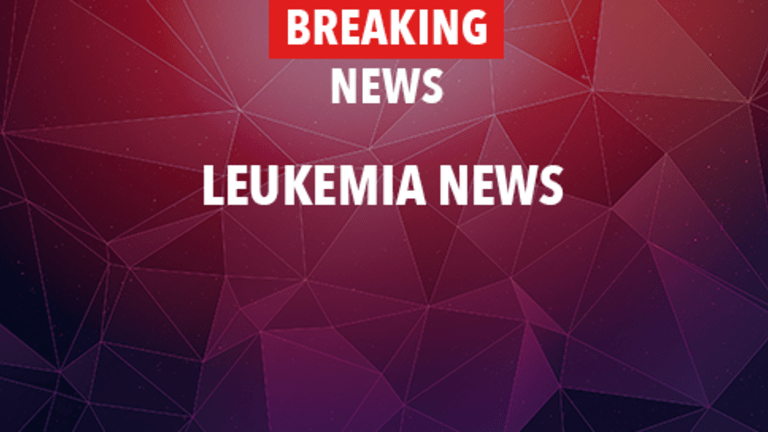 Treatment w/ Reduced Intensity Allogeneic Stem Cell May Benefit Patients w/ AML
Early Treatment with Reduced Intensity Allogeneic Stem Cell Transplant May Benefit Patients with AML
According to an article recently published in the journal

Leukemia,"mini" allogeneic stem cell transplants used as initial therapy provide impressive cancer-free survival in patients with acute myeloid leukemia.
Acute myeloid leukemia (AML) is a cancer of the bone marrow and blood characterized by the rapid, uncontrolled growth of immature white blood cells known as myelocytes. The disease is more common in adults than in children; average age at diagnosis is more than 65 years. Unfortunately, there has been little improvement in the outcomes of elderly patients with AML using conventional or intensive chemotherapy regimens.
Allogeneic stem cell transplantation is an important part of treatment for AML. However, due to the high mortality rate directly related to complications of this treatment, allogeneic stem cell transplants are typically reserved for younger patients.
Allogeneic stem cell transplants involve the use of high doses of treatment, which kill more cancer cells than conventional doses. However, the high doses of treatment are often difficult for patients to tolerate and can lead to serious, even life-threatening, side effects. Researchers are now evaluating the use of lower doses of therapy prior to the infusion of stem cells, referred to as a "mini" transplant or reduced-intensity transplant.
Low levels of immune cells, red blood cells, and platelets are common, life-threatening side effects of high-dose therapy. Therefore, immature blood cells (hematopoietic stem cells) that develop into functioning immune cells, red cells, and platelets are infused following the high-dose therapy. The stem cells can be collected prior to therapy from the patient (an autologous stem cell transplant) or can be collected from a donor (an allogeneic stem cell transplant).
The infusion of donor stem cells in an allogeneic stem cell transplant has both advantages and disadvantages. The important advantage is that the donor cells often recognize the patient's cancer cells as "foreign" and attack them; this compounds the effects of treatment. Conversely, a disadvantage of allogeneic stem cell transplants is the risk of graft-versus-host-disease (GVHD), a condition in which donor stem cells attack the patient's healthy tissues. Reduced-intensity allogeneic transplants rely on donor stem cells to help fight the cancer.
Often, allogeneic stem cell transplants are used for patients with AML once their cancer has progressed following prior therapy. However, some physicians and researchers advocate the earlier use of these transplants in patients who are at a high risk of cancer progression.
Researchers from Germany recently conducted a clinical trial to evaluate reduced-intensity allogeneic transplants following just one or two initial cycles of chemotherapy. This trial included 26 patients with a median age of 49 years; 19 patients were at a high risk of cancer progression due to cytogenetics (genetic features). Seven patients did not achieve optimal anticancer responses to standard chemotherapy. Patients received infusions of donor stem cells; 17 patients had detectable cancer at the time of the infusion.
All patients achieved a complete remission (complete disappearance of detectable cancer).
Cancer-free survival was 61%.
Only three patients experienced a cancer relapse.
The researchers concluded that "mini" allogeneic stem cell transplants during initial cycles of chemotherapy provide impressive cancer-free survival among patients with AML who are at a high risk of cancer progression following standard therapy. The researchers comment that using this procedure early in the treatment phase appears to provide superior results compared to its use later in the disease course.
Patients with AML who are considered at high risk of developing cancer progression following standard therapies may wish to speak with their physician regarding their individual risks and benefits of mini-allogeneic stem cell transplants.
Reference: Platzbecker U, Thiede C, Fussel M, et al. Reduced intensity conditioning allows for up-front allogeneic hematopoietic stem cell transplantation after cytoreduction induction therapy in newly-diagnosed high-risk acute myeloid leukemia. Leukemia. 2006;20:707-714.
Related News:
"Mini" Transplant is Effective Initial Therapy for High-Risk Acute Myeloid Leukemia (10/24/05)
Early Allogeneic Stem-Cell Transplantation Benefits Some Adults with Acute Myeloblastic Leukemia(10/11/05)
Copyright © 2018 CancerConnect. All Rights Reserved.