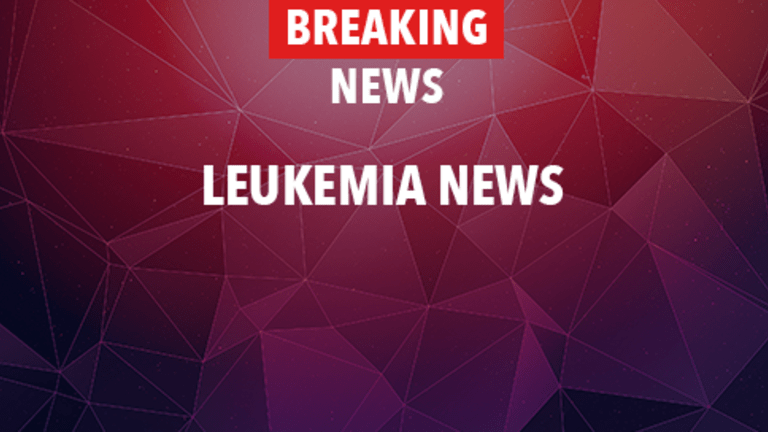 Treatment Response Linked with Symptom Improvement in CLL
Treatment Response Linked with Symptom Improvement in CLL
According to results presented at the Tenth Annual International Congress on Hematologic Malignancies, the addition of Genasense® (oblimersen sodium) to chemotherapy increased the likelihood of remission in patients with relapsed or refractory chronic lymphocytic leukemia (CLL). Patients who achieved the greatest response to treatment also experienced the greatest symptom relief.
Chronic lymphocytic leukemia (CLL) is the most common form of adult leukemia. The American Cancer Society estimates that approximately 10,000 people will be diagnosed with CLL in 2006.
CLL is considered a slow-growing or low-grade cancer. Treatment for CLL may include chemotherapy, radiation therapy, biological therapy, and/or stem cell transplantation. Treatment options are limited for patients who have received several prior therapies (a condition referred to as "relapsed") or have stopped responding to standard therapies (a condition referred to as "refractory").
One mechanism that may make cancer cells resistant to chemotherapy is Bcl2 expression. Bcl2 is a protein that prevents cell death. Genasense inhibits the production of Bcl2 protein, and may enhance a patient's response to chemotherapy.
A phase III trial was conducted to evaluate the addition of Genasense to chemotherapy in the treatment of CLL. This trial included 241 patients with relapsed or refractory CLL; approximately half was treated with the chemotherapy agents Fludara® (fludarabine) and Cytoxan® (Cyclophosphamide), while the other half was treated with the same chemotherapy combination plus Genasense.
According to results previously reported at the 2005 International World Congress on Chronic Lymphocytic Leukemia, regression of cancer (either a complete remission or a nodular partial remission) occurred in 17% of patients treated with Genasense compared with only 7% of patients treated with chemotherapy alone. Genasense was generally well tolerated. The most common severe side effects were low levels of platelets, nausea, and complications at the site of catheter insertion.
The most recent report from this study builds upon these findings by evaluating symptom relief following treatment. At the start of the study, 83% of patients reported CLL symptoms such as fever, night sweats, fatigue, abdominal discomfort, or problems related to enlarged lymph nodes or spleen. Regardless of treatment group, patients who achieved disease remission following treatment were much more likely to report lasting relief from disease symptoms.
Genta Incorporated has filed a New Drug Application to the Food and Drug Administration for use of Genasense plus Fludara and Cytoxan for treatment of relapsed or refractory CLL.
Reference: Genta Incorporated. Clinical Benefit Analysis of Genasense Plus Chemotherapy Reported from Phase 3 Trial in Patients with Chronic Lymphocytic Leukemia. Available at: Accessed February 22, 2006.
Related News:Genasense® Reduces Risk of Cancer Progression in Chronic Lymphocytic Leukemia(9/20/05)
Copyright © 2018 CancerConnect. All Rights Reserved.