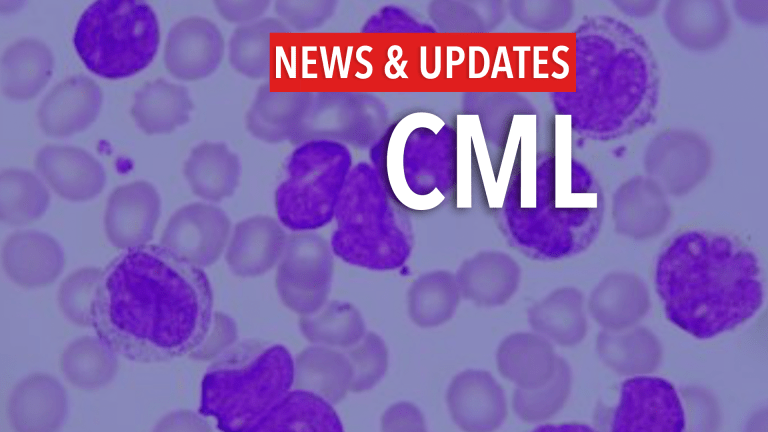 STAMP inhibitor Scemblix for CML
Scemblix superior responses compared to Bosulif for treatment of chronic myeloid leukemia - active in T315I mutations
STAMP inhibitor Scemblix (asciminib ABL001) for CML
by Dr. C.H. Weaver M.D. 11/2021
Data presented at the December 2020 American Society of Hematology Annual Meeting (ASH) from the Phase III ASCEMBL clinical trial demonstrated that the novel precision cancer medicine Scemblix (asciminib, ABL001) nearly doubled the major molecular response (MMR) rate compared to Bosulif® (bosutinib) in patients with Philadelphia chromosome-positive chronic myeloid leukemia in chronic phase (Ph+ CML-CP).1,-3
This led to US Food and Drug Administration approval of Scemblix®  for the treatment of chronic myeloid leukemia (CML) for adult patients with Ph+ CML-CP previously treated with two or more tyrosine kinase inhibitors (TKIs) and for any adult patient with Ph+ CML-CP with the T315I mutation.  The FDA approval of Scemblix is based on results from the Phase III ASCEMBL trial and a Phase I study that included patients with Ph+ CML-CP with the T315I mutation.3
In patients with Ph+ CML-CP who had experienced resistance or intolerance to at least two TKIs, the ASCEMBL trial showed that2
Scemblix nearly doubled the molecular response rate compared to Bosulif® (bosutinib) at 24 weeks (25% vs. 13%)
The proportion of patients who discontinued treatment due to side effects was more than three times lower with Scemblix. 
The most common side effects were, respectively: upper respiratory tract infections, musculoskeletal pain; decrease in platelet and neutrophil counts, and a decrease in hemoglobin.
Tyrosine kinase inhibitors were one of the first precision cancer medicines developed and changed the management of CML. The advent and expansion of multiple TKI therapies has resulted in tremendous progress for patients living with CML over the last three decades. Some patients however in later treatment lines still can develop resistance leading to disease progression. There is currently no established standard-of-care in the third line setting of CML treatment.
About Scemblix
Scemblix is a precision cancer medicine targeting the ABL myristoyl pocket (STAMP) in patients with CML. Asciminib was designed to help overcome mutations on the ATP-binding site of BCR-ABL1, which may help address resistance that occurs in later treatment lines of CML and is being studied in several clinical trials in hopes of helping patients across multiple treatment lines of CML. (2)
About ASCEMBL
The ASCEMBL clinical trial was designed to compare Scemblix to Bosulif, and established and effective treatment for patients with Ph+ CML-CP previously treated with two or more tyrosine-kinase inhibitors TKI's.
In the ASCEMBL clinical trial, 233 patients were treated with either asciminib 40 mg twice daily or Bosulif 500 mg once a day and directly compared. Patients were evaluated 24 weeks from initiation of therapy and 41% of asciminib treated patients achieved a cytogenetic complete remission compared to 24% of those treated with Bosulif. Treatment discontinuation due to side effects was less common with asciminib occurring in 5.8% compared to 21.1% for patients taking Bosulif.
The US Food and Drug Administration granted Fast Track designation for Scemblix leading to approval in November 2021.  
References
Hochhaus A, et al. Efficacy and Safety Results from ASCEMBL, a Multicenter, Open-Label, Phase 3 Study of Asciminib, a First-in-Class STAMP Inhibitor, vs Bosutinib (BOS) in Patients (Pts) with Chronic Myeloid Leukemia in Chronic Phase (CML-CP) Previously Treated with ≥2 Tyrosine Kinase Inhibitors (TKIs). Oral presentation at: ASH Annual Meeting; Dec. 8, 2020.
Schuld P., et al. Structural and Biochemical Studies Confirming the Mechanism of Action of Asciminib, an Agent Specifically Targeting the ABL Myristoyl Pocket (STAMP). Blood. 2020;136:34-35.
Rea D, et al. A Phase 3, Open-Label, Randomized Study of Asciminib, a STAMP Inhibitor, vs Bosutinib in CML After≥ 2 Prior TKIs. Blood. 2021. DOI: 10.1182/blood.2020009984. PMID: 34407542.