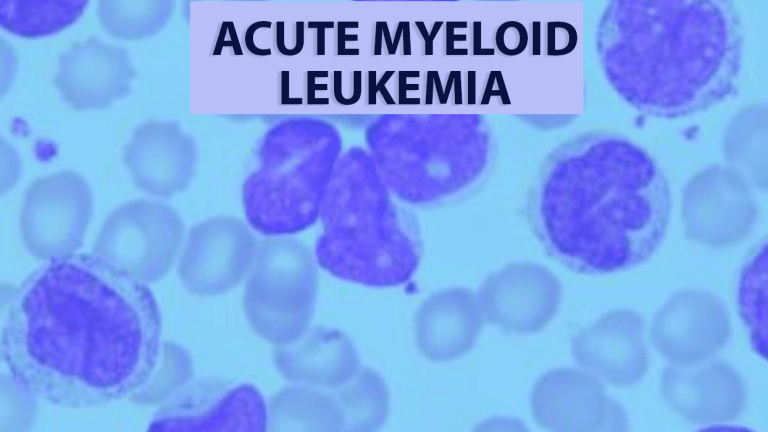 Relapsed Acute Myeloid Leukemia
Overview of Precision Medicines, Stem Cell and CAR T therapy for recurrent Acute Myeloid Leukemia
Medically reviewed by Dr. C.H. Weaver M.D. Medical Editor 5/2022
Patients with progressive or relapsed acute myeloid leukemia (AML) remain curable despite failing initial treatment. Patients failing initial treatment can be divided into two broad categories. Patients who fail to achieve an initial complete disappearance or remission of their cancer following two or more courses of remission induction chemotherapy are referred to as "induction failures." Patients who achieve a complete remission to initial treatment and then experience a cancer recurrence are said to have relapsed leukemia. Relapse of leukemia may occur several months to years after the initial remission; however, the majority of relapses occur within 2 years of initial treatment.
The following is a general overview of the treatment of relapsed/refractory acute myeloid leukemia. Circumstances unique to your situation and prognostic factors of your cancer may ultimately influence how these general treatment principles are applied. The information on this Web site is intended to help educate you about your treatment options and to facilitate a mutual or shared decision-making process with your treating cancer physician.
If a remission is not achieved or a recurrence occurs, there are essentially two choices of therapy. Since subsequent treatment with chemotherapy is rarely curative, a palliative approach can be adopted where drugs are administered in non-toxic doses to keep the disease under control for as long as possible. In this situation, the emphasis is on the quality of life and supportive care measures.
The alternative approach is to receive more intensive treatment in an attempt to produce a complete remission. There are two main strategies available.  Stem cell transplant and CAR T cell therapy offers a possibility for control or cure of the leukemia. The other approach is to participate in clinical trials evaluating new treatments. Both of these alternatives are discussed below.
Patients Failing Induction or Relapsing after a Complete Remission
Stem Cell Transplant
Currently allogeneic stem cell transplantation offers the only prospect of long-term disease-free survival. If a compatible family member donor or autologous stem cells are not available, there should be a search for an unrelated donor or an umbilical cord source of stem cells.
High-dose chemotherapy and autologous stem cell transplant is rarely a treatment option for patients who fail remission induction therapy because the bone marrow contains many leukemia cells. Treatment for patients failing remission induction is currently allogeneic stem cell transplant or chemotherapy.
Patients with AML that relapses after an initial complete remission can be cured with autologous stem cell transplant. Many centers have reported cure rates of 25-50% for patients with AML transplanted in second remission or early in first relapse. These results are often obtained because patients elected to have their stem cells collected and stored at the time of their initial remission. Collecting stem cells after relapse is less successful since less than half of patients receiving re-induction chemotherapy will achieve a second remission. Patients without previously stored stem cells, therefore, are often treated with allogeneic stem cell transplant or additional chemotherapy.
CAR T Cell Therapy
Chimeric antigen receptor (CAR) therapies utilize T-cells (CAR T), a patient's own immune cells that are re-programmed to recognize and kill leukemia cells throughout the body. The process involves the removal of some T cells from a patient, and through laboratory processes, these T cells are re-programmed to identify a patient's leukemia cells. CAR T cells are now approved for the treatment of lymphomas, myeloma and lymphoblastic leukemia and being refined to improve outcomes and treat AML other cancer types.
In May 2022 the FDA granted a fast track designation to the multigenic autologous CAR T-cell therapy PRGN-3006 for use in patients with relapsed or refractory acute myeloid leukemia (AML).1
The initial report for PRGN-3006 is in adult patients with relapsed AML and high-risk myelodysplastic syndrome (MDS) as part of a first-in-human early phase clinical trial.2 Data from the trial on 15 patients with relapsed or refractory AML were shared during the 2021 ASH Annual Meeting; PRGN-3006 elicited an objective response rate of 50%. PRGN-3006 was found to be well tolerated overall, with a low incidence or side effects and those consistent with CAR T cell therapies.
Precision Cancer Medicines
Doctors now use genomic and biomarker testing to identify precision cancer medicines that target specific parts of the leukemia cells. Precision cancer medicines are used to treat older individuals that might not tolerate chemotherapy and in combination with chemo to improve results.Individuals with AML should have cells from the blood or bone marrow tested to see if the leukemia cells have any of the following mutations that can be treated with a precision cancer medicine.4
FLT3 inhibitors
In ~ 1/3 of individuals with AML, the leukemia cells have a mutation in the FLT3 gene. This gene helps the cells make a protein (also called FLT3) that helps the leukemia cells grow. Mutations of FLT3 in AML are associated with a poor prognosis and the FDA has prioritized the approval of new therapies for FLT3+ AML patients. FLT3/ITD mutations are associated with high risk for relapse and allogeneic transplant seems to lower the risk for relapse considerably.
Rydapt (midostaruin) is a targeted therapy that works by blocking FLT3 and several other proteins on leukemia cells. Midostaruin can be used alone or combined with certain other chemotherapy medications to treat newly diagnosed adults whose leukemia cells have an FLT3 gene mutation.
Xospata (gilteritinib) The U.S. Food and Drug Administration approved Xospata for treatment of adult patients who have recurrent or refractory AML with a FLT3 mutation. Xospata has demonstrated inhibitory activity against FLT3 internal tandem duplication (ITD) as well as FLT3 tyrosine kinase domain (TKD), two common types of FLT3 mutations that are seen in approximately one-third of patients with AML.The FDA approval of Xospata was based on an interim analysis of the ADMIRAL clinical trial which included 138 adult patients with relapsed or refractory AML and a FLT3 ITD, D835, or I836 mutation. All individuals were treated with oral Xospata daily until unacceptable toxicity or lack of clinical benefit. Xospata doubled the complete remission rate; after a median follow-up of 4.6 months 29 patients had achieved a complete remission and a significant number no longer required blood or platelet transfusion support.
IDH inhibitors 
Targeted drugs called IDH inhibitors can block these IDH proteins and seem to work by helping the leukemia cells mature (differentiate) into more normal cells. Because of this, they are sometimes referred to as differentiation" agents.These following drugs can be used to treat AML with an IDH1 or IDH2 mutation.Tibsovo (ivosidenib) is an IDH1 inhibitor. It can be used to treat AML with an IDH1 mutation. 
Tibsovo in combination with azacytidine chemotherapy in adults with previously untreated AML delays leukemia progression and improves survival.10 Idhifa (enasidenib) is an IDH2 inhibitor. It can be used to treat AML with an IDH2 mutation that comes back after treatment or is no longer responding to other treatments. These drugs are taken by mouth, once a day and common side effects can include nausea, vomiting, diarrhea, fatigue, joint pain, shortness of breath, increased levels of bilirubin (a substance found in bile), and loss of appetite. An important possible side effect of these drugs is known as differentiation syndrome. This occurs when the leukemia cells release certain chemicals into the blood. It most often occurs during the first treatment cycle. Symptoms can include fever, breathing problems from fluid buildup in the lungs and around the heart, low blood pressure, liver or kidney damage, and severe fluid buildup elsewhere in the body. It can often be treated by stopping the drugs for a while and giving a steroid such as dexamethasone.
Mylotarg (gemtuzumab ozogamicin)
This targeted therapy consists of a monoclonal antibody (a man-made immune protein) linked to a chemotherapy drug. The antibody attaches to a protein called CD33, which is found on most AML cells. The antibody acts like a homing signal, bringing the chemo drug to the leukemia cells, where it enters the cells and kills them when they try to divide into new cells. This drug can be used along with chemotherapy in patients with AML that have the CD33 protein.  It is given as an infusion into a vein (IV). The most common side effects are fever, nausea and vomiting, low levels of blood cells (with increased risks of infection, bleeding, and fatigue), swelling and sores in the mouth, constipation, rash, and headaches.
Less common but more serious side effects can include severe liver damage, including veno-occlusive disease (blockage of veins in the liver) and reactions during the infusion (similar to an allergic reaction). Individuals are given medicines before each infusion to help prevent this. 
Venclexta® (venetoclax)
The BCL-2 (B-cell lymphoma 2) protein is a type of protein that is found in certain types of cancers that affect blood cells. This protein inhibits the death of cancer cells, enabling the cancer cells to grow and spread. Venclexta is an agent that inhibits the BCL-2 protein from protecting the survival of cancer cells, thereby resulting in reduced growth and/or the death of cancer cells. The combination of Venclexta with azacitidine or decitabine produced an overall response rate of 91% in elderly patients which led to the FDA approval.
Daurismo (glasdegib)
Daurismo is a "Hedgehog pathway inhibitor". The Hedgehog signaling pathway plays an essential role in embryogenesis, the process by which human embryos are developed. In adults, the abnormal activation of the hedgehog pathway appears to contribute to the development and persistence of cancer stem cells. Daurismo disruption of this pathway prevents the development and survival of these cancer stem cells. Daurismo in combination with the standard low-dose cytarabine (LDAC) chemotherapy was evaluated and was demonstrated to improve overall survival when compared to LDAC alone in adult AML patients who would not tolerate intensive chemotherapy. The average overall survival was doubled to 8.3 months for patients treated with Daurismo plus LDAC compared with 4.3 months for patients treated with LDAC only.The recent development of these novel precision cancer medicines targeting specific abnormalities that lead to the development of AML significantly expand treatment options, especially for older individuals.
References:
Precigen receives fast track designation for PRGN-3006 UltraCAR-T in patients with relapsed or refractory acute myeloid leukemia. News release. Precigen, Inc.; April 4, 2022. Accessed April 4, 2022. https://prn.to/3u61xd0
PRGN-3006 adoptive cellular therapy for relapsed or refractory AML or high risk MDS. ClinicalTrials.gov. Updated October 19, 2021. Accessed April 4, 2022. https://clinicaltrials.gov/ct2/show/NCT03927261
Precigen announces positive interim phase 1 data for PRGN-3006 UltraCAR-T in relapsed or refractory acute myeloid leukemia. News release. Precigen, Inc.; December 13, 2021. Accessed April 4, 2022. https://bit.ly/3KaEhQX
Perl A. AML: Progress — finally? Presented at: HemOnc Today New York; March 21-23, 2019; New York.
www.fda.gov/Drugs/InformationOnDrugs/ApprovedDrugs/ucm627045.htm
www.nature.com/articles/s41591-018-0233-1
www.fda.gov/Drugs/InformationOnDrugs/ApprovedDrugs/ucm626499.htm
www.fda.gov/NewsEvents/Newsroom/PressAnnouncements/ucm626443.htm
ClinicalTrials.gov. Study of AG-120 (Ivosidenib) vs. Placebo in Combination With Azacitidine in Patients With Previously Untreated Acute Myeloid Leukemia With an IDH1 Mutation (AGILE). Available at: https://clinicaltrials.gov/ct2/show/NCT03173248. Last accessed: July 2021.
Venugopal S, Takahashi K, Daver N, et al. Efficacy and safety of enasidenib and azacitidine combination in patients with IDH2 mutated acute myeloid leukemia and not eligible for intensive