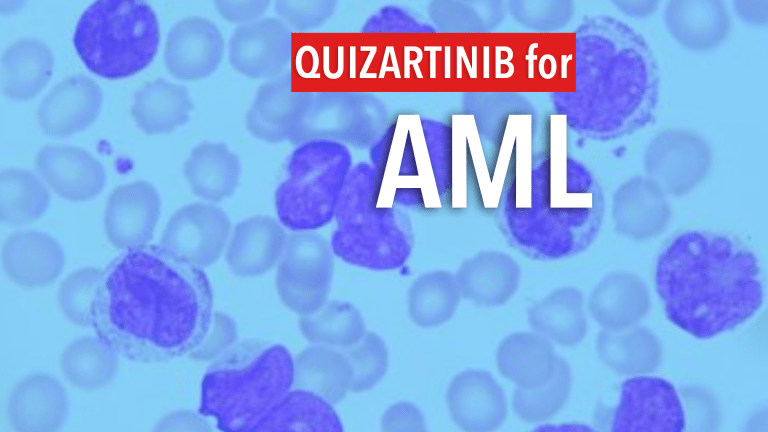 Quizartinib Improves Survival in Patients with Relapsed Acute Myeloid Leukemia
Quizartinib Improves Survival in Select Patients with Relapsed/Refractory Acute Myeloid Leukemia
by Dr.C.H. Weaver M.D. updated 7/2019
The novel precision cancer medicine, quizartinib improves the survival of individuals with relapsed/refractory acute myeloid leukemia (AML) with FLT3-ITD mutations when compared to standard salvage chemotherapy.(1)
About Acute Myeloid Leukemia with FLT3-ITD Mutations
Acute myeloid leukemia is diagnosed in approximately 20,000 individuals each year in the United States. It is an aggressive leukemia, with the lowest survival rate of any acute leukemias. Standard therapy for AML has remained essentially unchanged in the past 25 years, demonstrating a clear need for novel strategies. The five-year survival rate of AML reported from 2005 to 2011 was approximately 26%. (2)
AML prevents certain immune cells from developing properly, leaving them in immature stages. These cancerous cells, referred to as "blasts," are not able to fight infection as intended, and rapidly accumulate in the body. This crowds out other blood cells so that they are not able to carry out their essential functions.
Some patients with AML have a mutation in a gene called FLT3-ITD, which is sort of like a "power switch" that leukemia cells use to spread more aggressively—it helps the cancer cells grow back immediately after chemotherapy. Researchers have long been searching for a way to turn that "switch" off. The FLT3 gene mutation is one of the most common genetic abnormalities in AML affecting approximately one in four AML patients. Patients with FLT3-ITD mutated AML have a worse overall prognosis and new treatment strategies are needed to improve the survival of these high-risk patients.(3,4)
About Quizartinib
Quizartinib, is an oral novel precision cancer medicine selective for the FLT3 ligand. Quizartinib potently and selectively inhibits FLT3-ITD tyrosine kinase which is a growth driver of abnormal cells that contribute to the development of AML. Quizartinib has been granted Fast Track designation by the FDA for the treatment of relapsed or refractory AML. Quizartinib is the first FLT3 inhibitor to demonstrate improved overall survival compared with chemotherapy in patients with relapsed/refractory AML with FLT3-ITD mutations.
Quizartinib Shows Promise in Treatment-Resistant AML
The targeted agent quizartinib showed promise in the treatment of a subset of patients with treatment-resistant acute myeloid leukemia according to the results of a study presented at the 54th Annual Meeting of the American Society of Hematology in Atlanta, Georgia.
The study included 333 patients in two cohorts. The majority of patients carried the mutation. The second cohort involved 137 patients—99 with the mutation and 38 without. The results indicated that patients with the mutation achieved a complete remission rate of 44%, a median duration of response of 11.3 weeks, and median overall survival of 23.1 weeks. Patients without the mutation had a 34% complete response rate.
The number of patients who were able to continue on to receive a stem cell transplant was significant—47 of the 137 were able to receive a transplant and 18 had survived 60 weeks after treatment with no disease recurrence.(5)
Quizartinib Survival Benefit Over Chemo Confirmed in FLT3-ITD-Positive AML
The QuANTUM-R clinical trial that enrolled 367 patients with FLT3-ITD mutated AML who were refractory to or in relapse following standard first-line AML therapy with or without HSCT who were treated with either oral quizartinib or salvage chemotherapy and directly compared.
A total of 245 patients were treated with quizartinib and 122 with chemotherapy. After a median follow-up of 23.5 months the overall survival was longer with quizartinib than with chemotherapy. The median overall survival was 6.2 months in the quizartinib group versus 4.7 months in the chemotherapy group.(6)
References:
daiichisankyo.com/media_investors/media_relations/press_releases/detail/006846.html
Leukemia & Lymphoma Society. Facts 2015-2016. 2016.
Small D. Am Soc Hematol Educ Program. 2006;178-84.
Brunet, et al. J Clin Onc. 2012;30(7):735-741.
Cortes JE, Perl AE, Dobret H, et al. Final results of a phase 2 open-label, monotherapy efficacy and safety study of quizartinib (AC220) in patients ? 60 years of age with FLT3 ITD positive or negative relapsed/refractory acute myeloid leukemia. Blood (ASH Annual Meeting Abstracts) 2012; 120: Abstract 48.
Lancet Oncol*****. 2019 June 4. Epub ahead of print.