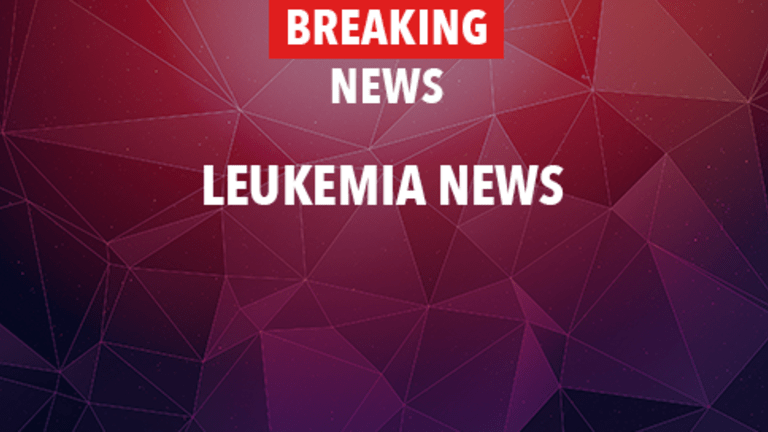 Older AML Patients Do Not Benefit From More Therapy
Older AML Patients Do Not Benefit From More Therapy
According to results presented at the 47th annual meeting of the American Society of Hematology (ASH), patients 60 years of age and over diagnosed with acute myeloid leukemia (AML) do not benefit from increased doses of the commonly used chemotherapy agents daunorubicin (Cerubidine®) or cytarabine (Cytosar-U®); as well, increasing the number of treatment courses of subsequent chemotherapy does not provide benefit.
Acute myeloid leukemia (AML) is a cancer of the bone marrow and blood characterized by the rapid, uncontrolled growth of immature white blood cells known as myelocytes. The disease is more common in adults than in children; average age at diagnosis is more than 65 years.
Treatment of AML often begins with induction therapy that includes chemotherapy to produce a complete remission (defined as the disappearance of leukemia cells in the bone marrow and normalization of the white blood cell, red blood cell, and platelet levels). After induction therapy, patients generally receive additional treatment (consolidation therapy) to reduce the likelihood of leukemia recurrence.
There have been relatively large improvements in survival of younger patients with AML over the past two decades due to increased dose-intensity of therapy; this includes stem cell transplants. However, there has been little if any improvement in the treatment of elderly patients with AML.
Researchers from the United Kingdom affiliated with the National Cancer Research Institute recently conducted a clinical trial referred to as the AML14 trial to evaluate different doses of chemotherapy agents in elderly patients with AML. This trial included 1,273 patients with AML over the age of 60 years (median age was 67 years). Patients received one of the following four therapies for two courses:
Increased doses of daunorubicin (50 mg/m2) and standard doses of cytarabine (200 mg/m2).
Increased doses of daunorubicin and increased doses of cytarabine (400 mg/m2).
Standard doses of daunorubicin (35 mg/m2) and standard doses of cytarabine with or without the biologic agent PSC-833, which is still in clinical trials.
Standard doses of daunorubicin and increased doses of cytarabine (400 mg/m2) with or without PSC-833.
Following treatment with one of these four therapies, patients were then treated with one or two courses of the chemotherapy combination mitoxantrone (Novantrone®) plus cytarabine.
At nearly 3 years follow-up, there were no differences in anticancer response rates, risk of cancer recurrences, disease-free survival, or overall survival between patients treated with any of the regimens. The addition of PSC-833 also had no effect on outcomes. However, for patients who survived long enough to receive 3-4 courses of therapy, overall survival was 23 months.
The researchers concluded that increasing doses of chemotherapy do not improve outcomes among elderly patients diagnosed with AML. These results underscore the fact that further research is urgently needed for this patient population. Patients over the age of 60 years who are diagnosed with AML may wish to speak with their physician regarding their individual risks and benefits of participating in a clinical trial evaluating novel treatment approaches. Two sources of information regarding ongoing clinical trials include the National Cancer Institute (www.cancer.gov) and www.cancerconsultants.com.
Reference: Burnett AK, Milligan DW, Prentice AG, et al. Modification or dose of treatment duration has no impact on outcome of AML older patients: preliminary results of the UK NRCI AML 14 Trial. *Blood.*2005;106;162a, abstract # 543.
Related News:Survival and Response to Treatment Among Elderly Patients with Acute Myeloid Leukemia(8/15/05)
Copyright © 2018 CancerConnect. All Rights Reserved.