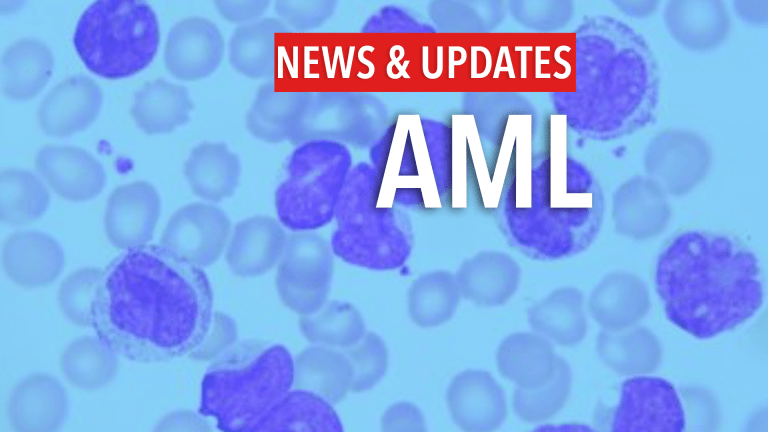 Mini-Transplants Continue to Show Promise for Older Patients with AML
Mini-Transplants Continue to Show Promise for Older Patients with AML.
Less toxic cancer treatment followed by an allogeneic stem cell transplant is showing promise for older patients with advanced blood and bone marrow cancers such as acute myeloid leukemia (AML). These results were published in the Journal of the American Medical Association.
Acute myeloid leukemia is a cancer of the bone marrow and blood characterized by the rapid uncontrolled growth of immature white blood cells known as myelocytes. The disease is more common in adults than in children, with the average age at diagnosis being more than 65 years.
High-dose cancer treatment followed by a stem cell transplant may be used in the treatment of several types of hematologic cancers, including AML. Stem cell transplants may use the patient's own stem cells that were collected prior to cancer treatment (an autologous transplant) or stem cells donated by another person (an allogeneic transplant).
Because of the toxicities of high-dose allogeneic stem cell transplant, this treatment approach is often reserved for younger patients. In recent years, however, several transplant centers have evaluated less toxic regimens, including lower doses of chemotherapy, radiation, and/or biologic therapy prior to an allogeneic transplant. The less toxic regimens kill some cancer cells and suppress the patient's immune system so that it won't attack the donor cells. Once the donor cells are infused into the patient, they can recognize the patient's cancer cells as foreign and mount an attack against the cancer. This approach is sometimes referred to as a "mini-transplant."

To evaluate the safety and effectiveness of mini-transplants among older patients with advanced hematologic cancer, researchers conducted a study among 372 patients between the ages of 60 and 75. Patients were treated with low-dose total body irradiation alone or combined with fludarabine. Patients then received an allogeneic stem cell transplant from a related or unrelated donor.
Five-year overall survival was 35%.
Five-year survival without a worsening of the cancer was 32%.
Treatment outcome was generally similar regardless of the patient's age.
These results are encouraging and suggest that mini-transplants are a viable treatment option for older patients with advanced hematologic cancer such as AML.
Reference: Sorror ML, Sandmaier BM, Storer BE et al. Long-term outcomes among older patients following nonmyeloablative conditioning and allogeneic hematopoietic cell transplantation for advanced hematologic malignancies. JAMA. 2011;306:1874-1883.