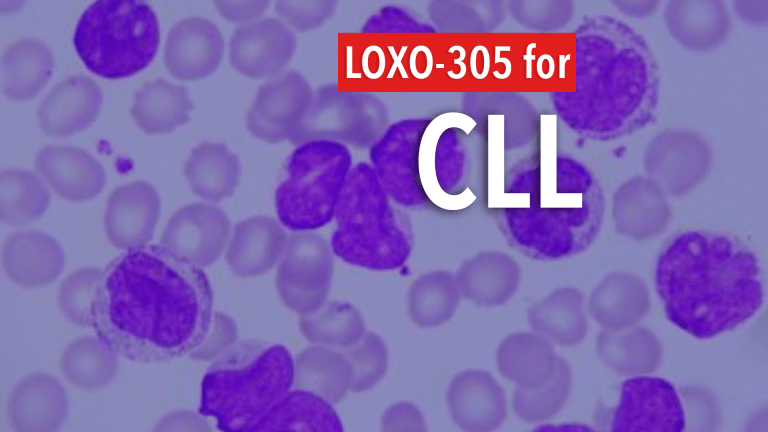 LOXO-305 in Chronic Lymphocytic Leukemia and Lymphomas
LOXO-305 induced responses in CLL and Mantle Cell Lymphoma including patients with BTK and BCL2 resistance
by Dr. C.H. Weaver M.D. 1/2020
Preliminary results of a trial evaluating LOXO-305 - an investigational Bruton's tyrosine kinase (BTK) inhibitor were released at the December 2019 American Society of Hematology Annual Meeting. At all doses studied, LOXO-305 delivered objective responses in patients who had received diverse prior therapies and had exhibited acquired resistance
About LOXO-305
LOXO-305 is an investigational, highly selective, non-covalent Bruton's tyrosine kinase inhibitor. BTK plays a key role in the B-cell antigen receptor signaling pathway, which is required for the development, activation and survival of normal white blood cells, and malignant B-cells. BTK is a validated molecular target found across numerous B-cell leukemias and lymphomas including chronic lymphocytic leukemia (CLL), Waldenstrom macroglobulinemia, mantle cell lymphoma and marginal zone lymphoma. Currently available BTK inhibitors irreversibly inhibit BTK however the long-term effectiveness of these therapies has been limited by acquired resistance, most commonly through BTK C481 mutations, and intolerance, due to off target inhibition of other cellular targets. LOXO-305 was designed to reversibly bind BTK, preserve activity in the presence of the C481 acquired resistance mutations, and avoid off-target kinases that have complicated the development of both covalent and investigational non-covalent BTK inhibitors.
BRUIN Phase 1/2 Trial
The BRUIN clinical trial which began enrolling patients in March 2019 is a dose escalation and expansion clinical trial designed to determine the recommended dose for further clinical study and the safety of LOXO-305 in patients with B-cell leukemias and lymphomas.
Results of the initial 28 patients enrolled to five dose escalation groups were released at the 2019 American Society of Hematology annual meeting. There were 16 patients with CLL, eight patients with MCL, two patients with Waldenstrom macroglobulinemia, one patient with diffuse large B-cell lymphoma (DLBCL), and one patient with marginal zone lymphoma (MZL). Seventy-five percent of the CLL and 88% of the MCL patients had received at least one prior BTK inhibitor.
Responses were observed across all dose levels:
77% of CLL patients responded to treatment with evidence of deepening response over time. Responses were observed in patients with acquired resistance to prior BTK therapy (those with and without C481S mutations), in patients who were intolerant to prior BTK therapy, and in patients with acquired resistance to prior BCL2 therapy.
50% of MCL patients responded to treatment including patients that failed prior BTK therapy.
LOXO-305 is a novel BTK inhibitor with promising clinical activity in patients with lymphoid cancers that is active in patients who have developed resistance to other BTK inhibitors. Additional evaluation is ongoing at the recommended dose to further define safety and effectiveness.
Reference:
Lilly Presents Interim Clinical Data from LOXO-305 Dose Escalation Trial in B-Cell Leukemias and Lymphomas at the American Society Hematology Annual Meeting