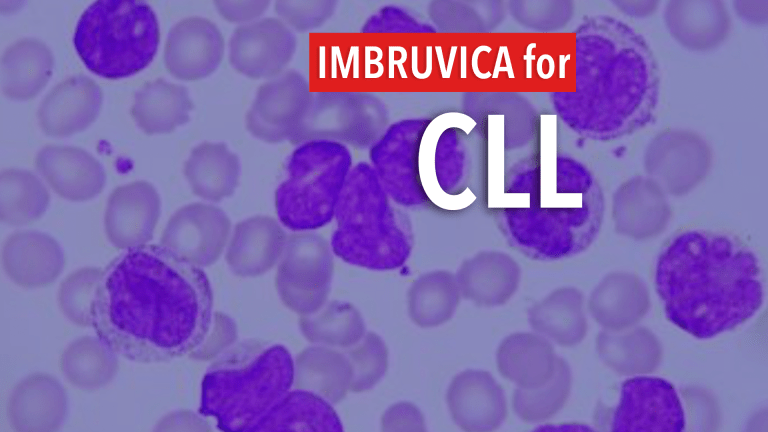 Imbruvica® Effective in Newly Diagnosed & Recurrent Chronic Lymphocytic Leukemia
Imbruvica® Rituxan combination superior to FCR chemotherapy for treatment of newly diagnosed CLL
by Dr. C.H.Weaver M.D. updated 8/2021
Imbruvica (ibrutinib) treatment delays leukemia progression and prolongs survival in newly diagnosed chronic lymphocytic leukemia (CLL), recurrent CLL and CLL with the 17p chromosomal deletion.1-8 Imbruvica can be used as a single agent but be may be most effective when used in combination with other medications as the initial treatment for CLL.2
About Chronic Lymphocytic Leukemia
Chronic lymphocytic leukemia is the most common form of adult leukemia. The American Cancer Society estimates that approximately 15,000 people will be diagnosed with CLL this year. Currently, there are approximately 95,000 people in the United States living with CLL.
CLL and small lymphocytic lymphoma (SLL) are characterized by the production of atypical lymphocytes. Lymphocytes are specialized immune cells that exist in two forms: B- and T-cells. These cells are produced in the bone marrow and each serves a specific function in aiding the body to fight infection. The large majority of CLL cases involve mature B-lymphocytes that tend to live much longer than normal. B-lymphocytes accumulate in the blood, bone marrow, lymph nodes, and spleen. This results in overcrowding of these areas and suppression of the formation and function of blood and immune cells. Additionally, the cancerous lymphocytes themselves do not function normally, leading to a further reduction in the body's ability to fight infection.
CLL and SLL are diagnosed most commonly in elderly patients (65 years or greater). Since these patients are often unable to tolerate aggressive therapies compared to their younger counterparts due to additional medical conditions and/or differences in the metabolizing of the agents, the toxicity of treatment is an important issue.
About Imbruvica
Imbruvica is a first-in-class oral agent that inhibits the activity of Bruton's tyrosine kinase (BTK). Within CLL/SLL cells, BTK is a protein/carbohydrate complex that is involved in maintaining cellular survival and replication. By inhibiting the activity of BTK, Imbruvica reduces the growth of cancer and causes cellular death.
Although Imbruvica has improved outcomes for patients with CLL there are a number of patients who need to cease this therapy due to adverse events including atrial fibrillation, diarrhea, nuisance bleeding, immune-mediated arthritis, or hypertension. Bleeding in particular has the potential to be a severe complicating factor, especially for those patients on blood-thinning therapy. At risk patients and those experiencing complications from Imbruvica should be aware that several other excellent treatment options exist for CLL and make sure they bring any concerns they have to their treating physician.
What Does the Research Show?
Imbruvica + Rituxan as Initial Therapy
The results of a pivotal clinical trial published in the May 1, 2019 New England Journal of Medicine were updated in December and demonstrated that the combination of Imbruvica and Rituxan (rituximab) followed by Imbruvica maintenance in newly diagnosed CLL (without del17p) both delayed leukemia progression and prolonged survival when compared to the historical standard chemotherapy treatment regimen of fludarabine, cyclophosphamide and Rituxan (FCR). After 4 years of follow up 89% of newly diagnosed CLL patients treated with Imbruvica survived without leukemia progression compared to 71% of FCR treated patients. More importantly, 99% of Imbruvica treated patients were alive compared to 91% of FCR treated patients.2,9
Another phase 3 clinical trial in 547 treatment-naïve symptomatic CLL patients comparing Imbruvica alone to Imbruvica + Rituxan (rituximab) and Bendamustine + Rituxan (BR) found that overall survival was similar in all 3 treatment groups. Survival without CLL progression was superior for the Imbruvica treatment regimens compared to BR.
The U.S. Food and Drug Administration (FDA) has also approved Imbruvica as a single agent and in combination with Gazyva (obinutuzumab) for treatments of patients with chronic lymphocytic leukemia/small lymphocytic lymphoma (CLL/SLL).1
Imbruvica + Venclexta (V+I) (venetoclax) Superior to Chlorambucil Plus Gazvya (obinutuzumab) (C+O) 
Data presented at the European Hematology Association 2021 Virtual Congress from the Phase 3 GLOW clinical trial compared I+V with C+O as initial treatment in 211 patients with CLL or small lymphocytic lymphoma (SLL). Patients with del(17p) or known TP53 were not included. The study found that the all oral, once-daily, chemotherapy-free treatment of Imbruvica plus Venclexta (I+V) reduced the risk of leukemia progression or death by 78% compared to chlorambucil plus Gazvya. The rate of minimal residual disease in the bone marrow as assessed by next generation sequencing was also significantly higher for patients treated with I+V compared to those treated with C+O. Three months after the completion of treatment over half of the patients treated with I+V had achieved a state of Minimal Residual Disease compared to only 17% of those receiving I+O.11
Imbruvica Rituxan and Gazyva combinations have not been directly compared.
The FDA approval of Gazyva was based on results from the Phase 3 iLLUMINATE clinical trial which compared Gazyva administered with either Imbruvica or chlorambucil in 212 adult patients. The overall response rate was 89% in the Imbruvica treated patients compared to only 73% in the chlorambucil group. Treatment with Imbruvica + Gazyva also led to a significant delay in cancer progression. Chlorambucil treated patients survived an average of 19 months without cancer Imbruvica treated patients' experienced a 77 percent reduction in the risk of cancer progression or death compared to those treated with chlorambucil.
Imbruvica as a single agent – and now as a combination with Gazyva – provides patients with CLL with an alternative to frontline treatment with chemo-immunotherapy.
Promising Activity of Imbruvica Plus Rituxan in High-Risk CLL.
Researchers from MD Anderson Cancer Center recently reported in the journal The Lancet Oncology that the combination of Imbruvica and Rituxan® showed promising activity in the management of patients with high-risk CLL.3
In this clinical trial, 40 adult patients with high-risk CLL were enrolled and treated with a combination of Imbruvica and Rituxan. High risk was defined as having either a high-risk cytogenetic abnormalities; (deletion 17p, TP53 mutation, or deletion 11q) or shortened time to CLL progression (< 36 months) after initial first-line treatment.
Overall 95% of patients had a response to treatment with Imbruvica and Rituxan and 87% had partial and 8% had complete disappearance of their CLL following treatment. Consistent with previous reports, the treatment was generally well tolerated. Overall 78% of high risk patients treated with the combination of Imbruvica and Rituxan survived without evidence of CLL progression 18-months from treatment.
Imbruvica in Previously Treated CLL Patients
Phase III SYMPATICO study of Imbruvica plus Venclexta in MCL
The initial accelerated approval of Imbruvica was based on complete response rates of ~ 20% and overall response rates of ~ 70% as a single-agent treatment for patients with MCL who have received at least one prior therapy.
Imbruvica is also being tested in combination with Venclexta (venetoclax), a BCL-2 inhibitor that is already approved in the US for patients with chronic lymphocytic leukemia (CLL).
The Sympatico clinical trial first confirmed the safety of the Imbruvica-Venclexta combination and is now comparing the combination to Imbruvica alone. The results of the combination were presented at the 8th annual meeting of the Society of Hematologic Oncology (SOHO 2020).
Overall response rate (ORR) of 76% in all patients, with a CR rate of 48%
Survival duration without CLL progression has not been reached after a median follow-up of 10 months.
Resonate Clinical Trials
Researchers have reported data from two different large clinical trials (the RESONATE and RESONATE-2 trials) in an attempt to determine the effectiveness of Imbruvica in different lines of therapy among patients with CLL.6
Some patients had not received prior therapy to Imbruvica (referred to as treatment naïve or TN), while other patients had received at least one prior therapy before starting treatment with ibrutinib (referred to as previously treated or PT). Patients with the del17p mutation were not included in this analysis.
Overall, with up to 7 years of follow-up, the median PFS for patients in the Imbruvica arm has not been reached equating to an 84% reduction in the risk of progression or death. It's estimated that, at 6.5 years, 61% of patients treated with Imbruvica were progression free and alive compared to 9% of patients treated with chlorambucil.10
Imbruvica vs Arzerra
A study conducted by Dr. John Byrd at the Ohio State University Comprehensive Cancer Center, enrolled 391 patients with relapsed or refractory CLL or small-cell lymphoma. The enrollees had all progressed on or were considered refractory to one or more prior treatments.
One group was treated with Imbruvica the other with Arzerra (ofatumumab). At six months, the Imbruvica group had a progression-free survival of 88% compared to 65% for the Arzerra treated patients. Overall 90% of the Imbruvica treated patients survived one year from treatment compared to 81% with Arzerra. Researchers found that the proportion of patients with grade 3/4 adverse events was comparable in the two groups (51% with Imbruvica and 39% with Arzerra). Additional follow up 4 years from initiation of treatment the benefit from Imbruvica remains with 60% of patients surviving without evidence of CLL progression. (7)
Imbruvica produced favorable anti-cancer responses, improved survival without progression of cancer, and overall survival among patients with CLL, regardless of the number of prior therapies. However, patients who had received 0-1 prior therapies were less likely to experience cancer progression on Imbruvica, and demonstrated an improved survival following discontinuation of Imbruvica, compared to those who received 2 or more prior therapies.
References:
U.S. FDA Approves IMBRUVICA® (ibrutinib) Plus Obinutuzumab as First Non-Chemotherapy Combination Regimen for Treatment-Naïve Patients with Chronic Lymphocytic Leukemia
IMBRUVICA Prescribing Information, March 2016.Burger J, Tedeschi A, Barr P, et al. Ibrutinib as Initial Therapy for Patients with Chronic Lymphocytic Leukemia. N Engl J Med. 2015;373:2425-2437
Burger J, Ketaing M, Wierda W, et al. Safety and activity of ibrutinib plus rituximab for patients with high-risk chronic lymphocytic leukaemia: a single-arm, phase 2 study. The Lancet Oncology, 15;1090 – 1099, September 2014.
O'Brien S, Byrd J, Hillmen P, et al. Outcomes with ibrutinib by line of therapy in patients with CLL: Analyses from phase III data. Proceedings from 2016 ASCO. Abstract # 7520. Available here. Accessed June 29, 2016.
Long-Term Efficacy and Safety with Ibrutinib (ibr) In Previously Treated Chronic Lymphocytic Leukemia: Up to Four Years Follow-Up of The RESONATE Study (Poster Board: #272)
Byrd JC, et al. Randomized comparison of ibrutinib versus ofatumumab in relapsed or refractory chronic lymphocytic leukemia/small lymphocytic lymphoma: Results from the phase III RESONATE trial. ASCO 2014; Abstract LBA7008.
Wiestner A, Farooqui M, Valdez J, et al. Single agent ibrutinib (PCI-32765) is highly effective in chronic lymphocytic leukemia patients with 17p deletion. Hematological Oncology: Special Issue: 12th International Conference on Malignant Lymphoma, Palazzo dei Congressi, Lugano, Switzerland, June 19–22, 2013. 31 (SI): 96-150. Abstract 008.
Shanafelt. ASH 2019. Abstr 33.
Barr P, Owen C, Robak T, et al. Up to seven years of follow-up in the RESONATE-2 study of first-line ibrutinib treatment for patients with chronic lymphocytic leukemia. J Clin Oncol. 2021;39(suppl 15):7523. doi:10.1200/JCO.2021.39.suppl_15.7523
https://s3.eu-central-1.amazonaws.com/m-anage.com.storage.eha/temp/eha21_abstract_bodies/201521.html.pdf