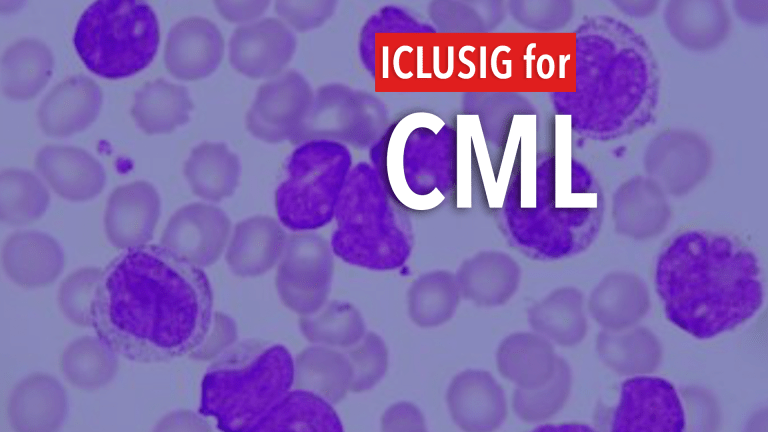 Iclusig (ponatinib) Treatment of Chronic Myelod Leukemia
Iclusig (ponatinib) is an effective treatment for CML.
Iclusig (Ponatinib) is a precision cancer medicine that is effective in the treatment of refractory chronic myeloid leukemia (CML) and produces early and lasting responses, according to the results of a study presented at theannual meeting of the American Society of Clinical Oncology (ASCO) in Chicago, Illinois.
Each year in the United States, approximately 5,000 people are diagnosed with CML. Most cases of CML are characterized by a chromosomal abnormality—the Philadelphia chromosome—in which genetic material is exchanged between chromosome 9 and chromosome 22. This exchange brings together two genes: BCR and ABL. The combination of these two genes into the single BCR-ABL gene results in the production of a protein that contributes to uncontrolled cell growth.
Ponatinib is an oral, multi-targeted tyrosine-kinase inhibitor that primarily functions as a BCR-ABL inhibitor. It was designed to overcome the T3151 mutation, which is notoriously resistant and difficult to treat. The PACE trial is an open-label study that enrolled patients with CML or Philadelphia-chromosome-positive acute lymphoblastic leukemia (ALL) who had been previously treated with and developed a resistance to Tasigna® (nilotinib) or Sprycel® (dasatinib) or who had the T3151 mutation.
The study included 444 patients—271 with chronic phase CML (CP-CML); 79 with accelerated phase CML (AP-CML); and 94 with blast phase ALL (BP-ALL). Patients received 45 mg of ponatinib once daily and though enrollment is complete, they continue to be followed. The primary endpoint of the study for chronic-phase patients was molecular cytogenetic response, which was achieved by 54% of chronic-phase patients, including 70% of patients with the T315I mutation and 49% of patients who were refractory/intolerant to Tasigna or Sprycel. The researchers indicated that the majority of the cytogenetic responses are complete cytogenetic responses and they have also observed a high rate of major molecular responses.
The primary endpoint for accelerated-phase patients was major hematologic response and this was achieved by 58%, including 60% refractory/intolerant and 50% with T315I mutation. In blast-phase CML, a major hematologic response was reached by 34%, 35%, and 33%, respectively.
The responses to treatment improved over time—38% of patients achieved molecular cytogenetic response at 3 months, 49% at 6 months, and 53% at 9 months. This trend was observed across all cohorts in the study. At the same time intervals, 13%, 24% and 38% of patients achieved major molecular response, respectively.
The most frequent reasons for discontinuing treatment were progression of disease (12%) and adverse events (10%). The most common drug-related adverse events were thrombocytopenia, rash, and dry skin.
The researchers concluded that ponatinib has substantial activity in heavily pretreated patients and those with refractory T3151. Responses occurred early and were durable. Although these are early data, as a third-line treatment, ponatinib appears to be matching or surpassing the response rates achieved with second-line Tasigna and Sprycel.
You are not alone—The CancerConnect Leukemia Community is the leading Social Media Application for Leukemia patients and caregivers seeking information, inspiration, and support in the wake of a cancer diagnosis. With over 50,000 members the network offers patients and caregivers a thriving community to support the many ongoing needs from diagnosis through survivorship. Login or register here.
Reference:
Cortes JE, Kim DW, Pinilla-Ibarz J, et al. PACE: A pivotal phase II trial of ponatinib in patients with CML and Ph+ALL resistant or intolerant to dasatinib or nilotinib, or with the T315I mutation. Presented at the 2012 annual meeting of the American Society of Clinical Oncology, June 1-5, 2012, Chicago, IL. Abstract 6503.