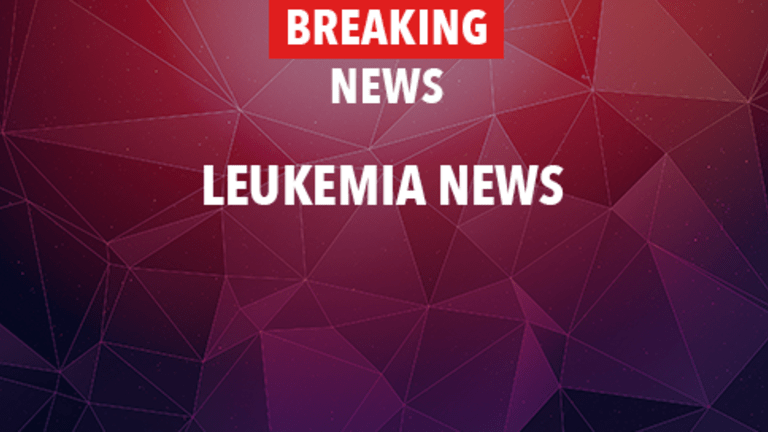 Genasense® Improves Long-term Survival in Recurrent Chronic Lymphocytic Leukemia
Genasense® Improves Long-term Survival in Recurrent Chronic Lymphocytic Leukemia
According to results recently presented at the 2007 annual meeting of the American Society of Hematology, the addition of the anti-sense agent Genasense® (oblimersen) to chemotherapy improves long-term survival over chemotherapy alone in the treatment of recurrent or refractory chronic lymphocytic leukemia.
Chronic lymphocytic leukemia (CLL) is a cancer involving the lymph (immune) system, which includes lymph nodes, blood and blood vessels found throughout the body, the spleen, thymus, and tonsils. High quantities of this cancer are present throughout circulating blood and in bone marrow (spongy material inside large bones that produces blood-forming cells). Chronic lymphocytic leukemia is the most common form of adult leukemia; the American Cancer Society estimates that approximately 8,000 people will be diagnosed with CLL this year. Currently, there are approximately 60,000 people in the United States living with CLL.
Chronic lymphocytic leukemia is characterized by the production of atypical lymphocytes. Lymphocytes are specialized immune cells that exist in two forms: B- and T-cells. These cells are produced in the bone marrow and each serves a specific function in fighting infection. The large majority of CLL cases involve mature B-lymphocytes that tend to live much longer than normal, accumulating in the blood, bone marrow, lymph nodes, and spleen. This results in overcrowding of these areas and suppression of the formation and function of blood and immune cells. Additionally, the cancerous lymphocytes themselves do not function normally, further decreasing the body's ability to fight infection.
Chronic lymphocytic leukemia is considered a slow-growing or low-grade cancer. Treatment for CLL may include chemotherapy (often including the agent Fludara® [fludarabine]), radiation therapy, biological therapy, and/or stem cell transplantation. Treatment options are limited for patients who have received several prior therapies (relapsed) or have stopped responding to standard therapies (refractory).
One mechanism that makes cancer cells resistant to chemotherapy is Bcl2 expression. This occurs in refractory patients. Bcl2 is a protein that protects cells from apoptosis (cell death). It is not entirely understood how Bcl2 proteins protect cancer cells from the lethal effects of chemotherapy. It is known, however, that various types of cancer, including CLL, are associated with high levels of Bcl2 proteins and are thus more resistant to chemotherapy.
Genasense inhibits the production of Bcl2 proteins by binding to the specific molecules responsible for its production. This binding action stops production of Bcl2 proteins within a cell, making the cell sensitive to chemotherapy agents again. Previous studies have demonstrated that Genasense also amplifies the cytotoxicity (ability to kill cancer cells) of many chemotherapy agents for a variety of different blood cancers.
Researchers from several medical institutions worldwide conducted a clinical trial to further evaluate Genasense in the treatment of patients with CLL. This trial included 241 patients who had received prior Fludara-based therapy. Patients were treated with either Genasense plus Fludara/Cytoxan or Fludara/Cytoxan only.
At 54 months, 60% of patients treated with Genasense are still alive compared with only 38% of patients treated with chemotherapy alone.
Anticancer responses occurred in 17% of patients treated with Genasense compared with only 7% of patients treated with chemotherapy alone.
Time to cancer progression was also significantly extended among patients treated with Genasense.
The researchers concluded that the addition of Genasense to chemotherapy significantly improves survival among patients with recurrent or refractory CLL.
Patients with recurrent or refractory CLL may wish to speak with their physician regarding their individual risks and benefits of participation in a clinical trial further evaluating Genasense or other promising novel therapeutic approach. Two sources of information regarding ongoing clinical trials include the National Cancer Institute (www.cancer.gov) and www.eCancerTrials.com.
Reference: O'Brien S, et al. Addition of oblimersen (Bcl-2 antisense) to fludarabine/cyclophosphamide for relapsed/refractory chronic lymphocytic leukemia extends survival in patients who achieve CR/nPR: results from a randomized phase 3 study. Proceedings from the 2007 annual meeting of the American Society of Hematology. December 2007. Abstract 751.
Related News:Addition of Genasense® to Chemotherapy Improves Responses in CLL (2/16/2007)
Copyright Leukemia Information Center on CancerConsultants.com
Copyright © 2018 CancerConnect. All Rights Reserved.