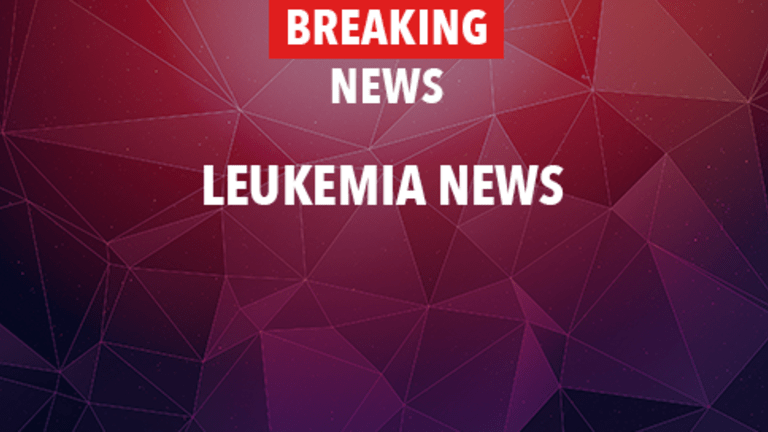 Gemtuzumab Ozogamicin A Safe & Effective Option for Patients with Relapsed AML
Gemtuzumab Ozogamicin A Safe and Effective Treatment Option for Patients with Relapsed Acute Myeloid Leukemia
A new monoclonal antibody, gemtuzumab ozogamicin, administered to patients with recurrent acute myeloid leukemia prior to stem cell transplant may improve survival with minimal side effects, according to recent results presented at the 42nd Annual Meeting of the American Society of Hematology.
Acute myeloid leukemia is a cancer of the white blood cells. The bone marrow contains early blood-forming cells, called stem cells, which grow and mature into 3 blood cell types: red blood cells, which provide oxygen to tissues; platelets, which aid in blood clotting; and white blood cells, which fight infection. Acute myeloid leukemia is characterized by the rapid uncontrolled growth of immature white blood cells in the bone marrow, resulting in excess accumulation of these cells. These leukemia cells crowd the bone marrow, suppressing formation and function of other blood cells, and ultimately invade other parts of the body including the blood, lymph system, and vital organs. Acute myeloid leukemia is a rapidly growing cancer and treatment must be aggressive for an optimal chance of cure. Although most patients with AML achieve a complete disappearance of their cancer following initial treatment, the majority of patients ultimately experience a cancer recurrence. Once patients have a recurrence, the best curative therapy consists of high-dose therapy and a stem cell transplant.
Patients often do not receive high-dose therapy and a stem cell transplant for various reasons. Often, appropriate preparative measures for transplants, such as the collection of the patient's own stem cells or the location of an adequate donor, are not performed in a timely manner – during first remission. Thus, when a patient experiences a cancer recurrence after an initial remission, the inadequate preparation eliminates transplant therapy as an option. In addition, patients often suffer significant side effects during chemotherapy prior to transplant and are unable to proceed with the additional high-dose treatment. Research efforts have been focused on different treatment strategies that produce anti-cancer responses but cause minimal side effects.
Gemtuzumab ozogamicin is a biological agent that is approved by the FDA for the treatment of elderly patients with AML. Gemtuzumab ozogamicin is a monoclonal antibody attached to calicheamicin, an antibiotic that kills cancer cells. Monoclonal antibodies can be produced in a laboratory and are able to identify specific proteins on the surface of certain cells and bind to them. This binding stimulates the immune system to attack and kill the cells to which the monoclonal antibody is bound. Gemtuzumab ozogamicin is targeted against the CD 33 antigen, a protein found on the surface of cancerous blood cells. Calicheamicin is an antibiotic substance that is toxic to cancer cells. It is isolated from a bacterium that lives in a type of soil referred to as calich clay. Once the monoclonal antibody binds to the cancer cells, calicheamicin is absorbed into the cells and kills them. A significant benefit of this approach is that gemtuzumab ozogamicin only targets cancer cells, sparing healthy cells from destruction. This is in contrast to chemotherapy or radiation, which does not differentiate between cancer cells or healthy cells in the body, a characteristic that leads to potentially intolerable side effects.

Researchers from the Fred Hutchinson Cancer Center and University of Washington recently conducted a clinical trial evaluating treatment with gemtuzumab ozogamicin in 188 patients with AML. All patients were treated with gemtuzumab ozogamicin as a single agent at the time of their first relapse. Fifty-eight patients achieved an anti-cancer response to gemtuzumab ozogamicin; however, only 22 patients received subsequent intensive curative therapy consisting of high-dose therapy followed by a stem cell transplant. During second remission following treatment with gemtuzumab ozogamicin, 11 patients received high dose therapy followed by an autologous (self) stem cell transplant and 11 patients received an allogeneic (donor) stem cell transplant. Of the group of patients receiving transplants, one year following treatment, 60% of patients receiving an allogeneic stem cell transplant survived and 40% receiving an autologous stem cell transplant survived. The overall average cancer-free survival for these patients was 17.4 months. Gemtuzumab ozogamicin was well-tolerated by patients in this trial.
These results indicate that patients with AML in first relapse may be able to achieve complete remission prior to transplant with gemtuzumab ozogamicin with minimal side effects. Overall survival and disease-free survival for patients following this treatment regimen appear to be at least equal or improved over standard therapy. Due to its potent anti-cancer effects coupled with minimal toxicity, gemtuzumab ozogamicin may be evaluated in combination with other treatment modalities or in differing stages of AML to determine its optimal role. Patients with AML may wish to speak with their physician about the risks and benefits of participation in a clinical trial further evaluating gemtuzumab ozogamicin and transplantation or other promising therapies. Two sources of information about ongoing clinical trials include comprehensive, easy-to-use listing services provided by the National Cancer Institute (cancer.gov) and eCancerTrials.com. eCancerTrials.com also provides personalized clinical trial searches on behalf of patients. (Proceedings from the 42nd Annual Meeting of the American Society of Hematology, December, 2000)
Copyright © 2018 CancerConnect. All Rights Reserved.