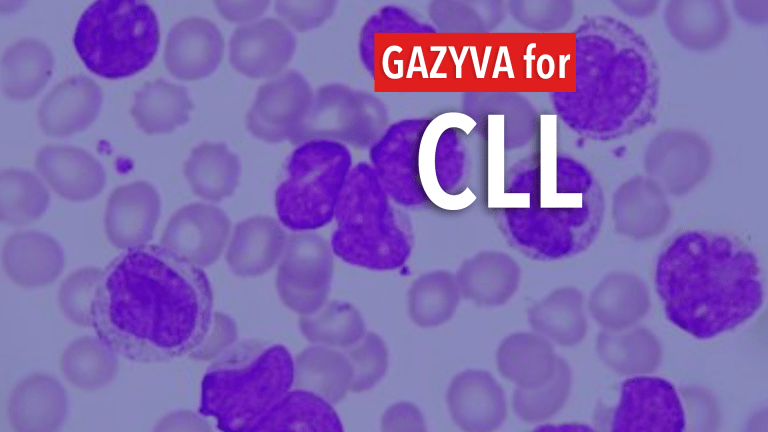 Gazyva Alone or in Combination Represents non Chemotherapy Option for Rx of CLL
Gazyva improves survival and delays the CLL progression.
by Dr. C.H. Weaver M.D. updated 5/2019
The U.S. Food and Drug Administration (FDA) approved Gazyva™ (obinutuzumab) for use in combination with chlorambucil to treat patients with previously untreated chronic lymphocytic leukemia (CLL). Venclexta plus Gazyva is also FDA approved and currently the only chemotherapy-free option available for the treatment of CLL.
About Gazyva
Gazyva® (obinutuzumab) is an engineered monoclonal antibody designed to attach to CD20, a protein found only on B-cells. It attacks targeted cells both directly and together with the body's immune system. Gazyva is used alone or in combination to treat newly diagnosed or recurrent CLL.
Gazyva's initial approval was based on the results of a randomized study that included 356 with previously untreated CLL who received Gazyva in combination with chlorambucil or chlorambucil alone. Participants receiving Gazyva in combination with chlorambucil demonstrated a significant improvement in progression free survival: an average of 23 months compared with 11.1 months with chlorambucil alone. Learn more about Gazyva....
Gazyva Combinations..
Gazyva + Chlorambucil Improves Outcomes in Older CLL Patients with Other Health Problems
Among older people with chronic lymphocytic leukemia (CLL) and other health problems, initial treatment with Gazyva® (obinutuzumab) and chlorambucil was more effective than treatment with Rituxan® (rituximab) and chlorambucil.
To compare Gazyva/chlorambucil with another combination treatment: Rituxan/chlorambucil, researchers conducted a Phase III clinical trial. The study enrolled 781 older patients who had other health problems in addition to CLL.
Median survival without cancer progression was 27 months among patients treated with Gazyva/chlorambucil, and 15 months among patients treated with Rituxan/chlorambucil.
It's too early to draw firm conclusions about overall survival, but thus far it's better in the Gazyva/chlorambucil group.
Side effects of Gazyva/chlorambucil include infusion-related reactions and neutropenia (low white blood cell counts).
In summary, for the initial treatment of older patients with CLL and other health problems, Gazyva/chlorambucil appears to be more effective than Rituxan/chlorambucil.
Venclexta + Gazyva Combination
Results of the phase III "CLL14" study comparing Venclexta® in combination with Gazyva® to standard treatment with Gazyva plus chlorambucil show that the Venclexta combination reduces the risk of leukemia progression or death leading to FDA approval.
About Venclexta: The BCL-2 protein is a type of protein that contributes to a cancer cell's survival. Over expression of the BCL-2 protein in lymphoma and leukemia cells is associated with increased survival time of the cancer cells as well as resistance to standard chemotherapy. Venclexta is a small molecule that selectively binds to the BCL-2 protein, thereby disabling its ability to keep cancer cells alive. Venclexta is used to treat people with CLL or small lymphocytic lymphoma (SLL), with or without the 17p deletion, who have received at least one prior treatment.
​About the CLL14 Study
Researchers theorized that the combination of two precision cancer medicines aimed at different targets on CLL cells (BCL-2 and CD20) should improve outcomes compared to either alone or combined with chemotherapy. The CLL14 is a clinical trial directly compared the combination of Venclexta plus Gazyva compared to Gazyva plus chlorambucil in 432 patients with previously untreated CLL.
Results of the trial demostrated that the Venclexta - Gazyva combination delayed cancer progression and reduced the risk of dying compared to the standard Gazyva-chlorambucil combination. Initial results suggested that the Venclexta-Gazyva combination will become the new standard of care for newly diagnosed CLL patients.
The updated results show that Venclexta plus Gazyva significantly reduced the risk of disease progression or death by 67%. Venclexta plus Gazyva also showed a higher rate of minimal residual disease (MRD)-negativity in the bone marrow compared to Gazyva plus chlorambucil (MRD-negativity of 57 percent vs. 17 percent).
The U.S. FDA approval of Venclexta® in combination makes Venclexta plus Gazyva the only chemotherapy-free option of fixed duration that provides durable responses to help people live longer without progression of their disease.
Venclexta-Gazyva-Imbruvica Combo for Treatment of Chronic Lymphocytic Leukemia
A triple-drug targeted therapy approach could offer an effective new treatment option for chronic lymphocytic (CLL) that reduces the risk for the long-term side effects experienced with chemotherapy and is given for a limited time, not as a daily lifetime drug therapy.
Led by Dr. Kerry Rogers, researchers at The Ohio State University Comprehensive Cancer Center – Arthur G. James Cancer Hospital and Richard J. Solove Research Institute (OSUCCC – James) conducted a small clinical trial combining the two most effective targeted drug agents available for CLL Imbruvica (ibrutinib) and Venclexta (venetoclax) with a monoclonal antibody drug Gazyva (obinutuzumab) to treat patients with never-treated CLL and patients whose disease had relapsed and required additional treatment.
Initial trial results shows that the treatment is safe, well-tolerated and highly effective, with more than 96 percent of patients remaining on treatment at the study midpoint (eight months.)
Side effects were similar to single-agent treatment and manageable. In addition, patients experienced no incidences of the most severe side effect of venetoclax therapy alone, a potentially life-threatening metabolic disorder called tumor lysis syndrome, where many cancer cells are killed off at the same time by treatment, releasing their contents into the bloodstream.
This is first data reported on use of a triple-combination treatment in CLL patients who have not previously undergone treatment. The trial also evaluated a time-limited dosing strategy with targeted agents. Current standard of care for the targeted therapies used alone is to remain on therapy until the patient's cancer no longer responds to the treatment. In this study, patients received treatment for a total of 14 months.
There are also many potential benefits to patients achieving cancer control with a time-limited treatment strategy because — despite its effectiveness and reliable increases in patient survival — we know that exposure to chemotherapy puts patients at increased risk for resistance to the agents, infections and other long-term side effects," says Rogers. "If we can find a targeted treatment approach that produces similar benefits in cancer control, we are improving quality of life for our patients. A time limited strategy could also reduce the cost of overall cancer therapy, an issue many patients are very concerned about."
Treatment response was measured through blood tests at eight months into treatment and two months after treatment completion.
"The majority of patients had virtually no detectable circulating tumor cells, which is a very promising indicator of durable cancer control in patients treated with chemotherapy. We are optimistic that the same will be true for patients treated with this targeted therapy drug regimen," adds Rogers.
The most common side effects observed in participants receiving Gazyva/chlorambucil were infusion-related reactions, a decrease in infection-fighting white blood cells (neutropenia), a low level of platelets in the blood (thrombocytopenia), low red blood cells (anemia), pain in the muscles and bones (musculoskeletal pain), and fever (pyrexia).
References:
FDA approves Gazyva for chronic lymphocytic leukemia. [FDA News Release]. U.S. Food and Drug Administration website. Available at: fda.gov/NewsEvents/Newsroom/PressAnnouncements/ucm373209.htm
Goede V, Fischer K, Busche R et al. Head-To-Head Comparison Of Obinutuzumab (GA101) Plus Chlorambucil (Clb) Versus Rituximab Plus Clb In Patients With Chronic Lymphocytic Leukemia (CLL) and Co-Existing Medical Conditions (Comorbidities): Final Stage 2 Results Of The CLL11 Trial. Presented at the 55th ASH Annual Meeting and Exposition. New Orleans, LA. December 7-10, 2013. Abstract 6.
Phase III Data Showed That Venclexta Plus Gazyva Reduced The Risk Of Disease Worsening Or Death In People With Previously Untreated Chronic Lymphocytic Leukemia With Co-Morbidities
Abstract #431 at the American Society of Hematology annual meeting in Atlanta, Ga., on Sunday, Dec. 10, 2017.