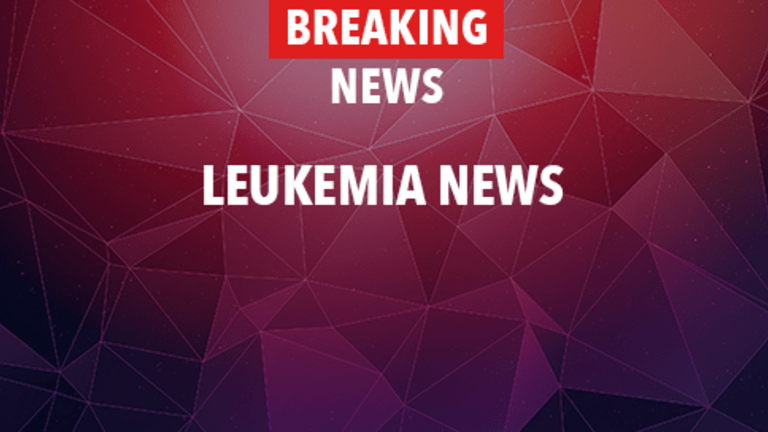 G-CSF May Improve Cancer-Free Survival in Acute Myeloid Leukemia
G-CSF May Improve Cancer-Free Survival in Acute Myeloid Leukemia
According to results recently published in The New England Journal of Medicine, the use of G-CSF during induction therapy may improve cancer-free survival in patients with acute myeloid leukemia.
Acute myeloid leukemia (AML) is a cancer of the bone marrow and blood characterized by the rapid uncontrolled abnormal growth of immature white blood cells (immune cells), which never develop into functioning cells. Besides not being able to carry out the functions of mature immune cells, AML cells may also crowd out normal blood cells in the bone marrow and blood. AML is considered to be an aggressive cancer and patients are often at a high risk of developing a cancer recurrence following therapy, particularly if they are not able to undergo high doses of therapy. However, chromosomal variables of AML cells as well as levels of cancer cells in the blood further distinguish patients into being at a high-risk, standard-risk or low-risk of developing a cancer recurrence and treatment may be altered according to these stratifications. Standard treatment for AML involves initial chemotherapy, called induction therapy, in an attempt to achieve a complete disappearance of detectable cancer cells (complete response). Following induction therapy, patients receive further therapy in the form of high-dose chemotherapy and stem cell transplantation or subsequent modified chemotherapy if high-dose therapy cannot be tolerated. Researchers are constantly evaluating novel treatment approaches in order to reduce the risk of recurrences and ultimately improve survival in patients with AML.
G-CSF, or granulocyte colony stimulating factor, is an agent that stimulates the production and maturation of specific white blood cells called neutrophils and enhances the intended immune functions of mature neutrophils. G-CSF is typically used to prevent or reduce the incidence of neutropenia in cancer patients, a condition often caused by anti-cancer therapy that results in low levels of neutrophils. Neutropenia can leave patients susceptible to infection and can inhibit the ability of patients to fight even slight infection. G-CSF is also used to stimulate the movement of white blood cells out of the bone marrow into circulating blood for collection prior to stem cell transplantation.
Researchers from the Dutch–Belgian Hemato-Oncology (HOVON) Cooperative Group and the Swiss Group for Clinical Cancer Research recently conducted a clinical trial to evaluate the effect of G-CSF as a growth factor primer in AML. Previous studies have indicated that the use of G-CSF may help sensitize leukemia cells to the killing effects of the chemotherapy agents, particularly cytarabine. The timing of chemotherapy and G-CSF is important to achieve this effect. In this trial, approximately 600 patients with newly diagnosed AML were treated with induction therapy consisting of cytarabine, idarubicine and amsacrin. Half of the patients were also treated with G-CSF and the other half were treated only with chemotherapy. Patients then went on to receive treatment following induction therapy consisting of post-induction chemotherapy or high-dose chemotherapy with stem cell transplantation.

Anti-cancer response rates did not differ between patients who received G-CSF and those who did not receive G-CSF. However, approximately 4 years following therapy, cancer-free survival was significantly improved in patients who had received G-CSF (42%), compared to those who had not received G-CSF (33%), among patients who achieved a complete response following induction therapy, Overall survival was not different between patients treated with or without G-CSF in those with a high-risk of developing a recurrence. In contrast, among patients with a standard risk of developing a recurrence, overall survival was improved in those treated with G-CSF, compared to those not treated with G-CSF (45% versus 35%, respectively).
The researchers concluded that G-CSF used during induction therapy may enhance the cancer killing effects of chemotherapy in the treatment of AML and ultimately improve cancer-free survival. Longer follow-up may reveal an overall survival benefit in patients treated with G-CSF. Patients with AML may wish to speak with their physician about the risks and benefits of G-CSF during induction therapy.
Reference: Lowenberg B, van Putten W, Theobald M, et al. Effect of priming with granulocyte colony-stimulating factor on the outcomes of chemotherapy for acute myeloid leukemia.
The New England Journal of Medicine. 2003;8:743-752.
Copyright © 2018 CancerConnect. All Rights Reserved.