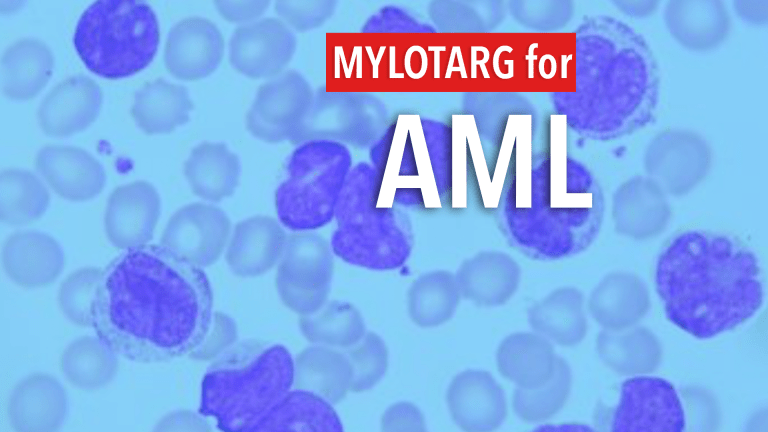 FDA Approves Mylotarg for Treatment of Acute Myeloid Leukemia
FDA Approves Mylotarg for Treatment of Acute Myeloid Leukemia
The U.S. Food and Drug Administration has approved Mylotarg (gemtuzumab ozogamicin) for the treatment of adults with newly diagnosed acute myeloid leukemia whose tumors express the CD33 antigen (CD33-positive AML) and on June 16, 2020, the FDA extended the approval of to include newly diagnosed CD33-positive acute myeloid leukemia (AML) in patients aged 1 month and older.
AML is a rapidly progressing cancer that forms in the bone marrow and results in an increased number of white blood cells in the bloodstream. The National Cancer Institute of the National Institutes of Health estimates that approximately 21,380 people will be diagnosed with AML this year and that 10,590 patients with AML will die of the disease.
Mylotarg is a targeted therapy that consists of an antibody connected to an anti-tumor agent that is toxic to cells. It is thought to work by taking the anti-tumor agent to the AML cells that express the CD33 antigen, blocking the growth of cancerous cells and causing cell death.
Mylotarg-Chemotherapy as Initial Treatment for AML
The safety and efficacy of Mylotarg in combination with chemotherapy for adults were studied in a trial of 271 patients with newly diagnosed CD33-positive AML who were randomized to receive Mylotarg in combination with daunorubicin and cytarabine or to receive daunorubicin and cytarabine without Mylotarg. The trial measured "event-free survival," or how long patients went without certain complications, including failure to respond to treatment, disease relapse or death, from the date they started the trial. Patients who received Mylotarg in combination with chemotherapy went longer without complications than those who received chemotherapy alone (median, event-free survival 17.3 months vs. 9.5 months).
Treatment of Recurrent AML with Mylotarg
In a final report from three phase II clinical trials in a total of 277 patients from the US, Canada, and Europe. Half of the patients were under the age of 61. Patients were treated with one or two doses of Mylotarg 14 days apart. Treatment with Mylotarg produced the following results:
Thirteen percent of patients achieved complete remission; half of these patients survived for at least 6.4 months.
An additional 13% of patients had incomplete platelet recovery, but met the other criteria for complete remission; median survival in this group was 4.5 months.
Overall, 26% of subjects achieved remission after treatment with Mylotarg.
Serious adverse treatment effects included low white blood cell levels, low platelet levels, and liver problems.The researchers conclude that Mylotarg produces a remission in roughly 26% of patients with relapsed, CD33-positive AML and is reasonably well tolerated. (6)
Mylotarg in the Elderly with AML
A pivotal clinical trial involving 280 patients aged 50-70 years with previously untreated AML compared treatment with standard daunorubicin and cytrabine chemotherapy with or without Mylotarg. In order to reduce side effects, the researchers used a low, fractionated dose of Mylotarg delivered over 3 days during chemotherapy (instead of a higher dose given over 2 days).
The researches found that adding a low, fractionated dose of Mylotarg to standard chemotherapy improved overall survival and event-free survival. After 2 years of follow-up, event-free survival was 41% for the patients in the Mylotarg/chemotherapy group compared to 17% for those in the chemotherapy group. Furthermore, the overall survival 2 years following treatment was 53% for patients who received Mylotarg compared to 42% for those who did not. (4)
Researchers from the University of Pittsburgh reported that single-agent Mylotarg® resulted in a complete remission rate of 30% in patients 70 years or older with newly AML.
The study involved 49 patients with newly diagnosed AML 70 years of age or older. All were ineligible or unsuitable for treatment with standard intensive combination chemotherapy. Patients on this study received single-agent Mylotarg.
The CR rate was 14% for all treated patients.
The CR rate was 30% for patients with intermediate-risk cytogenetics.
The CR rate was 0% for patients with adverse cytogenetics.
Median survival was 3.7 months for all patients.
Median survival for patients achieving a CR was 11.8 months.
These researchers concluded that single-agent Mylotarg is a treatment option for older patients with intermediate-risk AML.(3)
The safety and efficacy of Mylotarg as a stand-alone treatment were studied in two, separate trials. The first trial included 237 patients with newly diagnosed AML who could not tolerate or chose not to receive intensive chemotherapy. Patients were randomized to receive treatment with Mylotarg or best supportive care. The trial measured "overall survival," or how long patients survived from the date they started the trial. Patients who received Mylotarg survived longer than those who received only best supportive care (median overall survival 4.9 months vs. 3.6 months). The second trial was a single-arm study that included 57 patients with CD33-positive AML who had experienced one relapse of disease. Patients received a single course of Mylotarg. The trial measured how many patients achieved a complete remission. Following treatment with Mylotarg, 26 percent of patients achieved a complete remission that lasted a median 11.6 months.
Mylotarg in Children
The AAML0531 trial included 1063 patients with newly diagnosed AML aged 0 to 29 years. Patients were treated with 5 cycles of chemotherapy alone or in combination with Mylotarg administered on day 6 during Induction 1 and once on day 7 during Intensification 2.
Overall 48% of Mylotarg treated patients survived leukemia free 5 years from treatment compared with 40% for those treated with chemotherapy alone. Overall survival was similar between the 2 treatment arms. (2,5)
Common side effects of Mylotarg include fever (pyrexia), nausea, infection, vomiting, bleeding, low levels of platelets in the blood (thrombocytopenia), swelling and sores in the mouth (stomatitis), constipation, rash, headache, elevated liver function tests, and low levels of certain white blood cells (neutropenia). Severe side effects of Mylotarg include low blood counts, infections, liver damage, blockage of the veins in the liver (hepatic veno-occlusive disease), infusion-related reactions, and severe bleeding (hemorrhage). Women who are pregnant or breastfeeding should not take Mylotarg, because it may cause harm to a developing fetus or a newborn baby. Patients with hypersensitivity to Mylotarg or any component of its formulation should not use Mylotarg.
References:
US Food and Drug Administration. FDA approves gemtuzumab ozogamicin for CD33-positive AML in pediatric patients. Updated June 16, 2020. . Accessed June 16, 2020.
McHayleh W, Foon K, Redner R, et al. Gemtuzumab ozogamicin as first-line treatment in patients aged 70 years or older with acute myeloid leukemia. Cancer [early online publication]. March 30, 2010.
Castaigne S, Pautas C, Terre C, et al. Effect of gemtuzumab ozogamicin on survival of adult patients with de-novo acute myeloid leukaemia (ALFA-0701): a randomised, open-label, phase 3 study. The Lancet. 2012; 379(9825): 1508-16.
Gamis AS, Aplenc R, Alonzo TA et al. Gemtuzumab Ozogamicin (GO) In Children With De NovoAcute Myeloid Leukemia (AML) Improves Event-Free Survival (EFS) By Reducing Relapse Risk – Results From The Randomized Phase III Children's Oncology Group (COG) Trial, AAML0531. Presented at the 55thASH Annual Meeting and Exposition. New Orleans, LA. December 7-10, 2013. Abstract 355.
Larson RA, Sievers EL, Stadtmauer EA et al. Final report of the efficacy and safety of gemtuzumab ozogamicin (Mylotarg) in patients with CD33-positive acute myeloid leukemia. Cancer. 2005;104:1442-52.