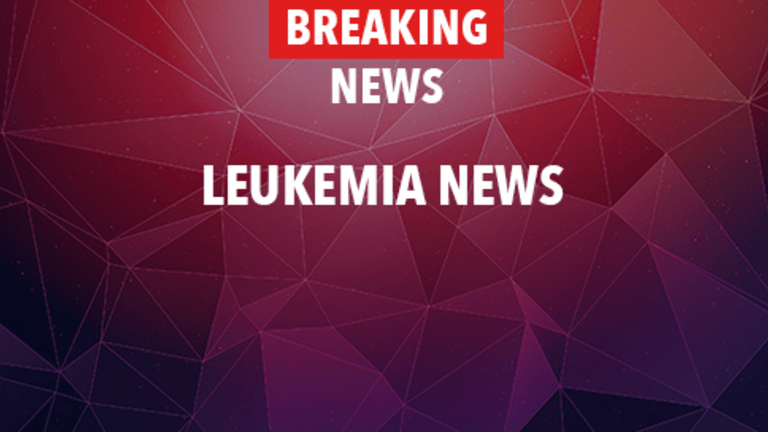 Factors Identified That Affect Outcomes of Donor Lymphocyte Infusion
Factors Identified That Affect Outcomes of Donor Lymphocyte Infusion in Acute Myeloid Leukemia
According to an early online publication in the Journal of Clinical Oncology, the following factors are associated with significantly improved survival for patients with relapsed acute myeloid leukemia (AML) who undergo donor lymphocyte infusion (DLI): a reduced tumor burden (low levels of cancer cells) at the time of a cancer relapse; female gender; genetics indicating a less aggressive type of cancer; and no detectable cancer (remission) at the time of DLI.
Acute myeloid leukemia is a cancer of the bone marrow and blood characterized by the rapid, uncontrolled growth of immature white blood cells known as myelocytes. The disease is more common in adults than in children; average age at diagnosis is more than 65 years.
Treatment of AML often begins with induction therapy (initial treatment) that includes chemotherapy to produce a complete remission (defined as the disappearance of leukemia cells in the bone marrow and normalization of the white blood cell, red blood cell, and platelet levels). After induction therapy, patients generally receive additional treatment (consolidation therapy) to reduce the likelihood of leukemia recurrence. Depending upon prognosis, age of the patient, and/or other existing medical conditions, consolidation therapy can range from extremely aggressive to less aggressive.
An allogeneic stem cell transplant (SCT), considered an extremely aggressive treatment option, involves the use of high doses of therapy that kill a greater amount of cancer cells than standard doses. Unfortunately, the high doses of therapy also cause a significant reduction in blood cells, which can leave a patient susceptible to infection, bleeding, and the need for blood transfusions. Often, the infections caused by these high doses of therapy are life-threatening.
To restore levels of blood cells, stem cells (immature blood cells) are collected from a donor and infused into the patient following high-dose therapy. These donor stem cells can also mount an attack against the patient's cancer cells, referred to as the graft-versus-leukemia effect. Unfortunately, these donor cells can also attack a patient's healthy cells, causing a potentially life-threatening condition called graft-versus-host disease (GVHD). Stem cells donated by a relative (related donor) tend to carry a lower risk of GVHD than those from an unrelated donor.
Unfortunately, a significant portion of patients with AML who have undergone an allogeneic SCT will experience a cancer relapse. Effective treatments of relapses are being evaluated. As well, researchers are attempting to identify specific patient or disease characteristics in order to individualize therapeutic approaches. One approach to treating patients with relapsed AML is with another infusion of donor lymphocytes; this second infusion takes advantage of the graft-versus-leukemia properties of this approach.
Researchers from several international medical institutions recently conducted a clinical study to evaluate data including 399 patients with AML who had been treated with an allogeneic stem cell transplant. These patients experienced a cancer relapse. One group of patients received treatment that included DLI while the other group of patients did not receive treatment that included DLI. Researchers evaluated data to identify factors that may affect patient outcomes.
At two years survival was 21% for patients treated with DLI compared with 9% for those whose treatment did not include DLI.
Among patients treated with DLI, the following patients had significantly greater survival than those without these characteristics: patients who had a lower tumor burden at the time of their cancer relapse, those of female gender, genetics indicating a less aggressive type of AML (favorable karyotype), and those in remission at the time of DLI.
At two years survival was 56% for patients treated with DLI while in remission and those with a favorable karyotype; survival was only 15% for patients treated with DLI while their cancer was progressing or those with a more aggressive type of AML
The researchers concluded that DLI for patients with AML who have relapsed following an allogeneic stem cell transplant provides significantly improved long-term survival for those with less aggressive disease, a reduced tumor burden at relapse, remission at the time of DLI, and female gender. The researchers suggest: "Strategies to reduce tumor burden beforeDLI" should be investigated for patients eligible for this treatment strategy. In addition, alternative treatment strategies should be sought for patients who do not possess the factors associated with optimal outcomes from this procedure.
Patients with relapsed AML may wish to speak with their physician regarding their individual risks and benefits of all treatment procedures or the participation in a clinical trial further evaluating novel therapies. Two sources of information regarding ongoing clinical trials include the National Cancer Institute (www.cancer.gov) and www.eCancerTrials.com.
Reference: Schmid C, Labopin M, Nagler A, et al. Donor lymphocyte infusion in the treatment of first hematological relapse after allogeneic stem-cell transplantation in adults with acute myeloid leukemia: a retrospective risk factors analysis and comparison with other strategies by the EBMT Acute Leukemia Working Party. Journal of Clinical Oncology [early online publication]. October 1, 2007. DOI: 10.1200/JCO.2007.11.6053.
Copyright Leukemia Cancer Information Center on CancerConsultants.com
Copyright © 2018 CancerConnect. All Rights Reserved.