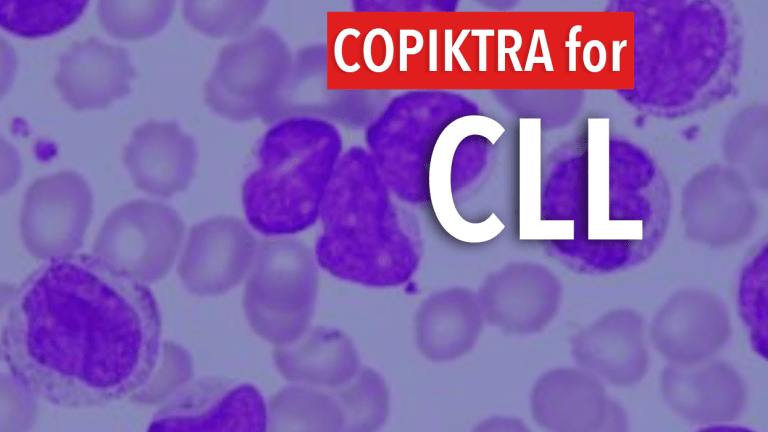 Copiktra: Promising New Treatment for Lymphoma and Chronic Lymphocytic Leukemia
Copiktra approved by FDA for treatment of CLL and SLL
Copiktra Treatment for Chronic Lymphocytic Leukemia or Small Lymphocytic Lymphoma
by Dr. C.H. Weaver M.D. updated 5/222
On Sept. 24, 2018, the United States Food and Drug Administration (FDA) granted regular approval to Copiktra (duvelisib) for adult patients with relapsed or refractory chronic lymphocytic leukemia (CLL) or small lymphocytic lymphoma (SLL) after at least two prior therapies.1
The previously reported results of the Phase 3 DUO study evaluating Copiktra in patients with relapsed or refractory chronic lymphocytic leukemia/small lymphocytic lymphoma led to the FDA approval. Although the treatment of CLL/SLL has advanced in recent years, there remains a substantial unmet need with many patients progressing or relapsing following the available therapies and new treatment options are needed.
About Copiktra (Duvelisib)
Copiktra is a novel precision cancer medicine that inhibits both phosphoinositide 3-kinase (PI3K)-delta and PI3K-gamma, two enzymes known to help support the growth and survival of malignant B-cells and T-cells. PI3K signaling may lead to the proliferation of malignant B-cells and is thought to play a role in the formation and maintenance of the supportive tumor microenvironment.2,3,4
The DUO clinical study evaluated 319 patients with advanced CLL/SLL treated with Copiktra or Azerra (ofatumumab) and directly compared. Overall oral Copiktra monotherapy was well tolerated, and showed superiority compared to Azerra attaining an average survival without cancer progression of 13.3 months, compared to 9.9 months. The benefit was observed in CLL/SLL patients with and without the 17p deletion a known poor prognostic subgroup.

The prescribing information contains boxed warnings for fatal and/or serious infections, diarrhea or colitis, cutaneous reactions, and pneumonitis and warnings for neutropenia and hepatotoxicity. Of 442 patients with hematologic malignancies treated with duvelisib at the approved dose, 65% had serious adverse reactions, with the most frequent being infection, diarrhea or colitis, and pneumonia. The most common adverse reactions (incidence ≥ 20%) were diarrhea or colitis, neutropenia, rash, fatigue, pyrexia, cough, nausea, upper respiratory infection, pneumonia, musculoskeletal pain, and anemia. Adverse reactions resulted in permanent discontinuation of Copiktra in 35% of patients., Dose reduction occurred in 24%.
References
Winkler et al. PI3K-delta and PI3K-gamma inhibition by IPI-145 abrogates immune responses and suppresses activity in autoimmune and inflammatory disease models. Chem Biol 2013; 20:1-11.
Reif et al. Cutting Edge: Differential roles for phosphoinositide 3 kinases, p110-gamma and p110-delta, in lymphocyte chemotaxis and homing. J Immunol 2004:173:2236-2240.
Schmid et al. Receptor tyrosine kinases and TLR/IL1Rs unexpectedly activate myeloid cell PI3K, a single convergent point promoting tumor inflammation and progression. Cancer Cell 2011;19:715-727.