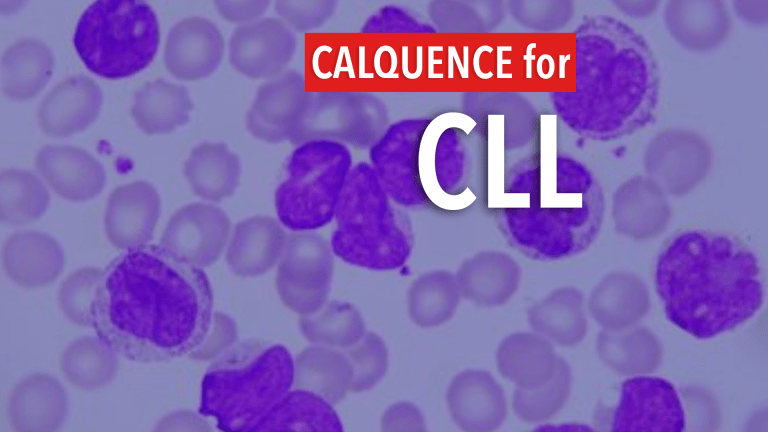 Calquence Treatment Improves Survival in Chronic Lymphocytic Leukemia
ASH 2019 update report Calquence delays CLL progression compared to Gazyva + Chlorambucil
by Dr. C.H. Weaver M.D. updated 12/2019
The bruxton tyrosine kinase inhibitor (BTK) Imbruvica (ibrutinib) is a standard initial treatment for individuals with chronic lymphocytic leukemia (CLL) requiring treatment. Although effective, Imbruvica is associated with certain side effects that preclude its use in some patients. Calquence (acalabrutinib) may be a more selective BTK inhibitor than Imbruvica and have a different side effect profile.
An interim analyses of the initial phase 3 "ASCEND" clinical trial evaluating single-agent Calquence compared to Rituxan (rituximab) plus idelasib or bendamustine in recurrent CLL was closed early due to favorable results. (1) and the ELEVATE-TN clinical trial has reported that Calquence delays CLL progression and demonstrated clinically meaningful results when used in newly diagnosed CLL patients.(2,9)
About Calquence
Calquence is a Bruton's tyrosine kinase (BTK) inhibitor. Within CLL/SLL cells, BTK is a protein/carbohydrate complex that is involved in maintaining cellular survival and replication. By inhibiting the activity of BTK, a BTK inhibitor reduces the growth of leukemia cells and causes cellular death. Drugs that block BTK stop the flow of these growth signals and the CLL cells die. Unlike Imbruvica™ the first BTK approved for the treatment of CLL, data reported from this study suggests that Calquence may more selectively block the BTK pathway and avoid some known side effects.
Calquence is currently approved for the treatment of adults with relapsed or refractory mantle cell lymphoma (MCL) in the US. and CLL. Calquence has been included as a treatment option in the National Comprehensive Cancer Network (NCCN) CLL guidelines. (3,4,5)
ELEVATE - TN Clinical Trial - Calquence Superior to Gazyva + Chlorambucil in Treatment-Naïve CLL
Positive results from the Phase III ELEVATE-TN clinical trial evaluating Calquence in patients with previously-untreated CLL were announced in June 2019. Calquence in combination with Gazyva (obinutuzumab) demonstrated a clinically meaningful improvement in progression-free survival (PFS) when compared with the chemotherapy-based combination of chlorambucil and Gazyva. The trial is also reported to have met a key secondary endpoint showing Calquence monotherapy achieved clinically-meaningful improvement as well. The results from ELEVATE-TN supported the U.S. Food and Drug Administration's approval of Calquence for adults with CLL or small lymphocytic lymphoma on November 21, 2019.
In the ELEVATE - TN clinical trial 535 patients were treated with either chlorambucil in combination with Gazyva, Calquence in combination with Gazyva, or Calquence alone.
The 535 enrolled patients were treated with either:
· Calquence 100 mg twice-daily.
· Calquence 100 mg twice-daily plus intravenous Gazyva or
· Gazyva plus oral chlorambucil.
With a median follow-up of 28.3 months 90% of patients treated with Calquence + Gazya survived without disease progression compared to 34% of those treated with Gazyva + plus chlorambucil. The benefit was seen across different subgroups, including those with del17p mutation. Overall survival at 30-months was greater than 90% for all three treatments.
Side effects leading to treatment discontinuations were observed in 11% of patients who received Calquence 14% of patients treated with Gazyva + chlorambucil. (9)
Answers to Frequently Asked Questions About Calquence
About ASCEND
The ASCEND clinical trial evaluated Calquence in 310 previously-treated patients with CLL. Patients were treated with either Calquence monotherapy or Rituxan (rituximab) plus physician's choice of idelalisib or bendamustine and directly compared. Interim results show a significant and clinically-meaningful delay in progression of CLL with Calquence, full trial results will be published shortly.
Clinical results published in the New England Journal of Medicine initially demonstrated that Calquence was well tolerated and yielded high response rates that were durable in patients with chronic lymphocytic leukemia.
Patients with CLL were enrolled in consecutive clinical trials evaluating different doses of Calquence and followed for an average of 14.3 months from the initiation of treatment. Overall the researchers reported a response rate of 95 percent to treatment. Of the 61 patients who participated in this first-in-human testing of the agent, 87 percent were able to complete the trial treatment. No patients experienced Richter's transformation, a rare condition where CLL morphs into an aggressive form of lymphoma, and only one patient's cancer progressed.
Calquence in Imbruvica Failures
The primary reason for CLL patients to discontinue Imbruvica from side effects atrial fibrillation, diarrhea, nuisance bleeding, immune-mediated arthritis, or hypertension. In preclinical studies, the selective BTK inhibitor Calquence exhibits greater selectivity for BTK inhibition relative to Imbruvica.
Doctors conducted a small phase II study in patients with relapsed/refractory CLL who required discontinuation of Imbruvica to evaluate its effectiveness.
Overall 77% of patients responded to treatment and 76%survived without CLL progression 21 months from treatment. Calquence appears to be an effective treatment option for individuals intolerant to Imbruvica. (8)
References:
Calquence Phase III ASCEND trial met primary endpoint at interim analysis in relapsed or refractory chronic lymphocytic leukaemia and will stop early
Calquence Phase III ELEVATE-TN trial met primary endpoint at interim analysis in previously-untreated chronic lymphocytic leukaemia
National Comprehensive Cancer Network (NCCN) chronic lymphocytic leukemia/small lymphocytic leukemia clinical practice guidelines. www.nccn.org. Accessed May 9, 2019.
Burger JA, Tedeschi A, Barr PM, et al. Ibrutinib as initial therapy for patients with chronic lymphocytic leukemia.N Engl J Med. 2015;373:2425-2437
No authors*.* First-line ibrutinib confirmed for CLL.Cancer Discov. 2019 Feb;9(2):OF4.
Byrd JC, Harrington B, O'Brien S, et al. Acalabrutinib (ACP-196) in relapsed chronic lymphocytic leukemia. N Engl J Med. 2016;374:323-332.
Patel V, Balakrishnan K, Bibikova E, et al. Comparison of acalabrutinib, a selective Bruton tyrosine kinase inhibitor, with ibrutinib in chronic lymphocytic leukemia cells.Clin Cancer Res. 2017;23:3734-3743
Sharman JP, Banerji V, Fogliatto LM, et al. ELEVATE TN: Phase 3 study of acalabrutinib combined with obinutuzumab (O) or alone vs O plus chlorambucil (clb) in patients (pts) with treatment-naive chronic lymphocytic leukemia (CLL). Abstract #31. Presented at the 2019 ASH Annual Meeting, December 7, 2019; Orlando, FL.