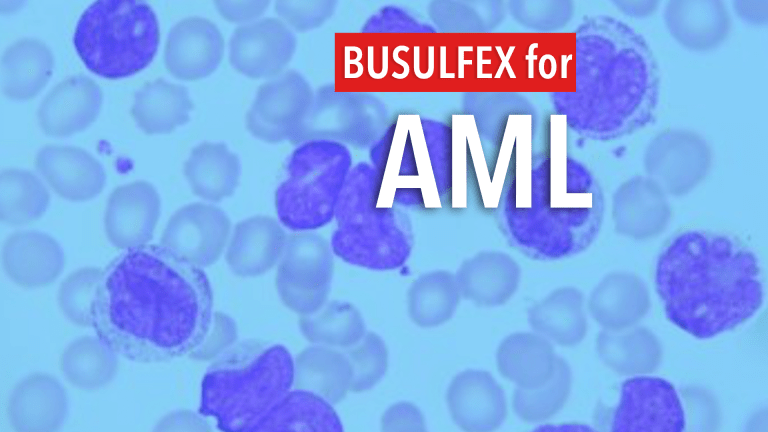 Busulfex Superior to Total Body Irradiation in AML in First Remission
Busulfex Superior to Total Body Irradiation in AML in First Remission
Myeloablative conditioning with cyclophosphamide and Busulfex® (intravenous busulfan) was associated with better leukemia-free and overall survival than conditioning with cyclosphosphamide and total-body irradiation (TBI) in patients with acute myeloid leukemia (AML) who were in first complete remission after receiving an allogeneic stem cell transplant, according to the results of a study published in Blood.
Acute myeloid leukemia (AML) is a cancer of the bone marrow (spongy portion found in the middle of bones) and blood characterized by the rapid, uncontrolled growth of immature white blood cells known as myelocytes. The disease is more common in adults than in children; the average age at diagnosis is over 65.
Several blood cancers, including AML, can be treated with high-dose chemotherapy followed by a stem cell transplant. Stem cell transplants may use the patient's own stem cells that were collected prior to cancer treatment (an autologous transplant) or stem cells donated by another person (an allogeneic transplant).
The most widely used conditioning regimens for allogeneic transplant are cyclosphosphamide and TBI or cyclosphosphamide and Busulfex—but there is little data comparing the two approaches. Researchers analyzed data from the Center for International Blood and Marrow Transplant Research. The analysis included 1230 subjects receiving a first allogeneic hematopoietic cell transplant with an HLA-matched sibling or unmatched related donor between 2000 and 2006. Patient received conditioning with cyclosphosphamide/TBI (Cy/TBI) or cyclosphosphamide/Busulfex (BuCy).
Multivariate analysis found significantly lower non-relapse mortality among patients receiving BuCy compared to Cy/TBI. The incidence of relapse within the first year following transplant was the same between the two groups; however, relapse beyond the first year occurred significantly less frequently in those receiving intravenous (IV), but not oral Busulfex compared to those receiving TBI.
Leukemia-free survival and overall survival were significantly higher in patients receiving intravenous Busulfex than those receiving total-body irradiation.
The researchers concluded that IV Busulfex in combination with cyclophosphamide is associated with superior outcomes compared to TBI in patients with AML in first complete remission.
Reference:
Copelan EA, Hamilton BK, Avalos B, et al. Better leukemia-free and overall survival in AML in first remission following cyclophosphamide in combination with busulfan compared to TBI. Blood. Published early online September 24, 2013: doi: 10.1182/blood-2013-07-514448.