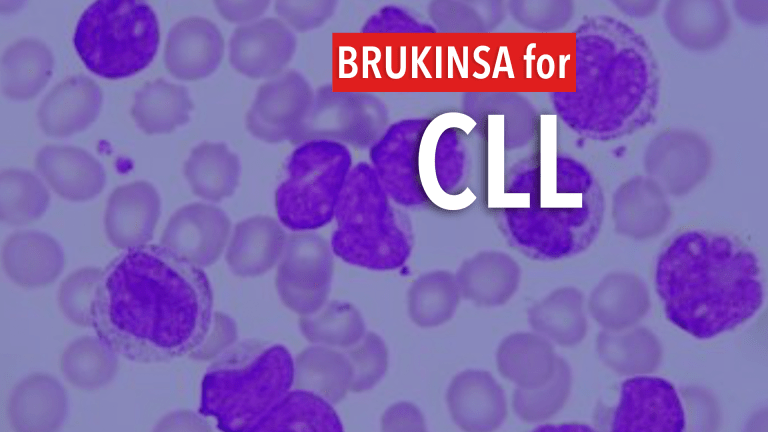 Brukinsa BTK Inhibitor for CLL/SLL
Brukinsa is a novel BTK inhibitor granted FDA approval for treatment of chronic leukemia and small lymphocytic approval.
by Dr. C.H. Weaver M.D. updated 1/2023
Brukinsa (zanubrutinib) monotherapy is generally well tolerated and active in the treatment of patients with of patients with chronic lymphocytic leukemia/small lymphocytic lymphoma (CLL/SLL) irrespective of 17p deletion status. Novel Brukinsa drug combinations look to further improve on treatment with single drugs.
About Brukinsa
Brukinsa is a Bruton tyrosine kinase (BTK) inhibitor. Within lymphoma cells, BTK is a protein/carbohydrate complex that is involved in maintaining cellular survival and replication. By inhibiting the activity of BTK, a BTK inhibitor reduces the growth of lymphoma cells and causes cellular death. Drugs that block BTK stop the flow of these growth signals causing lymphoma cells to die.
Doctors evaluated Brukinsa doses ranging from 40 mg to 160 mg twice daily or 320 mg once daily in a large group of patients with CLL/SLL. A total of 122 patients (average age, 67 years) were enrolled in this clinical trial including 117 with CLL and 5 with SLL.
With a median follow-up of 25 months, the overall response to treatment was 97% and the complete disappearance of cancer occurred in 14% of patients. Overall 97% and 89% of patients survived without CLL/SLL progression 1 and 2 years from treatment respectively.
FDA Approval
On January 19, 2023, the Food and Drug Administration (FDA) approved Brukinsa for the treatment of chronic lymphocytic leukemia (CLL) or small lymphocytic lymphoma (SLL).
Approval was based on results achieved in patients with treatment naïve CLL/SLL enrolled in the SEQUOIA (NCT03336333) clinical trial. A total of 479 patients were treated with either Brukinsa or bendamustine plus rituximab (BR) for 6 cycles and directly compared. Brukinsa treated patients survived longer without cancer progression compared to BR patients who survived an average of 34 months before progression. Brukinsa wa also evaluated in 110 patients with previously untreated CLL/SLL with 17p deletion. The overall response rate was 88% and the median duration of response had not been reached after an average follow-up of 25 months.
The overall response to treatment and rate of survival without progression suggest this next generation BTK inhibitor can achieve deep and durable responses in patients with CLL/SLL. 
Brukinsa Compared to Imbruvica
The phase 3 ALPINE clinical trial compared Brukinsa to Imbruvica (ibrutinib) in patients with relapsed/refractory CLL/SLL who received at least 1 prior systemic therapy in 652 patients. The overall response to treatment with Brukinsa was 80% compared to 73% for Imbruvica and 95% of Brukinsa treated patients survived cancer free one year from treatment compared to 84% of those treated with Imbruvica. Overall survival and side effects were similar with both medications.2
Patients treated with Brukinsa also reported better health-related quality of life than those administered Imbruvica, according to findings from the phase 3 ALPINE trial released at the 2022 European Society of Hematology annual meeting.3
The most common reported side effects with Brukinsa are neutropenia, low platelets, upper respiratory tract infections, and bone or joint pain. Second primary malignancies, including non-skin carcinomas, developed in 13% of patients. 
References:
Cull Gavin, Simpson David, et al. Treatment with the Bruton Tyrosine Kinase Inhibitor Zanubrutinib (BGB-3111) Demonstrates High Overall Response Rate and Durable Responses in Patients with Chronic Lymphocytic Leukemia/Small Lymphocytic Lymphoma (CLL/SLL): Updated Results from a Phase 1/2 Trial. Presented at: the 2019 ASH Annual Meeting & Exposition; December 7-10, 2019; Orlando, FL. Abstract 500.
Hillmen P, Eichhorst B, Brown JR, et al. First interim analysis of ALPINE study: Results of a phase 3 randomized study of zanubrutinib vs ibrutinib in patients with relapsed/refractory chronic lymphocytic leukemia/small lymphocytic lymphoma. Presented at: 2021 European Hematology Association Congress; June 9-17, 2021; Virtual. Abstract LB190.
Hillmen P. Health-related quality of life outcomes associated with zanubrutinib vs ibrutinib monotherapy in patients with relapsed/refractory (RR) CLL/SLL: results from the randomized phase 3 ALPINE trial. Presented at: 2022 European Hematologic Association Congress; June 9-12, 2022; Vienna, Austria. Poster 663