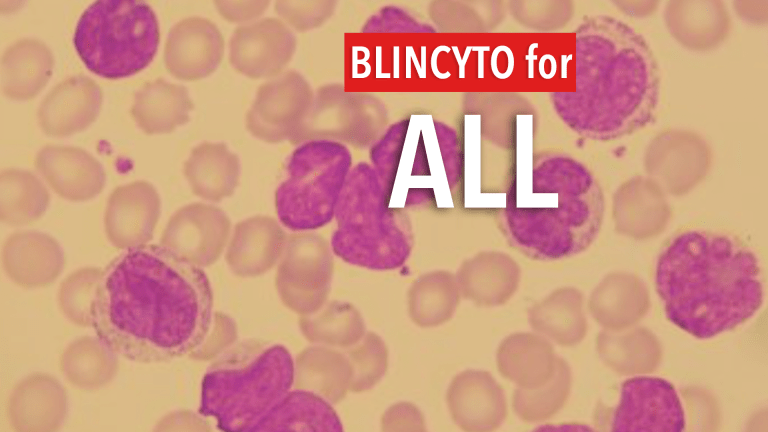 Blincyto Prolongs Survival in Acute Lymphoblastic Leukemia (ALL)
Studies continue to demonstrate that incorporation of Blincyto into ALL treatment improves patient outcomes.
by Dr. C.H. Weaver M.D. updated 6/2021
Blincyto (blinatumomab) induces high complete remission rates and prolongs survival in patients with B-precursor acute lymphoblastic lymphoma (ALL) and both Philadelphia positive and negative ALL. ASCO 2021 updates suggest Blincyto-Iclusig may represent new treatment option avoiding chemotherapy altogether. 
About ALL
Acute lymphoblastic leukemia is an aggressive cancer of the blood and bone marrow, the spongy tissue inside bones where blood cells are made.1 The disease progresses rapidly and affects immature blood cells. Worldwide, ALL accounts for more than 12 percent of leukemia. Of the 42,000 people diagnosed worldwide, 31,000 will die from the disease. Patients with ALL have abnormal white blood cells (lymphocytes) that crowd out healthy white blood cells, red blood cells and platelets, leading to infection, anemia (fatigue), easy bleeding and other serious side effects.
About Blincyto (blinatumomab)
Blincyto is a BiTE® antibody construct designed to direct the body's cell-destroying T cells against target cells expressing CD19, a protein found on the surface of B-cell derived leukemias and lymphomas. Blincyto is the first of the BiTE® antibody construct approved by the US Food and Drug Administration and its incorporation into the management of ALL is improving patient outcomes.
About BiTE® Technology Bispecific T cell engager (BiTE®) antibody constructs are a type of immunotherapy being investigated for fighting cancer by helping the body's immune system to detect and target malignant cells. The modified antibodies are designed to engage two different targets simultaneously, thereby juxtaposing T cells (a type of white blood cell capable of killing other cells perceived as threats) to cancer cells. BiTE® antibody constructs help place the T cells within reach of the targeted cell, with the intent of allowing T cells to inject toxins and trigger the cancer cell to die (apoptosis). BiTE® antibody constructs are currently being investigated for their potential to treat a wide variety of cancers.
​The initial exploratory study to evaluate Blincyto was in 36 adult patients with relapsed/refractory B-precursor ALL. Patients received a continuous intravenous infusion of Blincyto for 28 days followed by a 14-day treatment-free interval. Patients who experienced a response had the option to receive 3 additional cycles of treatment or proceed to allogeneic stem cell transplantation. Overall 69% of patients achieved a hematological complete response (CR) or CR with partial hematological recovery (CRh) and 10 out of 36 (28%) achieved CRh following Blincyto treatment. Doctors have since been evaluating how best to incorporate Blincyto into the overall management of ALL.
Blincyto Should be Added to Chemotherapy Consolidation in ALL
Study findings presented at the 62nd American Society of Hematology (ASH) Annual Meeting in December 2020 suggest that Blincyto monotherapy should be considered a new standard-of-care consolidation therapy used before allogeneic hematopoietic stem cell transplant (alloHSCT) in young patients with high risk first relapse B-cell precursor acute lymphoblastic leukemia (BCP-ALL).
Between November 2015 and to July 2019 108 patients with BCP-ALL were enrolled in a clinical trial designed to compare Blincyto to chemotherapy pre-transplant consolidation therapy for children with high-risk first relapse BCP-ALL.
All patients were treated with induction chemotherapy; half the patients then received consolidation chemotherapy or Blincyto before proceeding to alloHSCT.
After a median of 22.4 months follow-up, 69% of patients treated with Blincyto were alive without leukemia recurrence compared with only 43% of patients treated with chemotherapy. The 36-month overall survival estimate was 81% for Blincyto treated patients versus 56% for chemotherapy. Side effects occurred less frequently with Blincyto and no fatal adverse events were reported. The most common adverse side effects with Blincyto were fever, nausea, headache, and mouth sores.
The study authors concluded that "Blincyto monotherapy as consolidation therapy before alloHSCT in children with high-risk first-relapse BCP-ALL leads to significantly better outcomes including a lower risk of recurrence, and significant side effects than chemotherapuy suggesting a new standard‑of-care.
Blincyto® Improves Survival in Advanced Philadelphia chromosome-negative (Ph-) ALL
Blincyto improves survival compared to standard therapy among patients with B-cell precursor, Philadelphia chromosome-negative (Ph-) acute lymphoblastic leukemia (BCP-ALL) that has stopped responding to prior therapies. Results presented at the 2016 EHA meeting were updated from the TOWER trial, which included 405 patients with B-cell precursor, Ph-, ALL. All patients had progression of their cancer despite prior therapies. In the trial, one group of patients was treated with Blincyto and the other group was treated with standard chemotherapy regimens.
Median overall survival was 7.8 months for patients treated with Blincyto compared with only 4 months for those treated with standard therapies and anti-cancer responses were significantly higher among the group of patients treated with Blincyto.
Blincyto - Iclusig Salvage Therapy in B-Cell Acute Lymphoblastic Leukemia: Case Report of Benefit
The combination of Iclusig (ponatinib) and Blincyto represent a potentially promising chemotherapy-free, hematopoietic stem cell transplant (HSCT)–sparing treatment for patients with Philadelphia chromosome (Ph)–positive ALL.
Doctors initially reported that a 42-year old man with heavily-pretreated relapsed Philadelphia chromosome-positive, CD19-positive, pre-B ALL who was previously treated with CD19 chimeric antigen receptor-T (CAR-T) cell therapy experienced a complete response (CR) for 12 months following subsequent combination therapy with Blincyto and Iclusig.2
Upon disease relapse following CAR-T cell therapy, the patient received 4 courses of combination therapy with standard-dose Blincyto and the tyrosine kinase inhibitor, Iclusig (30 mg daily), followed by Iclusig maintenance therapy. The patient achieved molecular remission and a CR lasting 12 months.
This was the first report of pre-B-ALL responding to CD19/CD3 BiTE therapy in combination with a tyrosine kinase inhibitor after failure of CD19 CAR-T therapy," the study authors wrote.
Results from a phase 2 study trial released at ASCO 2021 showed that 100% of  20 patients initially treated with the combination as frontline therapy achieved a complete remission and 89% of patients with relapsed/refractory Ph–positive ALL attained remission. After a median follow up of 12 months the estimated 1-year and 2-year survival rates are 93% when used as initial therapy and 80% for those with refractory disease. 
Blincyto Side Effects: The most side effects reported with Blincyto include were fever, headache, peripheral edema, febrile neutropenia, nausea, low potassium, rash, tremor, and constipation. Neurological toxicity occurred in approximately 50% of patients and was a frequent reason for interruption of therapy in early trials. Cytokine release syndrome has been reported in 10-20% of patients including both life-threatening and fatal events.
References:
Topp MS, Goekbuget N, Zugmaier G, et al. Anti-CD19 BiTE blinatumomab induces high complete remission rate and prolongs overall survival in adult patients with relapsed/refractory B-precursor acute lymphoblastic leukemia (ALL). Blood (ASH Annual Meeting Abstracts) 2012; 120: Abstract 670.
Topo M, Stein A, Gokbuget N, et al. Blinatumomab improved overall survival in patients with relapsed or refractory Philadelphia negative B-cell precursor acute lymphoblastic leukemia in a randomized, open-label phase 3 study (TOWER). Proceedings from the 2016 annual EHA meeting. Abstract S149. Available at: . Accessed June 17, 2016.
Amgen Announces Positive BLINCYTO® (blinatumomab) Phase 2 Study Results In Patients With Relapsed/Refractory Philadelphia Chromosome-Positive B-Cell Precursor Acute Lymphoblastic Leukemia [press release]. Amgen website. Available at: . Accessed July 20, 2015.
El Chaer F, Holtzman NG, Sausville EA, et al. Relapsed Philadelphia Chromosome-positive pre-B-ALL after CD19-directed CAR-T cell therapy successfully treated with combination of blinatumomab and ponatinib.Acta Haematol. 2019;141(2):107-110.
Locatelli F, Zugmaier G, Rizzari C, et al. Superior Event-Free Survival with Blincyto Versus Chemotherapy in Children with High-Risk First Relapse of B-Cell Precursor Acute Lymphoblastic Leukemia: A Randomized, Controlled Phase 3 Trial. Presented at: the 62nd ASH Annual Meeting and Exposition; December 5-8, 2020; virtual. Abstract 268.
Locatelli F, Zugmaier G, Rizzari C, et al. Effect of blinatumomab vs chemotherapy on event-free survival among children with high-risk first-relapse B-cell acute lymphoblastic leukemia: a randomized clinical trial. JAMA. Published March 2, 2021. doi: 10.1001/jama.2021.0987
Brown PA, Ji L, Xu X, et al. Effect of postreinduction consolidation with blinatumomab vs chemotherapy on disease-free survival in children, adolescents, and young adults with first relapse of B-cell acute lymphoblastic leukemia: a randomized clinical trial. JAMA. Published March 2, 2021. doi:10.1001/jama.2021.0669