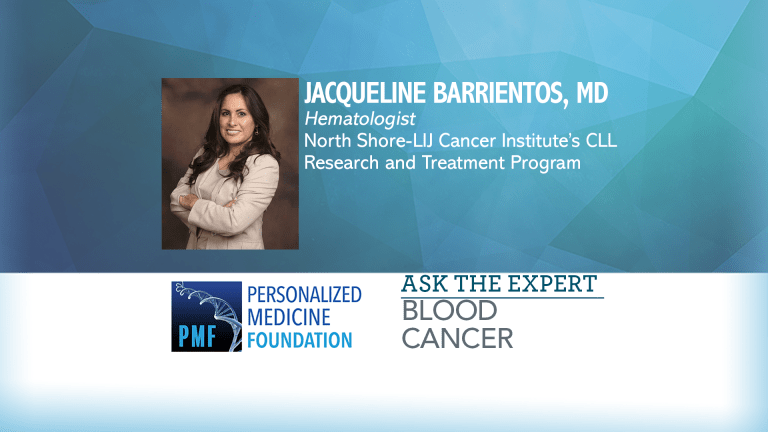 Ask the Expert: Blood Cancer Treatment Progress & What's Next
CancerConnect Presents: Ask the Expert: Blood Cancer Treatment Progress & What's Next
In this informative web chat, Jacqueline Barrientos, MD discusses blood cancer prevalence, evolution of blood cancer treatments, the role of clinical trials in blood cancer treatments, and treatment advances on the horizon. She also discusses exciting recent research advances in chronic lymphocytic leukemia (CLL), hairy cell leukemia, multiple myeloma and acute lymphoblastic leukemia (ALL).
Dr. Barrientos is a hematologist at North Shore-LIJ Cancer Institute's CLL Research and Treatment Program. She is also an assistant professor at Hofstra North Shore-LIJ School of Medicine. Dr. Barrientos is board certified in Hematology, Oncology, and Internal Medicine. She received her medical degree from Ponce School of Medicine and Health Sciences in Puerto Rico and completed her residency at Yale University School of Medicine and her hematology-oncology fellowship at Weill Cornell Medical College/New York Presbyterian Hospital. Her research focuses on identifying new and promising therapies for patients with lymphoma and chronic leukemias.
Join the conversation and connect with other individuals affected by leukemia and lymphoma in the CancerConnect private online leukemia (chronic lymphocytic leukemia or chronic myelogenous leukemia) and lymphoma (Hodgkin 's disease or non-Hodgkin's Lymphoma) support group here. To find expanded information on the prevention, screening, and treatment of leukemia and lymphoma and to stay updated with the lasted news on these diseases, visit the leukemia and lymphoma (non-Hodgkin's and Hodgkin's) information centers.
The Ask The Expert Series is made possible by support fromThe Personalized Medicine Foundation, Incyte Oncology, Abbvie, and CancerConnect. The "Ask The Expert" series is not medical advice nor is it a substitute for your doctor. It should serve as a guide to facilitate access to additional information and enhancement of a shared decision making process with your treating physician.
This program made possible by funding from:
​