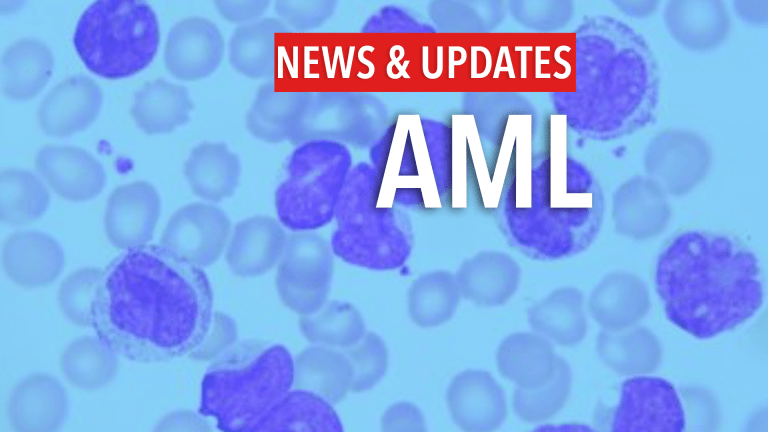 Acute Myeloid Leukemia Treatment Options Expand With Recent FDA Approvals
FDA Approves Venclexta, Daurismo, and Xospata Precision Cancer Medicines for Treatment of Acute Myeloid Leukemia
by Dr. C.H. Weaver M.D, 11/2019
Although patients over 60 with AML can benefit from intensive treatment, researchers have been evaluating more effective and safer ways to treat older patients. To that end the US Food and Drug Administration (FDA) approved several specific therapies for elderly patients unable to undergo more aggressive treatment in 2018.
About Acute Myeloid Leukemia
AML is a cancer that impacts the blood and bone marrow and is most commonly experienced in older adults. According to the American Cancer Society in 2018 there were approximately 22,000 new patients diagnosed with AML in the United States.
The average age at the time of diagnosis for patients with AML is over 65 years. This is 10-15 years older than the average age of patients entered on clinical trials that have defined optimal current treatment for patients with AML. In general, only about one-third of patients older than age 60 tolerate the intensive chemotherapy required to achieve optimal results. However, it is probably not age itself, but the higher frequency of other organ dysfunction present in older individuals that leads to increased toxicity. In addition to the impaired capacity to recover from intensive treatments, older patients with AML frequently have a leukemia that arises from more primitive myeloid cells, which is more difficult to eradicate because there are no normal cells left to repopulate the bone marrow.
About Venclexta® (venetoclax)
The BCL-2 (B-cell lymphoma 2) protein is a type of protein that is found in certain types of cancers that affect blood cells. This protein inhibits the death of cancer cells, enabling the cancer cells to grow and spread. Venclexta is an agent that inhibits the BCL-2 protein from protecting the survival of cancer cells, thereby resulting in reduced growth and/or the death of cancer cells. The combination of Venclexta with azacitidine or decitabine produced an overall response rate of 91% in elderly patients which led to the FDA approval.
About Daurismo (glasdegib)
Daurismo is a "Hedgehog pathway inhibitor". The Hedgehog signaling pathway plays an essential role in embryogenesis, the process by which human embryos are developed. In adults, the abnormal activation of the hedgehog pathway appears to contribute to the development and persistence of cancer stem cells. Daurismo disruption of this pathway prevents the development and survival of these cancer stem cells.
Daurismo in combination with the standard low-dose cytarabine (LDAC) chemotherapy was evaluated and was demonstrated to improve overall survival when compared to LDAC alone in adult AML patients who would not tolerate intensive chemotherapy. The average overall survival was doubled to 8.3 months for patients treated with Daurismo plus LDAC compared with 4.3 months for patients treated with LDAC only.
Xospata (Gilteritinib) Approved for Advanced Acute Myeloid Leukemia (AML) with a FLT3 Mutation
The U.S. Food and Drug Administration approved Xospata (gilteritinib) for treatment of adult patients who have recurrent or refractory acute myeloid leukemia (AML) with a FLT3 mutation.
Mutations of FLT3 in AML are associated with a poor prognosis and the FDA has prioritized the approval of new therapies for FLT3+ AML patients. Xospata has demonstrated inhibitory activity against FLT3 internal tandem duplication (ITD) as well as FLT3 tyrosine kinase domain (TKD), two common types of FLT3 mutations that are seen in approximately one-third of patients with AML.
The FDA approval of Xospata was based on an interim analysis of the ADMIRAL clinical trial which included 138 adult patients with relapsed or refractory AML and a FLT3 ITD, D835, or I836 mutation. All individuals were treated with oral Xospata daily until unacceptable toxicity or lack of clinical benefit. After a median follow-up of 4.6 months 29 patients had achieved a complete remission and a significant number no longer required blood or platelet transfusion support. Follow up analyses demonstrated that Xospata improved survival duration compared to standard salvage chemotherapy. (5)
The recent development of these novel precision cancer medicines targeting specific abnormalities that lead to the development of AML significantly expand treatment options, especially for older individuals.
References:
FDA approves gilteritinib for relapsed or refractory acute myeloid leukemia (AML) with a FLT3 mutatation
Venetoclax with azacitidine disrupts energy metabolism and targets leukemia stem cells in patients with acute myeloid leukemia
www.fda.gov/NewsEvents/Newsroom/PressAnnouncements/ucm626443.htm
www.astellas.com/system/files/news/2019-10/2019_EN_3_2.pdf