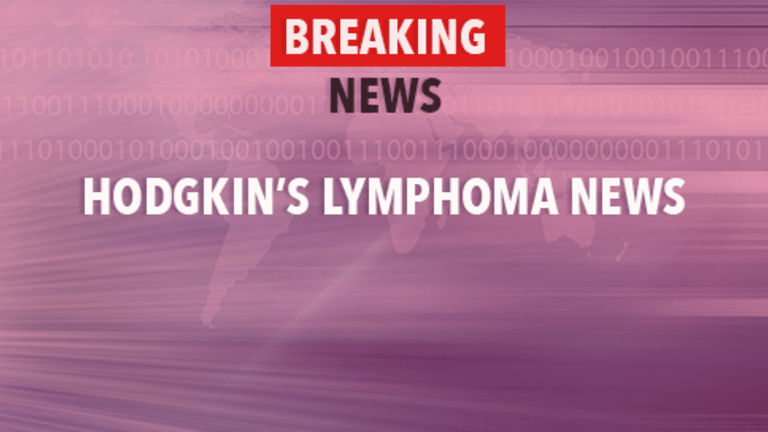 Study Addresses Treatment of Older Hodgkin's Patients
Study Addresses Treatment of Older Hodgkin's Patients
According to a study published in the Annals of Oncology, treatment with radiation therapy alone may be an option for older patients with early-stage Hodgkin's Lymphoma.
Lymphomas are a malignancy in which cancerous cells form in the cells of the lymphatic system. The lymphatic system is a drainage system within the body whose two primary functions are to maintain fluid balance and produce cells called lymphocytes, which fight infection.
Lymphomas are divided into two types: non-Hodgkin's lymphoma and Hodgkin's lymphoma. Hodgkin's lymphoma is characterized by the presence of Reed-Sternberg cells. Current treatment options for Hodgkin's lymphoma include surgery, chemotherapy, and radiation.
Early Hodgkin's lymphoma refers to cancer that is not advanced enough to produce "bulky" sites and has not invaded vital organs. Cure rates are high with standard treatment; researchers are now focusing on ways to maintain these high cure rates while reducing side effects (particularly long-term side effects) caused by treatment.
Although chemotherapy plus radiation therapy tends to be a standard approach for the treatment of early Hodgkin's, research continues to evaluate whether early Hodgkin's may be cured with either approach alone. This may be a particularly important issue for older patients with Hodgkin's lymphoma since older patients may not tolerate chemotherapy as well as younger patients.
To describe patient outcomes following treatment of early-stage Hodgkin's lymphoma with radiation therapy alone, researchers in Sweden conducted a study among 308 patients who had been diagnosed between 1972 and 1999. Twenty-two percent of the study participants were age 60 or older.
88% of patients experienced a complete disappearance of detectable Hodgkin's lymphoma following radiation therapy. There was a suggestion of a difference in remission rate by age: 82% of subjects over the age of 60 had a complete remission, compared to 90% of subjects under the age of 60.
Of patients who experienced a complete remission, 42% eventually had a relapse of Hodgkin's lymphoma. Half of the relapses occurred within the first 21 months following treatment. The relapse risk was similar for older and younger patients, suggesting that relapse risk does not increase with age.
The researchers conclude that given the potential risks of chemotherapy in older patients, treatment with radiation therapy alone may be an alternative initial treatment for older patients with early-stage Hodgkin's lymphoma.
Reference: Landgren O, Axdorph U, Fears TR, Porwit-MacDonald A, Wedelin C, Björkholm M. A Population-based Cohort Study on Early-stage Hodgkin Lymphoma Treated with Radiotherapy Alone: with Special Reference to Older Patients. Annals of Oncology. 2006;17:1290-1295.
Copyright © 2018 CancerConnect. All Rights Reserved.