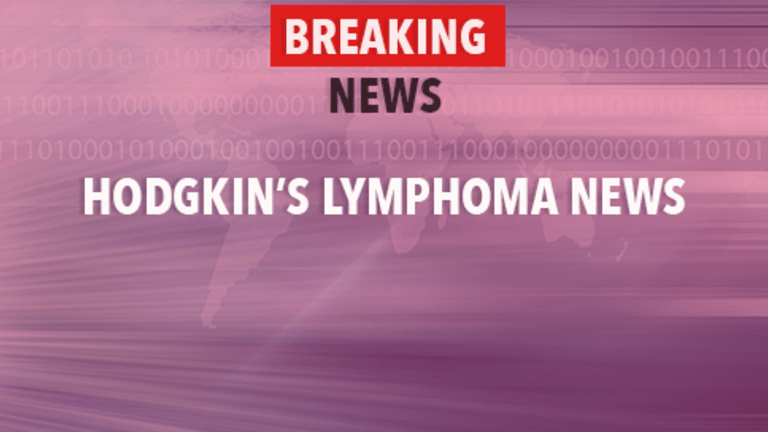 Some Children with Hodgkin's Disease Can Skip Radiation Therapy
Some Children with Hodgkin's Disease Can Skip Radiation Therapy
Researchers from Germany have reported that children with Hodgkin's disease who achieve a complete remission after chemotherapy can skip radiation therapy altogether without a negative impact on their survival. These results were presented in the plenary session at the American Society of Therapeutic Radiology and Oncology annual meeting held in Atlanta GA, Oct 2-7, 2004.
Hodgkin's disease is a cancer of the lymph system, which is part of the immune (infection fighting) system that includes blood vessels, bone marrow, lymph nodes and lymph vessels that are present throughout the body. It also includes organs such as the spleen, thymus, and tonsils. This cancer is characterized by the presence of the uncontrollable growth and division of atypical white blood cells (immune cells) that crowd lymph tissue, suppressing the formation and function of other cells normally found in this tissue.
Hodgkin's disease is a relatively rare cancer in children. However, there is a high cure rate with chemotherapy and radiation. Because of this high cure rate, a major focus of researchers over the past decade has been to attempt to reduce the long-term side effects of therapy while maintaining the high cure rate. Long-term side effects of chemotherapy and radiation may include sterility, cataracts and the development of new cancers.
The trial presented at ASTRO was conducted in 7 nations and involved 1,018 children. The patients were assigned to one of three treatment groups, depending on whether they were considered to have low, intermediate, or high risk factors, as determined by disease stage, symptoms and spread of cancer to lymph nodes. Low-risk patients were treated with two cycles of chemotherapy, intermediate-risk patients with 4, and high-risk patients with 6. Patients were not treated with radiation therapy if they achieved a complete remission of their cancer. For those patients who did not achieve a complete remission, radiation therapy was administered at 3 different doses, depending on the amount of tumor reduction after chemotherapy.
A complete remission was achieved in 211 patients (22%) and these children received no radiation. The remaining patients received 20 to 35 Gy of radiation, depending on the amount of residual cancer. A total of 915 patients continue to be in complete remission (90%) nearly 5 years after treatment.
There appears to be no difference in survival between patients who received and those who did not receive radiation therapy. While there was a lower probability of disease-free survival (DFS) for intermediate-risk patients who did not undergo radiation therapy than those that did receive radiation, the treatment strategy of omitting radiation did appear to work in the low-risk patients (see table). Patients with advanced disease who did not receive radiation had an increased risk of treatment failures (see table); but these failures had no impact on survival.
The researchers concluded that overall results of this trial were excellent because of the potential reduction in long-term toxicity (side effects) that may result from limiting radiation treatment in some young patients.
Reference: Ruhl U, Albrecht MR, Lueders H, et al. The German Multinational GPOH-HD 95 Trial: Treatment Results and Analysis of Failures in Pediatric Hodgkins Disease Using Combination Chemotherapy With and Without Radiation. Proceedings from the 46th annual meeting of the American Society of Therapeutic Radiology and Oncology, Atlanta GA, Oct 2-7, 2004; Abstract #3.
Copyright © 2018 CancerConnect. All Rights Reserved.