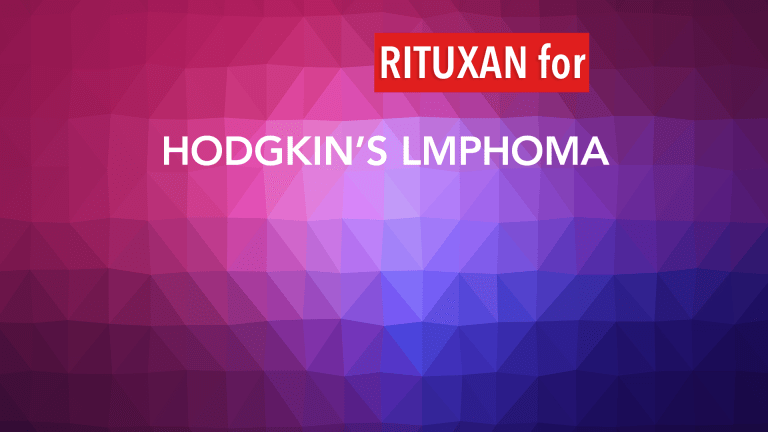 Rituxan Active in Nodular Lymphocyte-Predominant Hodgkin's Lymphoma
Rituxan Active in Nodular Lymphocyte-Predominant Hodgkin's Lymphoma
Rituxan® (rituximab) was active in previously treated and untreated patients with nodular lymphocyte–predominant Hodgkin lymphoma, according to the results of a phase II study published in the Journal of Clinical Oncology. Most patients relapsed, but durable response was observed in a substantial minority.
Hodgkin's lymphoma is a cancer of the lymph system and typically begins in the lymph nodes in one region of the body and then spreads throughout the lymph system. Nodular lymphocyte-predominant Hodgkin's lymphoma (NLPHL) is a rare type of Hodgkin's lymphoma that accounts for about 5 percent of all cases. It is characterized by enlarged lymph nodes in the neck, chest, or armpits. It typically expresses B lymphocyte markers such as CD20 and may progress to diffuse large B cell lymphoma.
Rituxan is a targeted therapy that binds to a marker known as CD20 on the surface of B-cells. This binding prompts the immune system to destroy the cell, and may also have direct anticancer effects on the cell. Rituxan is commonly used to treat non-Hodgkin's lymphoma. Because malignant cells in NLPHL express CD20, researchers have begun to evaluate Rituxan in this disease as well.
This study included 39 patients with previously treated or newly diagnosed NLPHL. Patients received Rituxan once a week for four weeks or—after a protocol amendment—Rituxan plus Rituxan maintenance once every 6 months for 2 years. The primary endpoint of the study was progression-free survival. The secondary endpoint was overall response rate.

After four weekly treatments, the objective response rate was 100 percent—with a complete response rate of 67 percent and partial response rate of 33 percent. At a median follow-up of 9.8 years in the Rituxan group, progression-free survival was 3 years. At a median follow-up of 5 years in the Rituxan plus maintenance group, progression-free survival was 5.6 years. Median overall survival was not reached in either group. Five-year progression-free survival was 39.1 percent in the Rituxan group and 58.9 percent in the Rituxan plus maintenance group. Five-year overall survival was 95.7 percent in the Rituxan group and 85.7 percent in the Rituxan plus maintenance group.
Twenty-three patients experienced relapse and nine of these had evidence of transformation to aggressive B-cell lymphoma. Six of these patients had abdominal involvement at the beginning of the study.
Treatment-related adverse events were minimal in both groups, and no grade 3 or 4 toxicities were observed. The researchers concluded that Rituxan is active in NHPHL. A significant minority of patients experienced durable responses.
Reference:
Advani RH, Horning SJ, Hoppe RT, et al: Mature Results of a Phase II Study of Rituximab Therapy for Nodular Lymphocyte–Predominant Hodgkin Lymphoma. Journal of Clinical Oncology. Published early online February 10, 2014. doi: 10.1200/JCO.2013.53.2069.