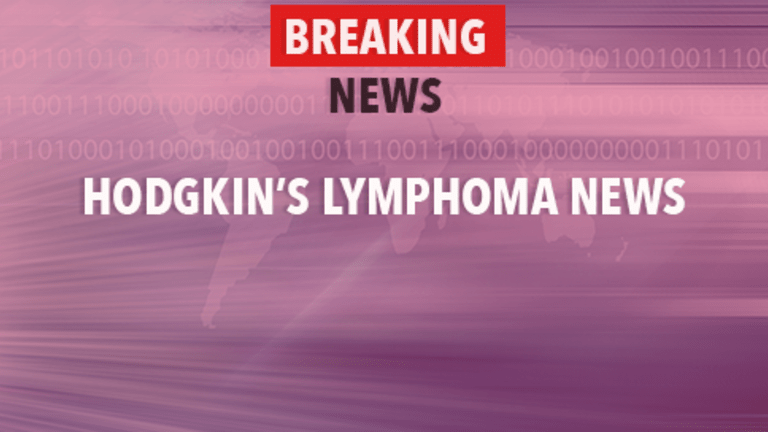 Radiation Therapy Is Not Necessary in Patients with Hodgkin's Lymphoma
Study Confirms that Radiation Therapy Is Not Necessary in Patients with Favorable, Limited-stage Hodgkin's Lymphoma.
Researchers from the Dana-Farber Cancer Center have confirmed prior studies that indicate chemotherapy alone is safe and effective for the treatment of early-stage Hodgkin's Lymphoma in appropriate patients. The details of this study were published in a recent issue of the Journal of Clinical Oncology.[1]
Hodgkin's lymphoma is a cancer of the lymph system and is diagnosed by the identification of a characteristic cell under the microscope (the Reed-Sternberg cell). Hodgkin's lymphoma typically begins in the lymph nodes in one region of the body and then spreads through the lymph system in a predictable manner. It may spread outside the lymph system to other organs such as the lungs, liver, bone, and bone marrow.
Localized Hodgkin's lymphoma can be treated with chemotherapy, radiation therapy, or the combination of these approaches. These treatments cure many patients, but the long-term side effects of treatment are an ongoing focus of research. The optimal therapy that cures the most patients with the least side effects is still being determined. Researchers affiliated with National Cancer Institute of Canada Clinical Trials Group and the Eastern Cooperative Oncology Group have previously reported that patients with limited-stage, IA-IIA, Hodgkin's lymphoma do not benefit from radiation therapy in addition to chemotherapy.
The current study included 71 Hodgkin's Lymphoma patients who had limited, early Stage I-II disease; median follow-up was 60 months. Patients on the study were treated with six cycles of a combination chemotherapy regimen that included the chemotherapy agents doxorubicin, bleomycin, vinblastine, and dacarabazine (ABVD).
Complete remission was achieved in 100% of patients.
Six patients experienced a relapse but were treated successfully.
The researchers concluded that radiation therapy is not necessary for a high cure rate for patients with Stage I-II Hodgkin's Lymphoma.
Reference:
[1] Canellos GP, Abramson JS, Fisher DC, et al. Treatment of favorable, limited-stage Hodgkin's lymphoma with chemotherapy without consolidation by radiation therapy. Journal of Clinical Oncology. 2010;28:1611-1615.?
Copyright © 2018 CancerConnect. All Rights Reserved.