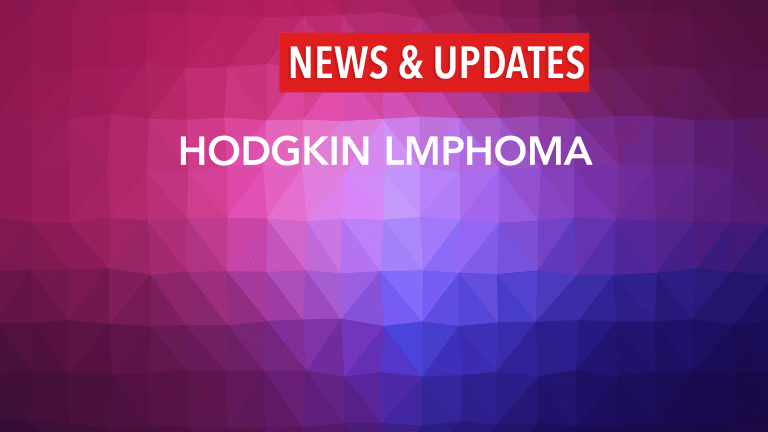 Radiation Improves 10-Year Survival for Patients With Early Hodgkin's Lymphoma
Radiation Therapy Improves 10-Year Survival for Patients With Early Hodgkin's Lymphoma
According to a large observational study based on the National Cancer Database (NCDB), adding consolidation radiation therapy to chemotherapy significantly improves 10-year survival in patients with stage I and II Hodgkin's lymphoma (HL). The findings were presented at the American Society for Radiation Oncology's 56th Annual Meeting in San Francisco. (1)
Hodgkin's lymphoma is a cancer of the lymph system. It is diagnosed by the presence of a cell that is characteristic of the disease, the Reed-Sternberg cell. Hodgkin's lymphoma typically begins in the lymph nodes in one region of the body and then spreads throughout the lymph system. It may spread outside the lymph system to other organs, such as the lungs, liver, bone, and bone marrow.
The standard of care for treatment of early-stage HL has been considered to be combined modality chemotherapy followed by consolidation radiotherapy yet many HL patients do not receive radiation. Over the 10-year study period, radiation therapy use was actually reported to decline by 15%, some oncologists simply are not including radiation therapy as part of their treatment plan.
The current study evaluated outcomes data covering 41,420 patients with newly diagnosed HL in more than 1,500 U.S. hospitals. Of these, 20,523 (49%) received radiation and 20,897 did not. Inclusion of radiation therapy in the treatment plan improved 10-year survival rated from 76% in those who did not get radiation therapy to 84% in those who received radiation therapy. Patients who did not get radiation therapy were also more likely to undergo a salvage stem cell transplant for management of their recurrent HL.
Analyses of the database further revealed that patients with lower socioeconomic status, lack of health insurance, and treatment not delivered at a comprehensive cancer centers were less likely to get radiation therapy as part of management.
The results of this study however, stand in contrast to a recent report demonstrating that the 12-year overall survival was 94 percent among patients treated with chemotherapy alone, compared with 87 percent among patients who received radiation therapy in patients with early stage non – bulky HL. (2)
Although radiation therapy remains a useful tool for the treatment of some patients with HL it is associated with increased cost and long term side effects. The ongoing challenge is to define the subgroups of patients for whom the benefits outweigh the increased risk of late complications with radiation and to ensure that all patients who may benefit from the addition of radiation receive appropriate care.
References:
Parikh RR, Yahalom J, Talcott JA, et al: Early-stage Hodgkin's disease: The utilization of radiation therapy and its impact on overall survival. 56th Annual Meeting of ASTRO. Abstract CT-08. Presented September 14, 2014.
Meyer RM, Gospodarowicz MK, Connors JM et al. ABVD alone versus radiation-based therapy in limited-stage Hodgkin's Lymphoma. New England Journal of Medicine. 2012;366:299-408.