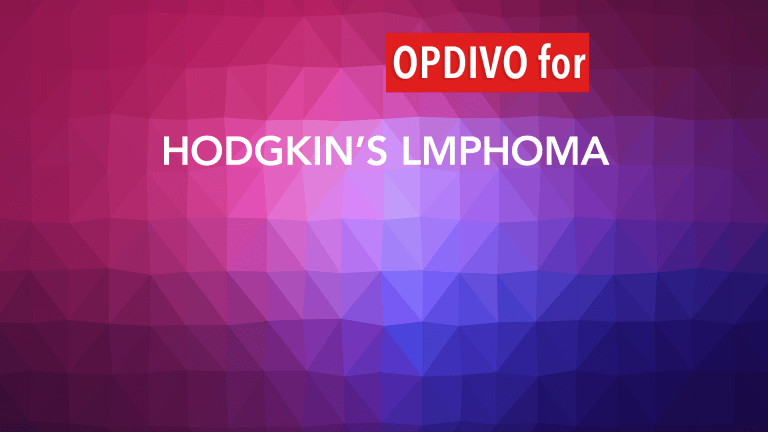 Opdivo Immunotherapy for Hodgkin's Lymphoma
PD-1 Immunotherapy gaining traction in HL - ASH 2019 data demonstrates effectives as "Bridge" to ASCT.
by Dr. C.H. Weaver M.D. 12/2019
The cancer immunotherapy strategy known as programmed cell death 1 (PD-1) has generated great excitement for its ability to help the immune system recognize and attack cancer. Now according to researcher recently published in The New England Journal of Medicine, PD-1 blockade has demonstrated effectiveness in patients with Hodgkin lymphoma (HL).
Hodgkin's lymphoma is a cancer of the lymph system. It typically begins in the lymph nodes in one region of the body and then spreads throughout the lymph system. Hodgkin's lymphoma is one of the more curable cancers with effective treatments available at several stages of disease. First-line treatment of HL typically involves chemotherapy, often with ABVD (doxorubicin, bleomycin, vinblastine, and dacarbazine).
One problem with this regimen is the toxicity associated with bleomycin. In fact, older patients may develop bleomycin-related lung toxicity—and some die from this. Some patients with relapsed or refractory HL may also be cured with high doses of chemotherapy and stem cell transplant. For patients that fail stem cell transplant additional treatment options are limited.
Opdivo (Nivolumab) belongs to a new class of medicines called PD-1 inhibitors that help the immune system recognize and attack cancer. PD-1 is a protein that inhibits certain types of immune responses. Drugs that block PD-1 may enhance the ability of the immune system to fight cancer. Opdivo works by blocking PD-1. This treatment strategy has previously produced impressive results in melanoma and other cancer types. (1-3)
Researchers presented the results of a phase 1 clinical study evaluating the PD-1 inhibitor Opdivo among 23 patients with relapsed or resistant HL, most of whom had experienced treatment failure with more than three previous treatment regimens, including stem cell transplant and Adcetris (brentuximab vedotin). In the study Patients received an intravenous infusion of Opdivo every 2 weeks until their lymphoma progressed or they experienced limiting side effects. Opdivo produced an overall response rate of 87% (20 of 23 patients), with a complete response in four patients (17%) and a partial response in 16 patients (70%). The side effects of Opdivo were modest and similar to those reported with solid tumor cancers.
On the basis of these results, the US Food and Drug Administration granted Opdivo a breakthrough therapy designation and ultimately full FDA approval. (5)
Opdivo Immunotherapy Effective "Bridge" to ASCT
In a large proportion of patients with relapsed or refractory Hodgkin lymphoma (HL), the use of Opdivo immunotherapy is an effective "bridge therapy" to autologous stem cell transplantation (ASCT), according to interim results from a phase II trial presented at the 2019 ASH Annual Meeting.
Doctors routinely use chemotherapy to control HL while preparing for ASCT. Chemotherapy is associated with significant side effects and additional damage to the blood producing stem cells in the bone marrow required for ASCT. An immunotherapy approach could help to reduce side effects and not be detrimental to blood stem cell collection.
Researchers evaluated a positron emission tomography (PET)-adapted treatment strategy. Patients with relapsed or refractory HL received salvage therapy with Opdivo every two weeks for up to six cycles. Participants underwent PET-computed tomography (PET-CT) at cycle 3 and cycle 6. If patients were in complete remission (CR) at cycle 6, they proceeded to ASCT; if patients had not achieved a remission, they received Opdivo plus ICE chemotherapy (ifosfamide, carboplatin, and etoposide; NICE) for two additional cycles.
At the end of cycle 3, the overall response to Opdivo was 89% with 60% of patients attaining a complete disappearance of their cancer. After cycle 6 of Opdivo rate the complete remission rate increased to 77%. The patients who had either stable or progressive disease per PET-CT during and after salvage Opdivo responded to treatment with NICE.
Twenty-seven participants who completed six cycles of Opdivo proceeded to ASCT directly after salvage therapy. At one year 74% of these patients survived without cancer progression and 97% survived overall.
According to the researchers the side effects of this approach was minimal and the patients proceeding to ASCT were in better shape overall than would be expected historically. Opdivo "bridging therapy" to ASCT appears effective, is associated with fewer side effects than chemotherapy and unlike chemotherapy can be administered on an outpatient bases at lower costs. Longer follow up of patients treated with Opdivo and ASCT is required to better understand effectiveness and whether the combined approach is associated with immune or other side effects. (6)
References:
Robert C, Long GV, Brady B, et al. Nivolumab in Previously Untreated Melanoma without BRAF Mutation. New England Journal of Medicine [early online publication]. November 16, 2014.
Topalian SL, Sznol M, McDermott DF, et al. Survival, Durable Tumor Remission, and Long-Term Safety in Patients With Advanced Melanoma Receiving Nivolumab. Journal of Clinical Oncology [early online publication]. March 3, 2014. doi: 10.1200/JCO.2013.53.0105.
Study Comparing Opdivo (nivolumab) to Chemotherapy in Treatment Naïve Advanced Melanoma Patients Marks First PD-1 Immune Checkpoint Inhibitor to Demonstrate a Survival Benefit in a Phase 3 Trial [press release]. Bristol-Myers Squibb website. Available here.
Ansell S, Lesokhin A, Borrello I, et al. PD-1 Blockade with Nivolumab in Relapsed or Refractory Hodgkin's Lymphoma. The New England Journal of Medicine. December 6, 2014DOI: 10.1056/NEJMoa1411087
Herrera AF, Chen RW, Palmer J, et al. PET-adapted nivolumab or nivolumab plus ICE as first salvage therapy in relapsed or refractory Hodgkin lymphoma. Abstract #239. Presented at the 2019 ASH Annual Meeting, December 7, 2019; Orlando, FL.