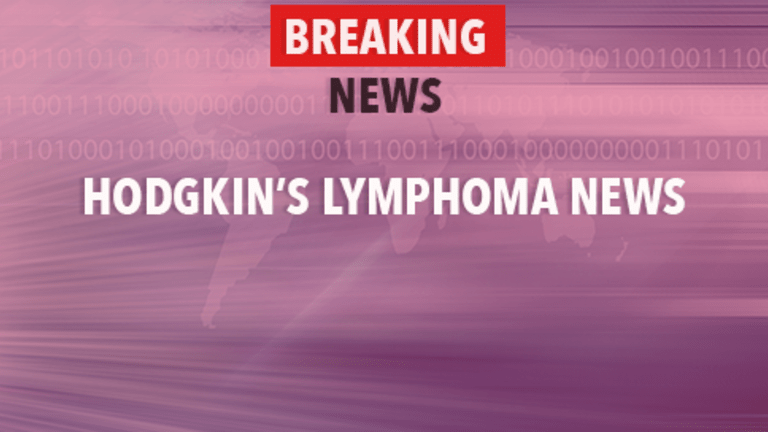 Monoclonal Antibody Promising in Refractory Hodgkin's Lymphoma
New Monoclonal Antibody Promising in Refractory Hodgkin's Lymphoma
According to a recent article published in the journal
Blood, a novel monoclonal antibody, H22xKi-4, appears promising in the treatment of relapsed Hodgkin's lymphoma.
Hodgkin's lymphoma is a cancer of the lymph system, which is part of the immune (infection-fighting) system that includes blood vessels, bone marrow, lymph nodes and lymph vessels that are present throughout the body. It also includes organs such as the spleen, thymus and tonsils. This cancer is characterized by uncontrolled growth of atypical white blood cells (immune cells) that crowd lymph tissue, suppressing the formation and function of other cells normally found in this tissue. Hodgkin's lymphoma usually begins in a single lymph node and is capable of spreading throughout the body. Patients whose disease has recurred (relapsed) or progressed following several treatment regimens are left with few therapeutic options.
Monoclonal antibodies have recently emerged as therapeutic strategies for various cancers, particularly non-Hodgkin's lymphomas. Monoclonal antibodies are proteins that are designed through laboratory processes to recognize and bind to specific protein and/or carbohydrate sequences of a cell, such as a cancer cell. The binding of monoclonal antibodies to a cell often stimulates the immune system to initiate an attack against the cell. H22xKi-4 is designed to bind to a specific protein called CD30, which is present in many cancer cells in Hodgkin's lymphoma.

Researchers from Germany and the United States recently conducted an early-stage clinical trial evaluating H22xKi-4 in patients with relapsed Hodgkin's lymphoma. This trial involved 10 patients who had received several previous therapies. Anti-cancer responses were achieved in 40% of patients, with one patient achieving a complete disappearance of detectable cancer. An additional 40% of patients achieved disease stabilization. Anti-cancer responses lasted up to 5 months in patients achieving a partial disappearance of cancer and 3 months in the patient achieving a complete disappearance of cancer. Only mild side effects were noted.
These researchers concluded that H22xKi-4 appears to be a promising therapeutic approach in patients with relapsed Hodgkin's disease. Future clinical trials evaluating H22xKi-4 in combination with other therapies or earlier in the course of the disease are warranted. Patients with relapsed Hodgkin's lymphoma may wish to speak with their physician regarding the risks and benefits of participating in a clinical trial further evaluating H22xKi-4 or other promising therapeutic approaches. Two sources of information regarding ongoing clinical trials include the National Cancer Institute (cancer.gov) and www.eCancerTrials.com. eCancerTrials.com also provides personalized clinical trial searches on behalf of patients.
Reference: Borchmann P, Schnell R, Fuss I, et al. Phase I trial of the novel bispecific molecule H22xKi-4 in patients with refractory Hodgkin's lymphoma.
Blood. 2002;100:3101-3107.
Copyright © 2018 CancerConnect. All Rights Reserved.