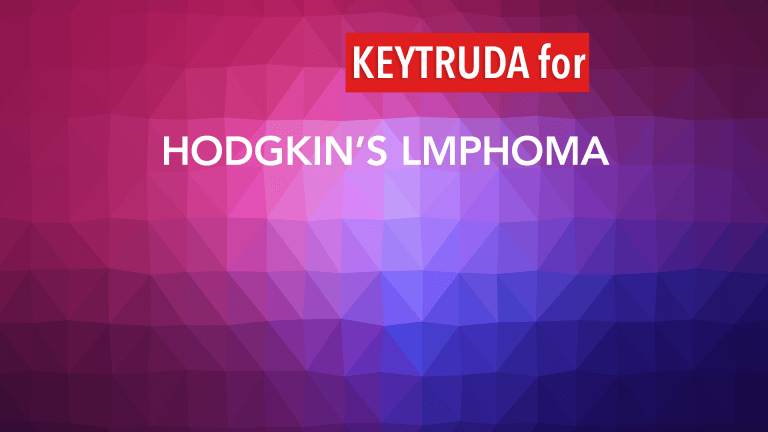 Keytruda® for Adult and Pediatric Patients with Classical Hodgkins Lymphoma
KEYNOTE trials demonstrate Keytruda immunotherapy is highly effective treatment of advanced-refractory Hodgkin Lymphoma
by Dr. C.H. Weaver M.D. 11/2020
The U.S. Food and Drug Administration (FDA) approved Keytruda® (pembrolizumab), an anti-PD-1 (programmed death receptor-1) therapy, for the treatment of adult and pediatric patients with refractory classical Hodgkin lymphoma (cHL) in 2018. Since FDA approval researchers continue to evaluate how best to use Keytruda immunotherapy in the overall management of HL.
Hodgkin's lymphoma is a cancer of the lymph system. It typically begins in the lymph nodes in one region of the body and then spreads throughout the lymph system. Hodgkin's lymphoma is one of the more curable cancers with effective treatments available at several stages of disease. Some patients with relapsed or refractory HL may also be cured with high doses of chemotherapy and stem cell transplant. For patients that fail stem cell transplant additional treatment options are limited.
About Keytruda®
Keytruda® is a monoclonal antibody that helps to restore the body's immune system in fighting cancer. It creates its anti-cancer effects by blocking a specific protein used by cancer cells called PD-L1, to escape an attack by the immune system. Once PD-L1 is blocked, cells of the immune system are able to identify cancer cells as a threat, and initiate an attack to destroy the cancer. Keytruda® is approved for the treatment of certain types of metastatic melanoma and head and neck cancer.
The initial FDA approval was based on data in 210 patients from the KEYNOTE-087 clinical trial, which demonstrated an overall response rate with of 69% with a complete remission rate of 22% and a partial remission rate of 47% in patients with advanced - recurrent HL. Among the 145 responding patients, the median duration of response was 11.1 months.
KEYNOTE-204-Keytruda Superior to Adcetris for Recurrent cHL
The KEYNOTE-204 clinical trial compared Keytruda to Adcetris in patients with relapsed or refractory classic Hodgkin lymphoma. Results of the study were presented at the American Society of Clinical Oncology (ASCO) Virtual Scientific Program in May 2020.
A total of 300 patients were treated with either Keytruda or Adcetris as the sole therapy for their recurrent HL and directly compared. All patients had received prior autologous stem cell transplant or were ineligible for such transplant After a median follow-up of 24.7 months 54% of patients treated with Keytruda survived without evidence of lymphoma progression compared to 35% of those treated with Adcetris. Importantly there was also a lower incidence of serious treatment related side effects with Keytruda.
KEYNOTE 013- Keytruda Monotherapy in Recurrent cHL
The KEYNOTE-013 study was conducted to evaluate Keytruda monotherapy in blood cancers including classical Hodgkin lymphoma. A total of 31 patients with classical Hodgkin lymphoma whose disease relapsed after, were ineligible for, or declined autologous stem cell transplantation and whose disease progressed with or did not respond to Adcetris (brentuximab vedotin) have now been followed for over 4 years. These patients were treated with Keytruda 10 mg/kg every 2 weeks for up to 2 years or until disease progression or unacceptable toxicity occurred. Overall 19% of patients responded to treatment with a median response duration which has not been reach. The median survival duration has also not been reached and 81% of patients survive 36-months from treatment. (3)

The results from the KEYNOTE clinical trials clearly demonstrate that most patients with relapsed or refractory classical Hodgkin lymphoma respond to treatment with Keytruda. Keytruda represents an effective and well tolerated treatment option for individuals with recurrent-refractory HL who fail or are unable to undergo curative therapy with ASCT.
Keytruda plus ABVD Chemotherapy Promising Approach in Newly Diagnosed cHL
Chemotherapy with doxorubicin, bleomycin, vinblastine and dacarbazine (ABVD) remains a standard of care for initial treatment of patients with classical Hodgkin lymphoma. However, this treatment alone fails to cure 15% to 30% of patients with early unfavorable and advanced-stage disease. In the current trial researchers evaluated 3 treatments with Keytruda followed by the standard 4-6 courses of ABVD in patients with untreated early unfavorable or advanced-stage classical Hodgkin lymphoma.
A complete metabolic response after Keytruda monotherapy occurred in 11 patients including six with advanced-stage and five with early unfavorable disease. An additional seven patients achieved greater than 90% reductions in metabolic tumor volume according to PET-CT scanning and all patients achieved complete metabolic response after two cycles of ABVD.
There is ongoing research to evaluate which patients best respond to Keytruda treatment and whether its effectiveness can be enhanced in combination with other drugs. Patients with recurrent-refractory HL should discuss the role of clinical trials in the management of their disease with their treating physician.
References:
KEYNOTE-204: Randomized, open-label, phase III study of pembrolizumab (pembro) versus brentuximab vedotin (BV) in relapsed or refractory classic Hodgkin lymphoma (R/R cHL).
Blood Adv. 2020;4[12]:2617-2622