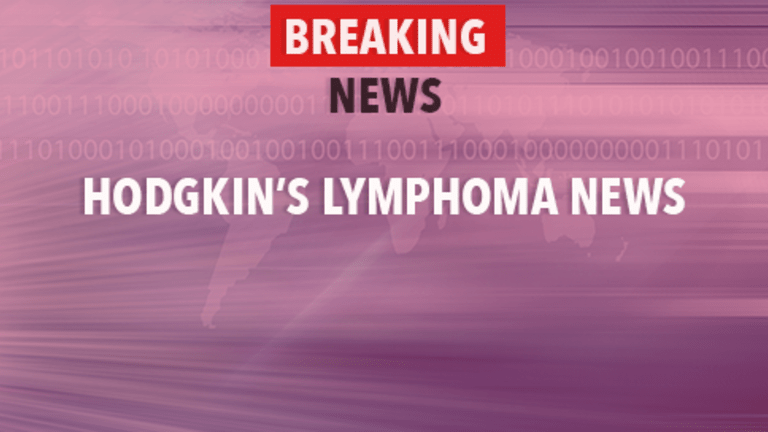 Gemzar®Navelbine®Effective in Children with Relapsed/RefractoryHodgkin's Disease
Gemzar®/Navelbine® Effective and Well-tolerated in Children with Relapsed/Refractory Hodgkin's Disease
The combination of Gemzar® (gemcitabine) and Navelbine® (vinorelbine) appears to be effective and well-tolerated for reinduction in children with relapsed or refractory Hodgkin's disease, according to the results of a study published in the Journal of Clinical Oncology.[1]
Hodgkin's lymphoma is a type of cancer that originates in immune cells. It is estimated that 7,350 individuals are diagnosed with Hodgkin's lymphoma annually in the United States. Hodgkin's lymphoma typically begins in the lymph nodes in one region of the body and then spreads through the lymph system in a predictable manner. It may spread outside the lymph system to other organs such as the lungs, liver, bone, and bone marrow.
Patients with Hodgkin's whose cancer returns following prior therapy (recurrent) or whose disease does not respond to standard therapies (refractory) have limited treatment options and low rates of long-term disease-free survival. Researchers with the Children's Oncology Group conducted a Phase II study to evaluate the efficacy and toxicity of Gemzar and Navelbine (GV) in pediatric patients with heavily pretreated relapsed/refractory Hodgkin's disease.
The study included 30 patients with a median age of 17.7 years (ranging from 10.7 to 29.4 years), all of whom had received at least two prior chemotherapy regimens and 17 of whom had undergone stem cell transplantation. Patients received GV on days one and eight of each 21-day treatment cycle and were evaluated after every two cycles to measure their response. Patients received a median of five cycles (maximum of 15), and three patients continued treatment for more than 10 months from enrollment.
Twenty-five patients were assessable following the treatment. Results indicated that 19 patients (76%) experienced measurable responses, including six complete responses, 11 very good partial responses, and two partial responses. The researchers observed that "the response rate to GV observed among these heavily pretreated patients was greater than that reported for either drug alone, with tolerable toxicity."
They concluded that "GV is an effective and well-tolerated reinudction regimen for children with relapsed or refractory Hodgkin's disease."
Reference:
[1] Cole PD, Schwartz CL, Drachtman RA, et al. Phase II study of weekly gemcitabine and vinorelbine for children with recurrent or refractory Hodgkin's disease: A Children's Oncology Group report. Journal of Clinical Oncology. 2009; 27: 1456-1461.
Copyright © 2018 CancerConnect. All Rights Reserved.