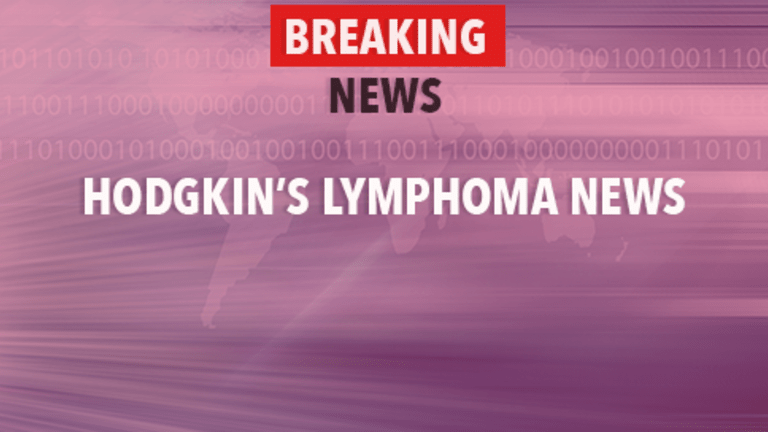 Gemzar®/Cisplatin/Dexamethasone Effective in Relapsed Hodgkin's Disease
Gemzar®/Cisplatin/Dexamethasone Effective in Relapsed Hodgkin's Disease
According to a recent article published in Annals of Oncology, the chemotherapy combination consisting of Gemzar® (gemcitabine) and cisplatin (Platinol®) used in addition to the steroid dexamethasone is an effective treatment regimen for patients with relapsed Hodgkin's lymphoma.
Hodgkin's lymphoma is a cancer of the lymph system, which is part of the immune (infection fighting) system that includes blood vessels, bone marrow, lymph nodes and lymph vessels that are present throughout the body. It also includes organs such as the spleen, thymus and tonsils. This cancer is characterized by the presence of the uncontrollable growth and division of atypical white blood cells (immune cells) that crowd lymph tissue, suppressing the formation and function of other cells normally found in this tissue. Relapsed Hodgkin's refers to Hodgkin's that has recurred following prior therapy. Standard treatment for relapsed Hodgkin's may consist of combination chemotherapy, radiation therapy and/or stem cell transplantation.
Researchers continue to evaluate different combinations of chemotherapy agents for the treatment of relapsed Hodgkin's in the hopes of improving outcomes, as well as maintaining the ability of patients to undergo a subsequent stem cell transplant. A stem cell transplant is a medical procedure that involves the use of higher doses of therapy than usual to kill more cancer cells than standard-dose therapy. However, the higher doses also tend to kill more normal cells, such as immature blood cells called stem cells. Low levels of blood cells leave patients susceptible to infection, anemia and excessive bleeding. Therefore, in an autologous stem cell transplant procedure, patients have their stem cells collected prior to treatment. The stem cells are then frozen and re-infused following therapy to restore blood cell levels to normal. Unfortunately, if patients have undergone extensive prior treatment, it may be difficult to collect an adequate amount of stem cells for a successful autologous stem cell transplant. Researchers have been evaluating different regimens that allow patients to maintain the production of stem cells in order to allow for a future transplantation if needed.
Researchers from Canada recently conducted a clinical trial to evaluate the treatment combination consisting of Gemzar®/cisplatin/dexamethasone in patients with relapsed Hodgkin's lymphoma. The trial included 23 patients and treatment was administered on an outpatient basis. The overall anti-cancer response rate was nearly 70% and the remaining 30% of patients achieved disease stabilization. No patient experienced progressive disease while being treated with Gemzar®/cisplatin/dexamethasone. Side effects experienced from treatment tended to be mild and all patients were able to undergo a subsequent autologous stem cell transplant.

The researchers concluded that the treatment combination consisting of Gemzar®/cisplatin/dexamethasone appears to be an effective treatment option for patients with relapsed Hodgkin's lymphoma. Furthermore, the regimen is well tolerated, can be administered on an outpatient basis, and allows for successful subsequent autologous stem cell transplantation. Patients with relapsed Hodgkin's lymphoma may wish to speak with their physician regarding the risks and benefits of Gemzar®-based regimens or the participation in a clinical trial evaluating other novel therapeutic approaches. Two sources of information regarding ongoing clinical trials include the National Cancer Institute (cancer.gov) and www.cancerconsultants.com. Personalized clinical trial searches are also performed on behalf of patients at cancerconsultants.com.
Reference: Baetz T, Belch A, Couban S, et al. Gemcitabine, dexamethasone and cisplatin is an active and non-toxic chemotherapy regimen in relapsed or refractory Hodgkin's disease: a phase II study by the National Cancer Institute of Canada Clinical Trials Group. Annals of Oncology. 2003;14:1762-1767.
Copyright © 2018 CancerConnect. All Rights Reserved.