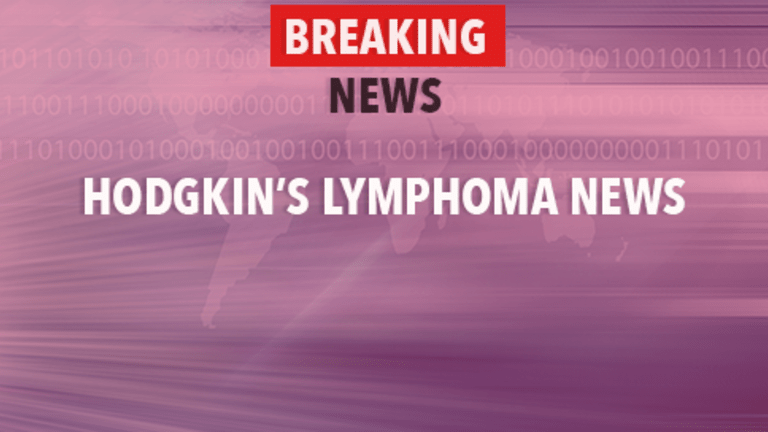 Epstein-Barr Virus Effects Survival in Hodgkin's Disease
Epstein-Barr Virus Effects Survival in Hodgkin's Disease
Results from a recent clinical study have suggested that survival for patients with Hodgkin's disease may be affected by the presence of the Epstein-Barr virus, as reported in the journal
Cancer.
Hodgkin's lymphoma is a cancer of the lymph system, which is part of the immune (infection fighting) system that includes blood vessels, bone marrow, lymph nodes and lymph vessels that are present throughout the body. It also includes organs such as the spleen, thymus and tonsils. This cancer is characterized by the presence of the uncontrollable growth and division of atypical white blood cells (immune cells) that crowd lymph tissue, suppressing the formation and function of other cells normally found in this tissue. Hodgkin's disease usually begins in a single lymph node and is capable of spreading throughout the body.
The Epstein-Barr virus (EBV), which causes infectious mononucleosis, infects B lymphocytes and is found in cancer cells from some lymphoid malignancies including Hodgkin's disease. Previous clinical studies have indicated a direct correlation between EBV infection and an increased risk of developing Hodgkin's disease. However, researchers have yet to establish how these individuals respond to standard treatment. Scientists are still trying to understand the exact mechanism by which EBV may increase the development of Hodgkin's disease.Statistical analyses of long-term outcomes comparing EBV-positive and EBV-negative Hodgkin's patients are necessary to determine the implications of treatment regimens for patients with or without EBV. Researchers recently evaluated data collected from over 300 women who had been diagnosed with Hodgkin's disease between 1988 and 1994. In this group of women, patients who were EBV-positive tended to be diagnosed at a later stage of disease and had different cancer tissue characteristics than EBV-negative patients. Patients aged between 19-44 years showed no survival difference, whether EBV-positive or EBV-negative. However, in the group of patients aged between 45-79 years, EBV-positive patients were at a significant survival disadvantage compared with EBV-negative patients.

These results are important as they provide the opportunity to establish which patients may benefit from different treatment strategies. Treatment for elderly EBV-positive Hodgkin's patients may differ in the future compared with EBV-negative patients of the same age, as survival rates following the same treatment appear to differ markedly between the two groups of patients. Future studies of treatment outcomes in patients with Hodgkin's disease will further reveal differences in disease characteristics and their implications in treatment decisions.
Patients with Hodgkin's disease may wish to discuss EBV status and treatment options with their physician, or the risks and benefits of participating in a clinical trial evaluating differing characteristics and treatment outcomes.
(Cancer, Vol 91, No 8, pp 1579-1587, 2001)
Copyright © 2018 CancerConnect. All Rights Reserved.