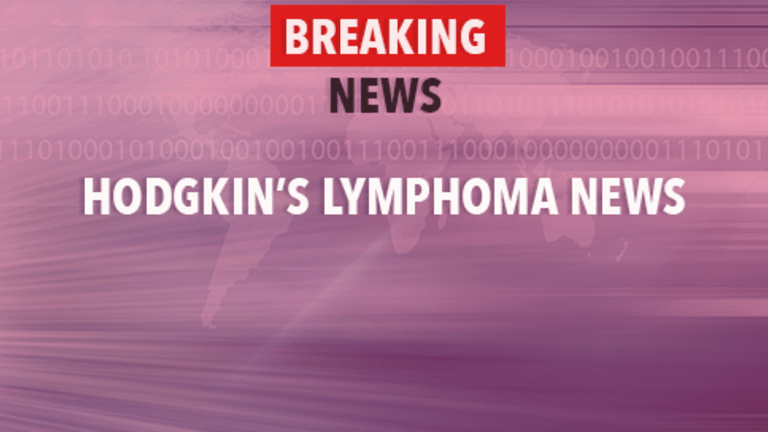 Chemotherapy Plus Radiation Superior to Radiation Only in Early-Stage Hodgkin's
Chemotherapy Plus Radiation Superior to Radiation Only in Early-Stage Hodgkin's
As reported in the Journal of Clinical Oncology, further evidence suggests that chemotherapy plus radiation versus radiation alone improves survival in early-stage Hodgkin's disease. In addition, patients can be accurately staged without undergoing a laparotomy.
Hodgkin's lymphoma is a cancer of the lymph system, which is part of the immune (infection fighting) system that includes blood vessels, bone marrow, lymph nodes and lymph vessels that are present throughout the body. It also includes organs such as the spleen, thymus and tonsils. This cancer is characterized by the presence of the uncontrollable growth and division of atypical white blood cells (immune cells) that crowd lymph tissue, suppressing the formation and function of other cells normally found in this tissue. Hodgkin's disease usually begins in a single lymph node and is capable of spreading throughout the body.
Currently, there is no uniform standard treatment for early Hodgkin's disease. Until the 1990s, a laparotomy was performed in conjunction with radiation of the lymph nodes (STLI) to produce fairly high survival rates (85-93% ten years after treatment). A laparotomy is a surgical procedure used to determine whether cancer has spread to the spleen. Early Hodgkin's disease is confirmed in approximately 20-30% of patients via this procedure. However, concerns have been raised over the lack of evidence that laparotomy confers a survival advantage, particularly in light of the side effects and deaths resulting from this procedure. These concerns were supported by a European trial that found no improvement in survival of patients undergoing a laparotomy over patients diagnosed with less invasive methods. As a result, researchers are investigating alternative strategies to treat early Hodgkin's disease that do not require laparotomy.
The Southwest Oncology Group (SWOG) recently conducted a clinical trial to determine if patients that have not undergone a laparotomy can be treated effectively through combination chemotherapy/STLI. Approximately 300 patients diagnosed with early Hodgkin's disease (stage IA to IIA) who had not undergone a laparotomy were divided into two treatment groups. The first group was treated with STLI alone, while the second group received combined-modality treatment (CMT). CMT consisted of three cycles of the chemotherapy agents doxorubicin and Velbanâ, followed by STLI.
The study was stopped early because of superior results of patients treated with CMT. Patients receiving CMT demonstrated significantly higher cancer-free survival than patients receiving STLI alone (94% versus 81%). After three years, 10 CMT patients experienced a cancer recurrence or died, compared to 34 STLI patients.
Both treatments were well tolerated, with only one STLI patient and one CMT patient dying due to treatment. As expected, patients treated with CMT did experience significantly higher rates of myelosuppression (decrease in the production of red blood cells, platelets and some white blood cells) due to the chemotherapy. However, this side effect was transient. There were no significant differences in the incidence or severity of anemia (decrease in the number of red blood cells), thrombocytopenia (decrease in blood platelets), or other blood-related toxicities between the two groups.
Results from this study indicate that cancer-free survival in early-stage Hodgkin's is improved with CMT compared to STLI. In addition, these results provide further confirmation that a laparotomy does not improve outcomes for patients with this disease. Future studies are needed to explore long-term survival and side effects resulting from this treatment approach. Individuals diagnosed with early Hodgkin's disease may wish to speak with their physician regarding the risks and benefits of CMT or about participating in a clinical trial. (
Journal of Clinical Oncology, Vol 19, Issue 22, pp 4238-4244, 2001)
Copyright © 2018 CancerConnect. All Rights Reserved.