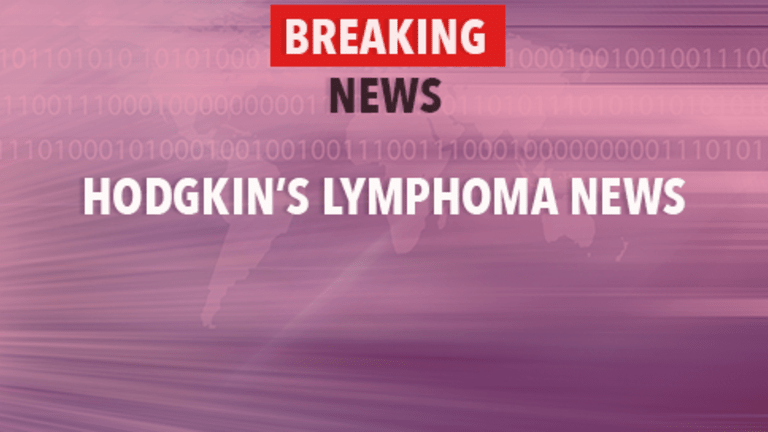 Addition of Interferon Following an Stem Cell Transplant Impressive Outcomes
Addition of Interferon Following an Stem Cell Transplant Impressive Outcomes
Addition of Interferon Following an Autologous Stem Cell Transplant Provides Impressive Outcomes for Children with Recurrent Hodgkin's
According to an article recently published in Bone Marrow Transplantation, the addition of the biologic agent interferon following an autologous stem cell transplant provides impressive outcomes for pediatric patients with Hodgkin's lymphoma that has stopped responding to prior therapies.
Hodgkin's lymphoma is a cancer of the lymph system. It is diagnosed by the presence of a cell characteristic of the disease, the Reed-Sternberg cell. Hodgkin's lymphoma typically begins in the lymph nodes in one region of the body and then spreads throughout the lymph system. It may spread outside the lymph system to other organs such as the lungs, liver, bone, and bone marrow.
Patients with Hodgkin's whose cancer returns following prior therapy (recurrent) or whose disease does not respond to standard therapies (refractory) may undergo treatment with an autologous stem cell transplant.
Stem cell transplantation is a procedure that includes the use of high doses of therapy to kill more cancer cells than standard doses. However, the high doses also destroy normal cells, such as blood cells. The destruction of blood cells, particularly immune cells, red blood cells, and platelets, can lead to life-threatening side effects.
To compensate for dangerously low levels of blood cells following high-dose therapy, patients receive an infusion of hematopoietic stem cells (immature blood cells). These stem cells mature into the three types of blood cells. In an autologous stem cell transplant, the patient's own stem cells are collected prior to high-dose therapy and then re-infused following therapy.
Researchers from Texas recently conducted a clinical trial to evaluate the addition of interferon to an autologous stem cell transplant among patients with recurrent or refractory Hodgkin's lymphoma. Interferon is an agent that stimulates the immune cells to help fight the cancer.
This trial included 13 children with recurrent or refractory Hodgkin's lymphoma who were treated with an autologous stem cell transplant. Ten of these patients went on to receive treatment with interferon; three patients had progression of cancer following the stem cell transplant.
With a follow-up of over five years, nine of the ten patients treated with interferon are alive and cancer-free.
One patient who had cancer progression following the transplant was treated with interferon and is alive and cancer-free at 10 years following therapy.
The researchers concluded that interferon provides significant anticancer activity following an autologous stem cell transplant in pediatric patients with recurrent or refractory Hodgkin's lymphoma.
Parents of children with Hodgkin's who have experienced cancer progression following prior therapies may wish to speak with their physician regarding their individual risks and benefits of participating in a clinical trial further evaluating interferon or other novel therapeutic approaches for the treatment of their disease. Two sources of information regarding ongoing clinical trials include the National Cancer Institute (www.cancer.gov) and www.cancerconsultants.com.
Reference: Petropoulos D, Worth L, Mullen C, et al. Interferon- After Autologous Stem Cell Transplantation in Pediatric Patients with Advanced Hodgkin's Lymphoma. Bone Marrow Transplantation. 2006:38;345–349.
Copyright © 2018 CancerConnect. All Rights Reserved.