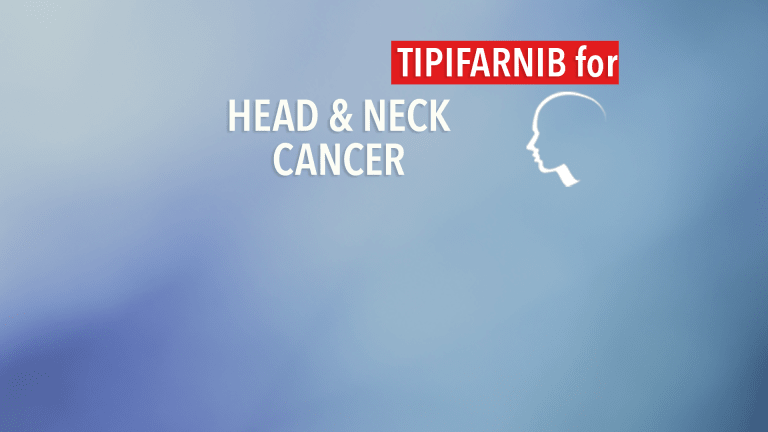 Tipifarnib for HRAS-mutant Head and Neck Cancer
Tipifarnib appears promising for treatment of certain head and neck cancers with HRAS mutatioins.
by Dr. C.H. Weaver M.D. updated 5/2021
The investigational farnesyl transferase inhibitor Tipifarnib produced durable objective responses in patients with recurrent and metastatic head and neck squamous cell carcinoma (HNSCC) harboring HRAS gene mutations, according to a recent reports.1,2 
Tipifarnib is a precision cancer medicine originally being developed for the treatment of leukemia that may have found a new purpose.  Mutations in the HRAS proto-oncogene occur in 4% to 8% of patients with recurrent and/or metastatic head and neck squamous cell carcinoma. Tipifarnib is a farnesyltransferase inhibitor that disrupts HRAS function.
About Tipifarnib
The ras gene is a part of a biological pathway that transmits growth signals from the surface of a cell to within a cell. Normally, this growth pathway is under strict control. However, a mutation (alteration) within the ras gene can stimulate a cell to grow and replicate in an uncontrolled manner. Additionally, ras mutations have been implicated in suppressing another important growth regulatory pathway controlled by the p53 gene. The p53 gene is responsible for the suppression of cellular replication when a cell perceives a genetic mutation, such as in the development of cancer.
Tipifarnib has been designed to block a key enzyme (protein), called farnesyl transferase, which is involved in the mutated ras pathway. This slows down or stops the excessive replication of cancer cells caused by the mutated ras pathway. It is speculated that tipifarnib may create anti-cancer effects through other biological pathways as well. About 5% to 8% of patients with advanced HNSCC have a HRAS mutation that could be susceptible to Tipifarnib inhibition of the farnesyltransferase enzyme which is needed for the activity of the proto-oncogene HRAS.
In an early clinical trial doctors initially recruited patients with HNSCC and squamous cell carcinomas in other organs with relapsed or refractory cancers. The trial was later amended to only include HNSCC that had HRAS mutations at a high variant allele frequency (VAF; 35 percent or higher).
Among the 15 patients with HNSCC with high VAF the overall response rate was 53%, which included eight partial responses and five stable disease. The median progression-free survival (PFS) in HNSCC patients with high VAF (20 percent or higher) was 5.4 months; 19 months for those with a partial response, and 4.5 months for those with stable disease.
In a second study 30 patients with HRAS-mutant disease from sites in the United States, Korea, and Europe were enrolled between September 2015 and April 2020. Enrollment was limited to patients with variant allele frequency of ≥ 20% (high). Patients received oral tipifarnib at 600 or 900 mg twice daily on days 1 to 7 and 15 to 21 of 28-day cycles.
Of 22 patients with high variant allele frequency 55% achieved a partial response to treatment and median overall survival was 15.4 months (95% CI = 7.0–29.7 months).
The researchers concluded that Tipifarnib may represent a promising new therapy for HRAS-mutant HNSCC patients and as with other cancers genomic biomarker testing is important in identifying the best treatment choices.
References:
aacr.org/Newsroom/Pages/molecular-targets-and-cancer-therapeutics.aspx