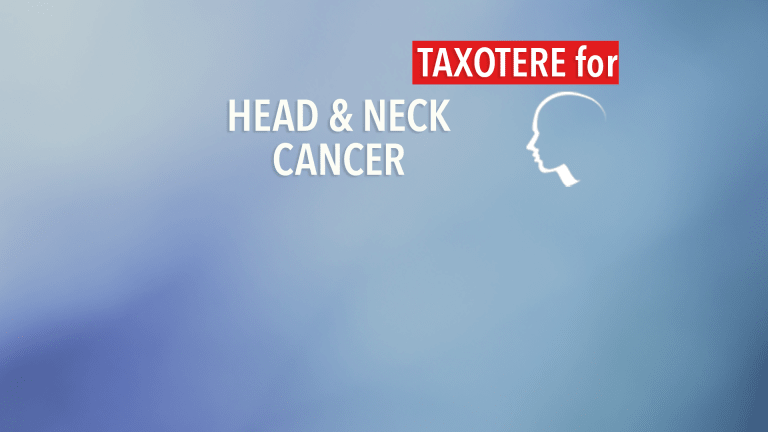 Taxotere® Approved for Head and Neck Cancer
Taxotere® Approved for Head and Neck Cancer
The United States Food and Drug Administration (FDA) recently approved the chemotherapy agent Taxotere® (docetaxel), in combination with Platinol® (cisplatin) and 5-fluorouracil, for use prior to surgery and chemoradiation therapy for the treatment of locally advanced squamous cell head and neck cancer. Taxotere is also approved for breast, lung, gastric, and prostate cancers.
Head and neck cancers originate in the oral cavity (lip, mouth, tongue), salivary glands, paranasal sinuses, and nasal cavity, pharynx (upper back part of the throat), larynx (voice box), and lymph nodes in the upper part of the neck. Worldwide, head and neck cancer is diagnosed in approximately 640,000 people and is responsible for approximately 350,000 deaths annually.
Locally advanced head and neck cancer refers to cancer that has spread from its site of origin to nearby tissues in the head and/or neck, but not to distant sites in the body. Patients are often treated with several different treatment modalities, including chemotherapy, radiation therapy, and/or surgery.
Pre-operative therapy including chemotherapy and/or radiation therapy is referred to as neoadjuvant therapy. Neoadjuvant therapy is often used to shrink the size of the cancer prior to the surgical removal, both to allow for a greater chance of complete removal and to provide initial systemic (full-body) therapy to kill cancer cells that may have already spread. If treatment is not administered until after surgery, the patient must wait until he/she has healed from surgery; this waiting period may allow cancer cells to grow and spread further.

The trial that prompted FDA approval of Taxotere for head and neck cancer is referred to as the TAX 324 trial. This international trial included patients with head and neck cancer that was considered potentially operable though not likely to be cured with surgery. Patients were treated with either Taxotere/Platinol/5-fluorouracil (TPF) or Platinol/5-fluorouracil (PF) as initial (induction) therapy. All patients were then treated with Paraplatin® (carboplatin) plus radiation therapy followed by surgery, for those eligible at that point.
Overall survival was significantly improved for patients treated with TPF compared with those treated with PF.
Overall median survival was 70.6 months for patients treated with TPF compared with only 30.1 months for those treated with PF.
At three years survival was 62% for those treated with TPF compared with only 48% for those treated with PF.
Severe side effects occurred in 65% of patients treated with TPF and 62% of patients treated with PF.
Patients diagnosed with locally advanced head and neck cancer may wish to speak with their physician regarding their individual risks and benefits of treatment with Taxotere.
Reference: Sanofi-Aventis. Taoxtere® (docetaxel) Granted FDA Approval to Treat Locally Advanced Head and Neck Cancer Prior to Chemoradiotherapy and Surgery. Available at: en.sanofi-aventis.com/Images/071001_taxotere__fda_en_tcm24-19038.pdf. Accessed October 2007.