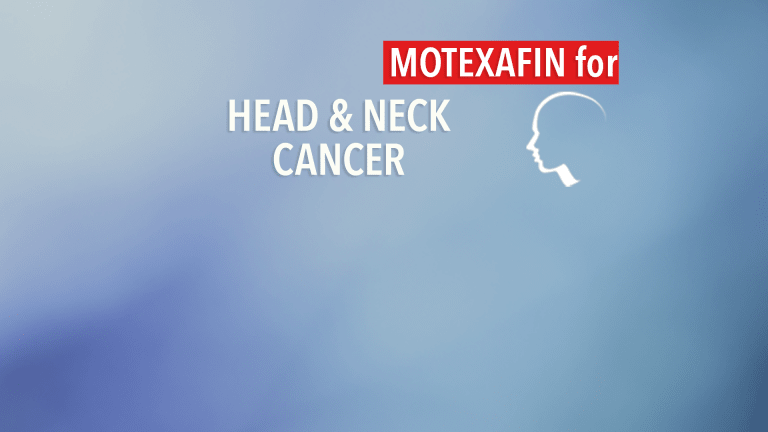 Motexafin Improve Responses to Therapy in Locally Advanced Head and Neck Cancer
Motexafin Gadolinium May Improve Responses to Therapy in Locally Advanced Head and Neck Cancer.
According to results presented at the 21st Chemotherapy Foundation Symposium, the agent motexafin gadolinium (Xcytrin®) may improve anti-cancer responses to chemotherapy and radiation therapy in patients with locally advanced head and neck cancer.
Approximately 40,000 people in the United States are diagnosed with head and neck cancer every year. Cancers of the head and neck comprise several types of cancer, including the nasal cavity and sinuses, oral cavity, nasopharynx, oropharynx, and other sites located in the head and neck area. Locally advanced head and neck cancer refers to cancer that has spread locally from its site of origin to surrounding tissues, but not to distant sites in the body. Standard treatment for locally advanced head and neck cancer often consists of chemotherapy and radiation therapy and possible surgery. Researchers continue to evaluate and compare different treatment regimens or novel therapeutic approaches to improve survival and quality of life in patients with head and neck cancer.
Motexafin gadolinium is an agent that is classified as a texaphyrin and is thought to make cancer cells more susceptible to the anti-cancer effects of radiation and some chemotherapy agents. In the body, natural biochemical mechanisms exist that provide protection to cells (including cancer cells) against the deadly effects of radiation and/or chemotherapy, or repair cells that have been damaged from treatment. Motexafin gadolinium is the fist agent of the new class of drugs called texaphyrins, and appears to increase the sensitivity of cancer cells to radiation and some chemotherapy agents. Researchers believe the anti-cancer effects achieved by motexafin gadolinium are caused by three distinct processes. First, motexafin gadolinium reacts with and inactivates molecules that protect cells from destruction caused by treatment. Second, it promotes the formation of agents such as free radicals, which cause DNA damage within a cell. Third, these reactions indirectly activate proteins that promote apoptosis (cellular death). In addition, the majority of motexafin gadolinium appears to accumulate in cancer cells instead of healthy cells.
Researchers from Duke University recently conducted a clinical trial to evaluate motexafin gadolinium in addition to combined chemotherapy and radiation for the treatment of locally advanced head and neck cancer. This trial included 9 patients with newly diagnosed head and neck cancer who were treated with radiation and chemotherapy consisting of 5-fluorouracil and Platinol® (cisplatin), as well as motexafin gadolinium. To date, 8 out of the 9 patients in this trial achieved a complete disappearance of detectable cancer (complete remission) following treatment. At approximately 9 months following therapy, 7 of these patients remain in complete remission. The most frequent side effects occurring from therapy were sores in the mouth and radiation-induced skin inflammation. These are common side effects associated with combined chemotherapy and radiation. This trial is still enrolling patients.

The researchers concluded that motexafin gadolinium appears to augment responses to chemotherapy and radiation therapy for the treatment of head and neck cancer and is well tolerated. Future clinical trials directly comparing chemotherapy and radiation with or without motexafin gadolinium are necessary to determine true clinical benefit. Patients with locally advanced head and neck cancer who are to undergo chemotherapy and radiation may wish to speak with their physician about the risks and benefits of participating in a clinical trial further evaluating motexafin gadolinium.
Reference: Pharmacyclics. Pharmacyclics Announces the Presentation of Interim Phase 1 Clinical Data With Xcytrin and Concurrent Chemoradiation for Advanced Head and Neck Cancer. Available at: http://www.pharmacyclics.com/webpage_templates/tert.php3?page_name=pr_1068737179. Accessed November 13, 2003.