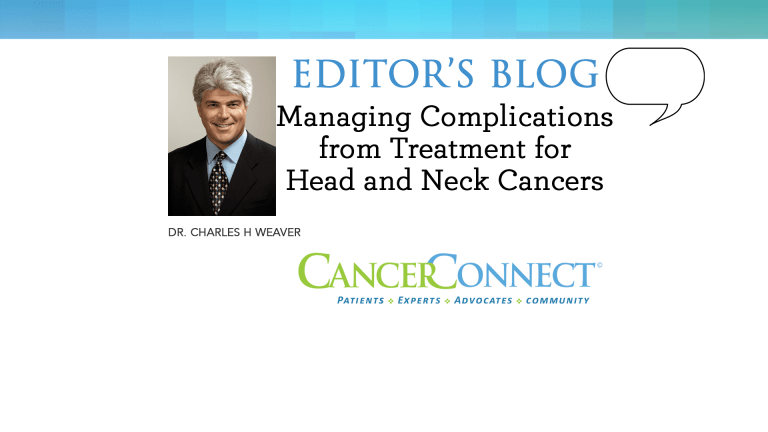 Managing Complications from Treatment for Head and Neck Cancers
Anemia, mucositis, xerostomia, & EGFR inhibitor side effects can all be managed and often prevented
by Dr. C.H. Weaver M.D. updated 11/2018
With the use of combined modality therapy, and newer precision cancer medicines the clinical outcomes for treatment of head and neck cancer (HNC) have improved dramatically over the past two decades.
The use of aggressive combined modality therapy however is associated with increased acute side effects. Some of the most common associated with chemo-radiation include mucositis, xerostomia, dysphagia and nutritional deficits.
With the increased use of targeted therapies including PD-1 checkpoint inhibitors, the side effect profile appears to be changing again.
In addition late side effects of therapy have begun to garner increased attention as more patients are surviving longer. Function preservation remains one of the most important late outcome measures in the head and neck patient population. (1-6)
Epidermal Growth Factor Inhibitor Side Effects
The EGFR pathways are responsible for maintaining skin, hair and nail integrity. When these pathways are blocked, the normal repairative pathways are inhibited. Thus, patients treated with Erbitux and other EGFR inhibitors experience skin, hair and nail toxicities. While these are usually modest and frequently cosmetic in nature, they are unsightly and bothersome to patients.
About EGFR Side Effects & Their Management
What is Xerostomia?
Xerostomia, also known as dry mouth is dryness in the mouth which may be associated with a change in the composition of saliva or reduced salivary flow
Xerostomia remains one of the most significant acute and late effects of radiation therapy. Although chemotherapy may in and of itself result in modest levels of xerostomia, the xerostomia secondary to radiation is more severe and long lasting. It occurs shortly after the institution of radiation therapy and results in profound and often permanent damage to salivary function. Some research suggests that salivary loss is related to the dose of radiation delivered to the salivary gland. Thus, doctors have tried to develop radiation techniques that limit dose to the salivary gland and may result in decreased loss of salivary function.(7)
Intensity-modulated radiation therapy (IMRT) is an advanced type of radiation therapy used to treat cancer. IMRT uses advanced technology to manipulate photon and proton beams of radiation to conform to the shape of a tumor and limit side effects to adjacent tissues. Research confirms the ability of IMRT to effectively limit radiation to the salivary gland thereby limiting permanent loss of salivary gland function.(8,9)

Fyarro for Malignant Perivascular Epithelioid Cell Tumor (PEComa)
The U.S. Food and Drug Administration (FDA) has approved FYARRO™ (sirolimus protein-bound particles for injectable suspension) (albumin-bound) for intravenous use for the treatment of adult patients with locally advanced unresectable or metastatic malignant perivascular epithelioid cell tumor (PEComa).
Mucositis
Oral Mucositis Affects Care of Patients with Head and Neck Cancer.
In a study published in the journal Cancer, oral mucositis developed in over 80% of patients undergoing radiation therapy for head and neck cancers. Patients who developed oral mucositis were more likely to have unplanned breaks in radiation therapy and were also more likely to be hospitalized.
Oral mucositis refers to inflammation of the oral mucosa (lining of the mouth) that results from chemotherapy or radiation therapy. Symptoms may include redness, swelling, and ulceration. When oral mucositis is severe, patients cannot swallow food or liquid and often have to be given nutrients through a vein. In addition, oral mucositis can cause severe pain, increase the risk of infection, and may limit a patient's ability to tolerate further treatment.
Mucositis is one of the most devastating acute effects of radiation-based therapy for head and neck cancer. With the increasing use of concurrent chemoradiation, the rates of mucositis have increased dramatically.(10-13)
Anemia - Growth Factors
Patients with head and neck cancer frequently present with anemia. Numerous studies in head and neck cancer patients have demonstrated that pre-treatment anemia is associated with decreased survival.(14-15) In addition, patients treated with radiation therapy may develop anemia over the course of therapy. This is most prominent in patients receiving concurrent chemotherapy. Thus, erythroid stimulating agents have been investigated to determine whether they can decrease anemia, decrease transfusions, and most importantly, increase survival.
Functional Preservation
The greatest recent advances in functional preservation are in the treatment of laryngeal and vocal cord cancers. Use of the KTP laser, which eradicates blood vessels in a process called photoangiolysis is especially effective in treating vocal-cord cancer. Since radiation can damage the non-cancerous tissue of one or both vocal cords and conventional laser surgery destroys more delicate vocal tissue than is necessary, KTP laser treatment typically produces better vocal results while being more cost-effective according to the results of a recent report.
References
Bonner JA, Harari PM, Giralt J, et al. Radiotherapy plus cetuximab for squamous-cell carcinoma of the head and neck. New England Journal of Medicine.2006; 354:567-78.
Pfister DG, Su YB, Kraus DH, et al. Concurrent cetuximab, cisplatin, and concomitant boost radiotherapy for locoregionally advanced, squamous cell head and neck cancer: A pilot phase II study of a new combined-modality paradigm. Journal of Clinical Onlcology. 2006; 24:1072-1078.
Merlano MC, Numico G, Russi EG, et al. Cetuximab (C-mab) and chemo-radiation (CT-RT) for loco-regional advanced squamous cell carcinoma of the head and neck (HNC): A phase II study. Proceeding from the American Society of Clinical Oncology Conference. Chicago, IL. 2007. Abstract # 6043.
Allen RM, Goldberg RM, Berlin J, et. Al. Unusually high rates of hypersensitivity to cetuximab in the middle-southern United States: Association with atopic phenotype. Proceedings from American Society of Clinical Oncology Conference. Chicago, IL. 2007. Abstract # 9051.
Chung CH, Chan E, Berlin J, et al. Cetuximab-related hypersensitivity reactions associated with pre-existing cetuximab-specific IgE antibody. Proceedings from American Society of Clinical Oncology Conference. Chicago, IL. 2007. Abstract # 9097.
Jatoi A, Rowland Jr K, Sloan JA, et al. Does tetracycline prevent or palliate epidermal growth factor receptor (EGFR) Inhibitor-induced skin rash? Results of a phase III trial from the North Central Cancer Treatment Group (NO3CB). Proceedings from the American Society of Clinical Oncology Conference. Chicago, IL. 2007. LBA # 9006.
Chambers MS, Garden AS, Kies MS, Martin JW: Radiation-induced xerostomia in patients with head and neck cancer: pathogenesis, impact on quality of life, and managment. Head Neck. 2004; 26:796.
Kwong DL, McMilan A, Pow E, et al. Value of intensity modulated radiotherapy for local control and salivary flow compared with conventional radiotherapy for stage II nasopharyngeal carcinoma. Proceedings from the American Society of Clinical Oncology Conference. Chicago, IL. 2007. Abstract # 6036.
Nutting CM, Morden JP, Harringon KJ et al. Parotid-sparing intensity modulated versus conventional radiotherapy in head and neck cancer (PARSPORT): a phase 3 multicentre randomised controlled trial. Lancet Oncology. Early online publication January 13, 2011.
Vera-Llonch M, Oster G, Hagiwara M et al. Oral Mucositis in Patients Undergoing Radiation Treatment for Head and Neck Carcinoma. Cancer. 2006;106:329-36.
Trotti A: Toxicity in head and neck cancer: a review of trends and issues. International Journal of Radiation Oncology, Biology, and Physics. 2000; 47:1-12.
Epstein JB, Beaumont JL, Gwene CK, et al. Evaluation of the Oral Mucositis Weekly Questionnaire – Head and Neck Cancer, A Patient Reported Outcome Questionnaire. Cancer. 2006; 109: 914-1922.
Keefe DM, Garden A, Barasch A, et al. Brigham and Women's Hospital, Boston, MA; Oral mucostitis is associated with increased resource use among patients receivng treatment for cancers of the hear and neck. Proceedings from the American Society of Clinical Oncology Conference. Chicago, IL. Abstract # 6070.
Henke M, Laszig R, Rube C, et al. Erythropoietin to treat head and neck cancer patients with anaemia undergoing radiotherapy: Randomised, double-blind, placebo-controlled trial. Lancet. 2003; 326.
Lo Nigro C, Maffi M, Fischel J, et al. Impact of erythropoietin (EPO) on irradiation effect on the EPO receptor-positive head and neck cancer. Proceedings from the American Society of Clinical Oncology Conference. Chicago, IL. Abstract # 6058.
Rodrijuiz CP, Adelstein DJ, Rybicki L, et al. Clinical predictors of larynx preservation (LP) after multiagent concurrent chemoradiotherapy. (MCCRT). Proceedings from the American Society of Clinical Oncology Conference. Chicago, IL. 2007. Abstract # 6075.